Toronto Sign
The 3D TORONTO Sign was installed at Nathan Phillips Square in July 2015 for the Toronto 2015 Pan American/Parapan American Games. Due to popular demand, the illuminated sign still remains on the Square.
Share your pictures of the 3D Toronto Sign across your social networks using the hashtag #xoTO.
2020 Commemorative Lighting Schedule
Feb 1 – National Eating Disorder Week
Feb 1 – Black History Month
Feb 6 – Bob Marley Day
Feb 7 – DECA Ontario's 41st Provincial Secondary School Competition
Feb 20 – World Day Of Social Justice
Mar 25 – International Day of Remembrance of the Victims of Slavery and the Transatlantic Slave Trade
Mar 30 – Earth Hour (Sign Goes Dark)
May 18 – World Museum Day
June 1 – Deafblind Awareness Month
June 20 – World Refugee Day
June 21 – National Indigenous People's Day
June 23 – National Day of Remembrance for Victims of Terrorism
June 27 – Canadian Multiculturalism Day
July 1 – Canada Day
August 31 – Overdose Awareness Day
September 25 – Franco-Ontarian Day
September 29 – Police & Peace Officers' National Memorial Day
November 11 – Remembrance Day
10 Facts About the 3D Toronto Sign
Each letter can be moved and placed on its own
Each letter is 3 m (10 ft) tall and rests on a weighted plinth (base)
The full word is 22 (74 ft) long
The weight of the whole sign is 9,207 kg (20,300 lbs)
Each letter weighs approximately 136 kg (300 lbs)
Each letter plinth (base) weighs approximately 1,180 kg (2,600 lbs)
Each letter is equipped with L.E.D. lights and can transition to approximately 228 million different colours
The Sign contains approximately 396 m (1,300 ft) of L.E.D. lights
The letters are constructed with a steel frame, aluminum cladding and a translucent polycarbonate front and back
The colourful sides are covered in a changeable vinyl wrap, so the letters can be re-skinned with different designs
3D Medicine Wheel
The 3D Medicine Wheel, a new addition to the 3D Toronto Sign, was installed on June 18, 2018 in honour of Indigenous Peoples and timed to elevate awareness of National Indigenous Peoples Day (formally National Aboriginal Day) on June 21.
This Medicine Wheel symbol was chosen, in consultation with the Toronto Council Fire Native Cultural Centre, as it is an emblem of North American Indigenous cultural values, tradition and spirituality. Its four directions (East, South, West and North) symbolize completeness, wholeness, connectedness and strength.
3D Maple Leaf
A 3D leaf structure was temporarily added to the 3D TORONTO Sign in 2017 to mark Canada's 150th birthday.
The 3D Maple Leaf contains approximately 14,000 L.E.D. lights, approximately 152 m (500 ft.) of L.E.D. tape
The 3D Maple Leaf L.E.D. strips are divided in to 8 horizontal sections from top to bottom allowing for ombre blending and graduating of light colours every 16"
Indigenous Symbol Vinyl Wrap
The vinyl wrap on the Sign resembles birch bark inlaid with symbols of significance for  Indigenous communities  that include: feathers, fire, inukshuk, lacrosse sticks, medicine wheel/unity pin, Métis sash, Ojibway canoe, sweet grass braid, turtle, dreamcatcher and a wampum belt. These symbols will remain on the Toronto Sign until fall 2018 and the public can also utilize them as part of the TORONTOMOJI sticker pack for Iphone and Android available insert links.
iOS App Store
Google Play for Android
---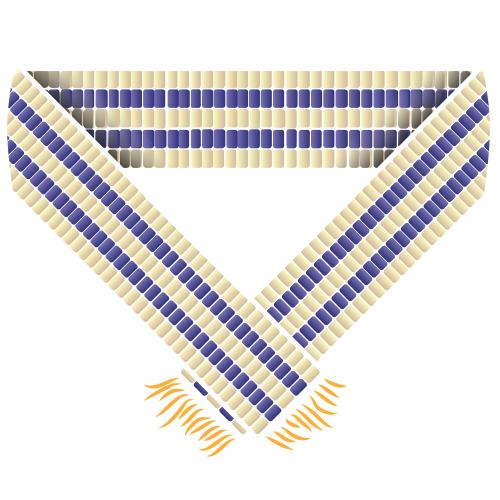 Two row wampum belt: The lines represent respect for the ways in which Indigenous and non-Indigenous people travel on the river of life: Indigenous in a canoe and non-Indigenous in a ship. It honours the principles of non-interference, peace, friendship and respect. The belt ends are unfinished to signify a treaty without end. (TPH Toronto's First Indigenous Health Strategy)
---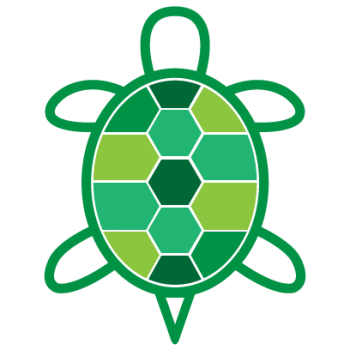 Turtle: The turtle symbolizes health and longevity, and plays an important role in the creation story of Turtle Island, also referred to as North America or the World.
Link: CBC – Turtle Island – wheres that?
---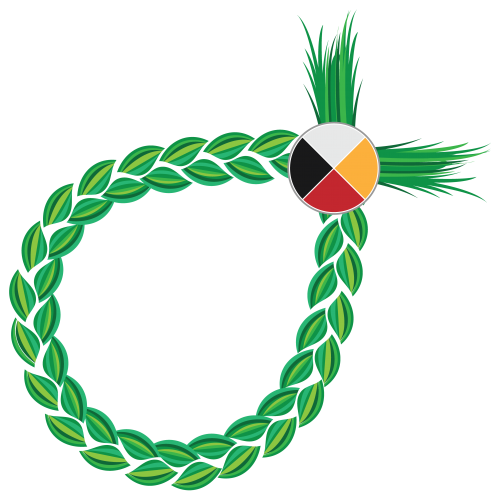 Sweetgrass Braid: Sweetgrass is a gift from Mother Earth and said to be a part of her hair. The plant promotes strength and kindness. When braiding sweet grass each strand of the braid represents mind, body and spirit.
Link: Ojibwe Resources – Ojibwe Medicines
---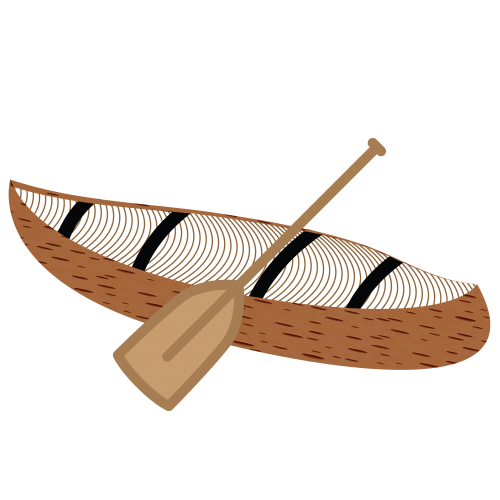 Ojibway Canoe: The birch bark canoe was the principal means of water transportation for Indigenous Peoples of the Eastern Woodlands, and later voyageurs, who used it extensively in the fur trade in Canada.
Link: The Canadian Encyclopedia – Birchbark Canoe
---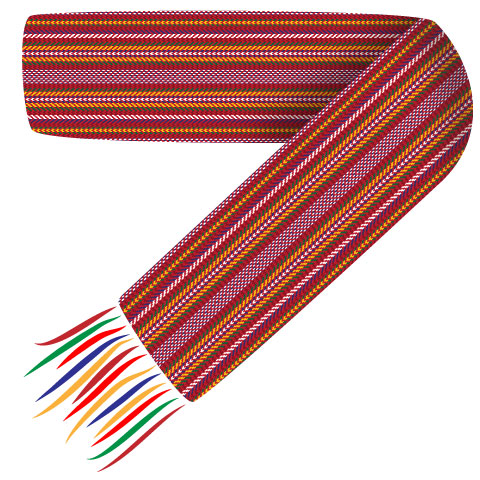 Métis Sash: One of the most prominent symbols of the Métis Nation is the brightly coloured, woven sash. Not only functional, the sash is colourful and identifiable as Métis apparel. The sash itself served as a key holder, first aid kit, washcloth, towel, emergency bridle and saddle blanket and its fringed ends could become a sewing kit. The sash has acquired new significance in the 20th century, now symbolizing pride and identification for Métis people.
---
The Medicine Wheel: Based on Indigenous cultural values, tradition and spirituality. Its four directions (East, South, West and North) symbolize completeness, wholeness, connectedness and strength. (TPH Toronto's First Indigenous Health Strategy) 
---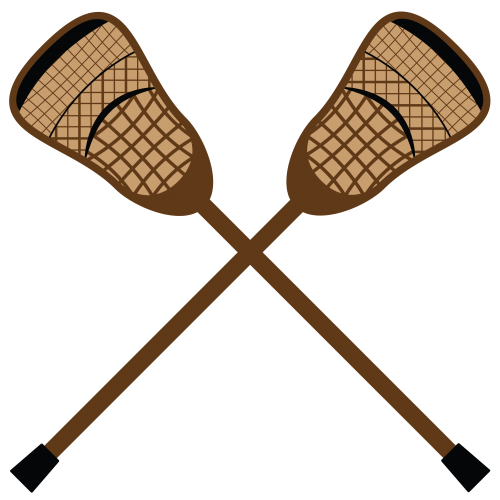 Lacrosse Sticks: Over 500 years ago Indigenous Peoples played lacrosse as a way to thank the Great Spirit. It could also be played to strengthen diplomatic alliances, support social conformity and economic equality.
Link: The Canadian Encyclopedia – Lacrosse
---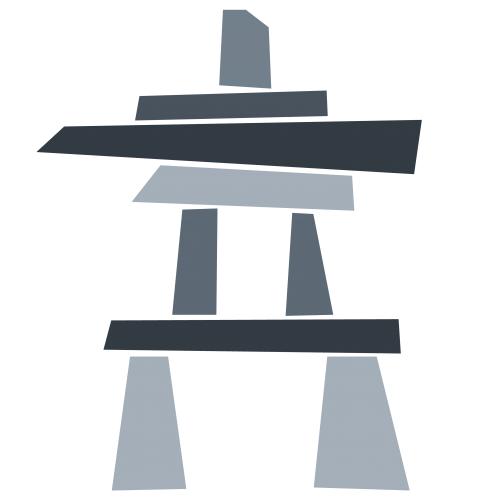 Inukshuk: An Inuit stone structure often found in the arctic landscape, the Inukshuk serves as a guide to travellers on land and sea, providing comfort, advice and spatial orientation.
Link: Toronto Inukshuk Park
---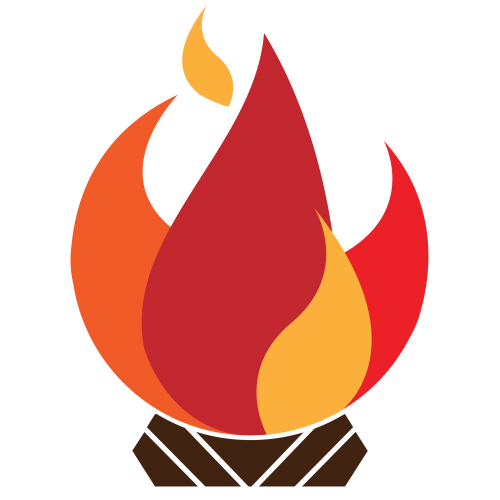 Fire: The gift of Fire is believed to be the giver of new life and is often associated with fertility. Fire is the element that requires the utmost care and attention since it can bring new life and take life away.
Link: Assembly of First Nations – Honouring Fire
---
Feathers: The feather of an eagle conveys strength. The middle vane in the feather symbolizes the path that everyone walks in their life time, and every barb that comes of the middle vane symbolizes the choices we all have in life, and that every choice we make is attached to the middle or main path that we take.
Link: Silver FX – Native Symbols
---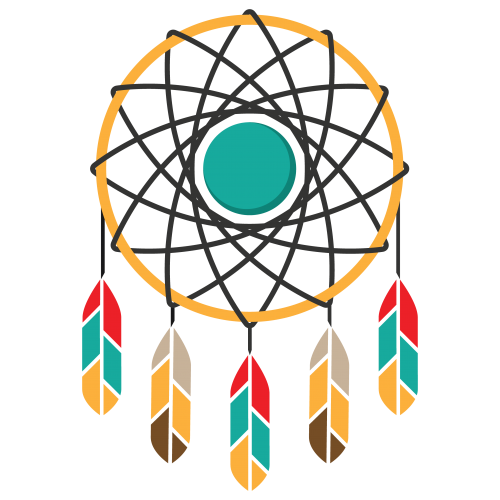 Dreamcatcher: If an individual was in emotional or physical pain they could choose to go on a healing journey. This involved the making of a dream catcher. With the support of the community and healer, the individual learned how to deal with their pain as they completed their dream catcher.
Link: the Nation – The story of the dream catcher
Submit a Lighting Request
The 3D TORONTO Sign Celebratory and Commemorative Lighting Program offers an opportunity to:
Celebrate and highlight Toronto's significant festivals and events
Support and elevate awareness for local not-for-profit and charitable causes
Celebrate and highlight significant accomplishments and series for Toronto's professional Sports teams and amateur sporting events
Underscore key national celebrations, historic commemorations and days proclaimed by the City to promote diversity
Program Details
Each approved commemorative lighting will be rotated into the Sign's colour sequence for a time period of 24 hours (9 am to 9 am unless otherwise stipulated). The LED lights, although always on, are not visible in bright daylight
Commemorative Lighting patterns will be included in rotation with the Sign's original multi-coloured pattern
Multiple lighting requests (up to 4) may be accommodated on the same day. When multiple requests are scheduled together, each pattern will display for a 2 minute interval
There is no fee required to submit a lighting request or to light the Sign, if the request is approved
Staff will program the sign year-round with seasonal colour variations in addition to commemorative lighting requests received from the community
All requests will be considered on a first come, first served basis
The Canada 150 3D Leaf will NOT be included in the 3D Toronto Sign Commemorative Lighting Program. During Commemorative Lightings, the maple leaf will appear in either a neutral white, or red shade.
Please note that in the event of an extenuating circumstance, approved lighting requests may be subject to revision or delay by the City.
Requirements, Criteria and Categories
All 3D TORONTO Sign lighting requests must adhere to the overarching criteria and fall within the established categories. Prior to submitting your request, review the criteria below.
How to Apply
All lighting requests must be:
In compliance with the Lighting Requirements/Criteria below
Made 30 days in advance of the month in which the lighting is to take place to provide ample time for review and approval. Requests should not be submitted more than six months in advance
Submitted in writing by email (3dto@toronto.ca) or by mail (3D Toronto Sign, 6th Floor, West Tower, Toronto City Hall, 100 Queen Street West, TO, ON, M5H 2N2)
Submissions must include:
A formal request on the organization's official letterhead, including the following details:
The nature of the event, occasion, competition or cause
The eligibility category that your lighting falls in to, i.e. a not-for-profit charitable occasion, or cause, an annual marquee event or a significant national/international/professional competition
A signed copy of the declaration document or a clear indication in your submission that you have reviewed and are in compliance with the Declaration of Compliance with Anti-Harassment/Discrimination Legislation & City Policy
The history and background of the event, occasion, competition or cause
How the lighting will be used to benefit the event, occasion, competition or cause
The requested date for the lighting
The requested colour(s) and pattern for the lighting (i.e. colour per letter)
A web link to more information on your event, occasion, competition or cause
Where/how you will be promoting the lighting, i.e. social media, website, etc.
Where the Toronto Sign's likeness may appear in any communications materials for this occasion
A management representative's signature (from the requesting organization)
Third party requests made on behalf of others:
The City cannot accept requests made by third parties on behalf of other organizations or individuals. All requests must be made by the organization itself to ensure that:
They are aware and approve of the Sign being lit for their event, occasion, competition or cause
The lighting is displayed in the correct colours/pattern that they desire
The lighting occurs on the correct date that they desire
Evaluation Process

All requests will be reviewed by City of Toronto staff to ensure that they clearly adhere to the lighting criteria. Requests that do not clearly meet the criteria may be brought forward by City staff to the interdivisional 3D TORONTO Sign Advisory Committee for final determination.
City of Toronto staff have full and final authority to implement the 3D Toronto Sign Celebratory and Commemorative Lighting Program criteria. By submitting a lighting request for the 3D Toronto Sign, the applicant agrees that the decisions of City staff are final.
Notification of Acceptance and Approval
Staff will endeavour to provide notification of acceptance within two weeks of the date that the request was received
Lighting requests should not be submitted more than six months in advance
Lighting Requirements/Criteria & Categories
A. Requirements and Criteria:
All 3D Toronto Sign lighting requests must adhere to the following Overarching Criteria:
Must comply with the Declaration of Compliance with Anti-Harassment/Discrimination Legislation & City Policy
Must not be contrary to any City policy or bylaw
Must be non-denominational
Must be non-political
Must be non-commercial
Other than where specifically outlined in this criteria, the Sign will not be lit for individual personal occasions (e.g. birthdays, anniversaries)
Other than where specifically outlined in this criteria, lighting for any specific organization, cause, event or commemoration will only take place ONCE per calendar year
All applications must comply with the above noted criteria, as determined by the General Manager, Economic Development and Culture, in order to be considered.
B. Categories:
I. Festivals, events and causes

The Sign can be lit upon request for major* public festivals and events that adhere to the overarching criteria
The Sign will not be lit for commercial or corporate conferences and meetings
For cause-related events, the Sign will be lit for the requesting organization's cause, not the event
The Sign will not be lit to profile the colour of an event's corporate sponsors
*Special Events Office Event Category Definitions Categories A & B
II. Professional sports teams and athletes
The Sign will be lit annually for Toronto's professional sports teams on the following occasions:
First home game of the season
First playoff game in a playoff series
The deciding game in a playoff series
In celebration of winning a playoff series
When hosting pro league all-star games
III. Amateur sports competitions

The Sign can be lit upon request for international amateur sports competitions that are hosted in Toronto and/or include participation of Toronto and Canadian athletes on the following occasions:
Opening Ceremony
Closing Ceremony
The Sign can be lit upon request for local amateur sports teams that are representing or have brought honour to Toronto during national/international competitions on the following occasions:
First game of competition
Participation in the finals
Upon winning
IV. National celebrations and historic commemorations
The Sign will be lit annually for Canadian national celebrations

The Sign will be lit annually for significant days proclaimed by the City of Toronto to promote diversity

The Sign will not be lit for historic commemorations and national days of other nations. (Please see the City of Toronto's

Flag Raising

program for opportunities to commemorate these occasions)