Electronic Waste
Ask the 
Waste Wizard
to find out where and how to properly dispose of an item.
The City of Toronto collects unwanted electronics for free to ensure they are disposed of safely, recycled and kept out of landfill. Electronic items can be put out on garbage day for pickup, brought to a Drop-off Depot or Community Environment Day or donated for reuse.
Protect your privacy: The City is not responsible for personal information contained on your electronic devices. Clear all personal information from computers, cell phones and electronics prior to collection/drop-off/donation (wipe your drives/clear your SIM cards).
Items Accepted as Electronic Waste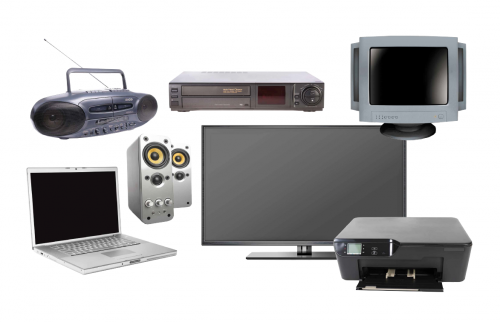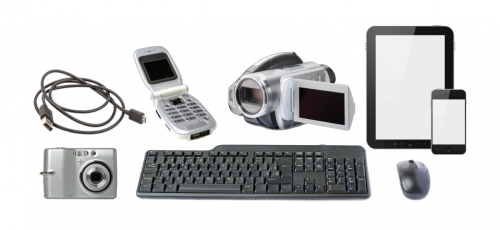 Cell phones, home phones
Computer cables
Laptop computers & accessories
VCR/DVD players
Video recorders
TVs
Desktop computers, monitors
Printer & Fax machines
Accessories
Cameras
Receivers, speakers
Stereos, tuners, turntables
Note: Home and office electronics can also be safely disposed of through recycleyourelectronics.ca.
Items Not Accepted as Electronic Waste
Batteries. These are Household Hazardous Waste and can be disposed of safely at a Drop-Off Depot, Community Environment Day, or through an authorized retail program. You can also arrange for them to be picked up.
Remote controls. Remove batteries and dispose of remote controls as garbage.
Smoke detectors/alarms. Remove batteries and dispose of smoke detectors/alarms as garbage.
Toner cartridges. Remove from printer before setting printer out for electronic waste collection. Follow the cartridge manufacturer's instructions for recycling or dispose of as garbage.
Important Set Out Information for Curbside Collection (Houses)
Set electronic items out on Garbage collection day for pick-up 0.5 metres (2 feet) away from your Garbage Bin.
Make sure the items can be seen by the collections crews.
Put large items such as computer monitors and televisions on the ground.
Put small items such as cell phones in a clear plastic bag or in an open cardboard box.
Electronics will be collected by a different truck after your garbage has been picked up.
Important Set Out Information for Multi-Residential Collection (Buildings)
Information for building managers
Place larger electronic items at your building's regular collection point designated for oversized items.
Ensure items are visible and accessible.
Rigid containers with the items must not weigh more than 20 kilograms according to City collection policy.
You can place out four or more electronic items such as TV's, stereos and computers, monitors, etc.
A special truck will pick up all electronics for either recycling or safe disposal.
Information for residents
Take electronic waste to your building's designated drop-off area.