Reducing Single-Use & Takeaway Items
In October 2018, the City held an open house and presentation, webinar, and online survey to seek feedback from the public on how to reduce single-use and takeaway items — such as coffee cups, plastic bags, take-out containers and plastic cutlery. This was Phase 1 of the consultation and the results will be shared in 2019 followed by Phase 2 of consultation.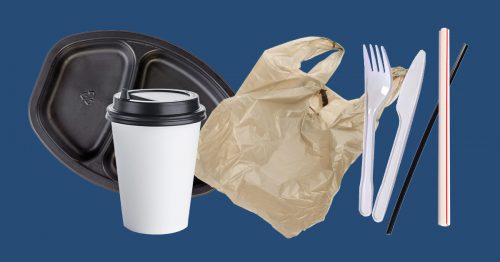 Open House & Presentation:
The City hosted a in-person consultation on Tuesday, October 2, 2018
at the BMO Conference Centre & Education Centre. The session included an Open House, presentation and question period. A recording of the session is available for viewing.
Webinar:
A webinar was held on October 4, 2018 for those who were not able to attend the in-person consultation.
Online Survey:
An online survey was open from September 19 to October 28 and is now closed.
A series of stakeholder meetings took place in October with representatives from the food and beverage, retail, manufacturing, accessibility and environment sectors.
Reducing single-use and takeaway items  supports recommendations established in the City's Long Term Waste Management Strategy (Waste Strategy), adopted by City Council in July 2016), which places priority on reducing waste and minimizing the amount sent to landfill.
The Waste Strategy directs the City to explore where greater waste reduction can be achieved via:
banning of certain packaging or materials
imposing levies
mandating source separation
implementing disposal bans
developing local Extended Producer Responsibility measures.
In July 2018, City Council directed staff in Solid Waste Management Services to:
consult with residents and stakeholder groups on single-use plastics and takeaway packaging items for targeted reduction, and solicit input on policy tools
develop a work plan aimed to reduce the use of single-use or takeaway packaging or products
develop a policy to restrict plastic straws in the City of Toronto.
Toronto's efforts to reduce single-use and takeaway items also support and align with work being done at both the Provincial and Federal level.
Phase 1 of the consultations took place in Fall 2018 to identify opportunities to reduce the generation of single-use and takeaway items in Toronto, including:
Which single-use or takeaway items residents and stakeholders are most interested in addressing
Preferred methods or approaches to reducing these items or promoting additional reuse.
Phase 2 of the consultation will take place in 2019. It will focus more specifically on the implementation approaches to specific items identified in Phase 1.