BIA List
As a Commercial/Industrial Property or Business Owner, you are eligible to serve on your BIA Board of Management.  Nominations, voting and elections will take place at your BIA's Annual General Meeting. Contact your local BIA for more information.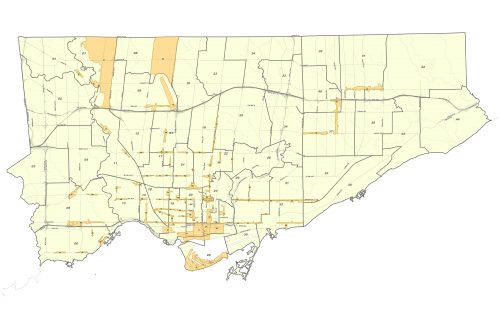 Download PDF map to see the locations and boundaries of Toronto's 83 Business Improvement Areas.
BIA Facts & Figures
The world's first BIA was started in Toronto in 1970. Since then, this innovative public-private business partnership model has been copied internationally. Toronto continues to have the largest number of BIAs of any urban centre in the world, with 83 BIAs in 32 Wards.
BIA members employ more than 400,000 people in full-time and part-time positions.
BIAs represent over $56B in Commercial/Industrial Property Assessment and account for 48% of the taxes collected on commercial and industrial properties in the City of Toronto.
Over 7.4 million people attend the more than 160 community events and street festivals supported and produced by BIAs throughout the year.
For every public dollar the City invests in BIAs, $30 in private sector funding for marketing, promotion, festivals and neighbourhood beautification projects is generated.