S.A.D.R.A. Park Expansion
As part of the development at 1800 St. Clair Avenue West, the property developer (Diamond Kilmer) is constructing an addition to S.A.D.R.A Park (Silverthorn and District Ratepayers Association). The design and construction will be carried out in close consultation with City of Toronto. When the park opens, it will be owned and maintained by the City's Parks, Forestry and Recreation Division (PFR).
Project Timeline
August 2019 to 2021: Park design, approvals, and public consultation
2020 to 2023: Diamond Kilmer constructs Reunion Crossing mid-rise and townhouse development
2022 to 2023: Park tender and contract award, park construction and handover to PFR
This timeline is subject to change.
About the Project
S.A.D.R.A. Park is a 1.2 hectare park that runs from Blackthorn Avenue to west of Old Weston Road, north of St. Clair Avenue West, in Ward 9 – Davenport. The park is located in an active hydro corridor. The park currently includes a playground, a sports court, exercise equipment, a drinking fountain, benches, horticulture beds, picnic tables, and the Silverthorn Allotment Garden.
The new park addition is 857m2 (0.087 hectares) and will include:
Green space, including space for large shade trees
Splash pad
Picnic tables and benches
Pergola for shade
Water bottle filling station
Project Progress
September 24, 2019
PFR held public meeting to provide community members with:
Information on the existing site
Examples of similar projects
Two design options for consideration
View the full SADRA Park Extension Concept Presentation.
Feedback:
Community members generally supported the new park proposal but expressed concerns related to the proposed design of the splash pad.
Community members requested upgrades to the existing S.A.D.R.A. Park.
Community members requested a new Dogs off-Leash Area in S.A.D.R.A. Park or close by.
Response:
PFR is working with the consultant and developer to further refine the new park design.
PFR and Diamond Kilmer attended a S.A.D.R.A. park walk through with members of the community on November 4 to hear what specific improvements to the existing S.A.D.R.A. Park were requested.
Project Renderings
While we aim to provide fully accessible content, there is no text alternative available for some of the content on this site. If you require alternate formats or need assistance understanding our maps, drawings, or any other content, please contact Erika Richmond at Erika.Richmond@toronto.ca or at 416-338-8710.
Location
Concept 1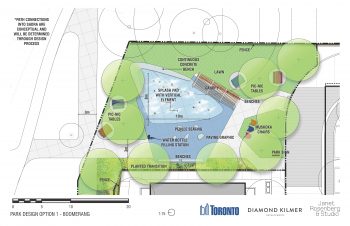 Concept 2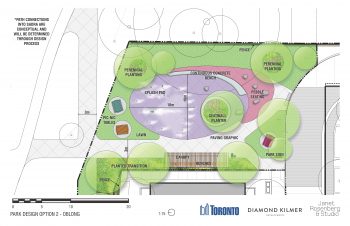 Get Involved
Want to learn more about this project and help shape it? Send comments and questions to: