Grand Avenue Park
Grand Avenue Park is growing! The existing Grand Avenue Park is a 2.5 hectare parcel of green space on the east side of Grand Avenue and north of the Metrolinx Lakeshore Rail corridor. The City has acquired additional land next to Grand Avenue Park to create a new, approximately five-hectare (12 acres) park!
Project Timeline
2016 to 2019: Community consultation and design development
March 2020 to July 2021: Phase 1 construction
2021: Anticipated start of Phase 2 construction
This timeline is subject to change.
About the Project
Park Design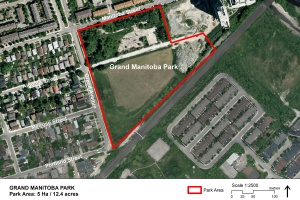 The new park design is an ideal opportunity to provide a creative vision for a major park and was created in consultation with the local community and general public (see Consultation section below).
The new park design:
Integrates city and community recreation and leisure needs
Addresses community-based issues
Reflects sustainable and environmentally sound landscape design and management
Master Plan
Construction
The park will be constructed in 2 phases:
Phase 1 will include extensive site remediation (see details below), site grading, and construction of the multi-use sports field, splash pad/water play facility, temporary dogs' off-leash area, parking lot, walkways, lighting, turf and tree planting.
Phase 2 will include the construction of the playground and washroom building.
Site Remediation
The north area of the new park includes the former Metro Incinerator/Waste Treatment Site and the former Algoma Street road allowance. These areas are being converted into parkland in the first phase of work.
The City has completed an extensive environmental assessment process with the Ministry of Environment, Conservation and Parks (MECP) to identify the nature and extent of soil contamination due to the formal industrial uses of the site, and outline steps for site clean-up to ensure the grounds are completely safe for use by people and pets.
As part of this process, a soil management plan was prepared based on MECP regulations. The soil management plan includes:
Demolition of existing pavement structures
Removal of all trees on site
Removal of existing topsoil
Installing new clean soil to a minimum depth of 1.0 meter
A qualified environmental engineering firm was hired by the City to lead the reporting process with MECP and to ensure that the soil management plan and its implementation complies with MECP regulations.
Tree Removal
Unfortunately the existing trees cannot survive the extent and depth of soil removal required to make the grounds safe for park use. However the new park design will include new tree plantings and the creation of natural wooded areas.
Get Involved
Past Consultations
Local residents, recreation clubs, and park user groups had opportunities to review and provide comment as the Grand Park design evolved.