Grand Avenue Park
The existing Grand Avenue Park is a one-hectare parcel of green space on the east side of Grand Avenue and north of the Metrolinx Lakeshore Rail corridor. The City acquired additional land next to Grand Avenue Park to create a new, approximately five-hectare (12 acres), park. The working title for the design of the new park is Grand Manitoba Park.
Project Details
Design Concept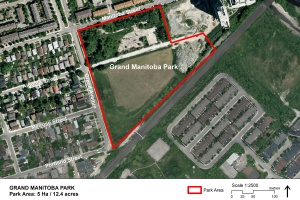 The new park design is an ideal opportunity to provide a creative vision for a major park and was created in consultation with the local community and general public (see Consultation section below).
The new park:
Integrates city and community recreation and leisure needs
Addresses community-based issues
Reflects sustainable and environmentally sound landscape design and management
Master Plan
Project Timelines
Phase 1 park improvement work was tendered but had to be cancelled. The tender is being reissued on a priority basis with the intent to start construction in 2019 and complete the work in late 2020.
Get Involved
Past Consultations
Local residents, recreation clubs, and park user groups had opportunities to review and provide comment as the Grand Manitoba Park design evolved.