New Park at 19 Glen Agar Drive
A new 989.5m2 (0.09 Ha) park is being designed at 19 Glen Agar Drive. The site is bordered by Glen Agar Drive to the west, existing residential single family homes to the south, new single-family homes to the east and a new street to the north.
Site Background
The site is located on the east side of Glen Agar Drive northeast of Martin Grove Road and Rathburn Road. The new development is in the location of the former Kipling Grove Public School. The school had a large field with two baseball diamonds, a soccer field and a small playground. The site of the development backs onto Hydro corridor open space, however the new park does not connect to the Hydro corridor.
The land is currently under private ownership and will be conveyed to the City as public parkland following the construction of the park and the development of the sub-division.
Future Park Design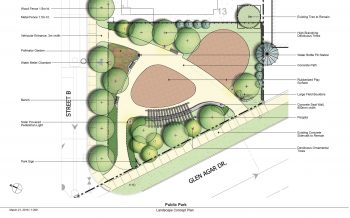 The proposed park includes separated playground spaces with swings in one play zone and a climbing structure with a spring toy in the other play zone.
A new pergola shade structure, pathways, landscape lighting, seat walls, park benches, landscape plantings of deciduous trees, coniferous trees, horticultural planting, and sod are also included in the park design.
Parks staff have been working closely with Glen Agar Neighbourhood Association (GARA), the local Councillor's office and the developer to develop a concept plan for the new park at 19 Glen Agar Drive.