Mid-Rise Buildings
Performance Standards
City Council adopted Mid-Rise Building Performance Standards in 2010 and an Addendum to these Standards in 2016, which are to be used together during the evaluation of mid-rise development applications in locations where the Performance Standards are applicable.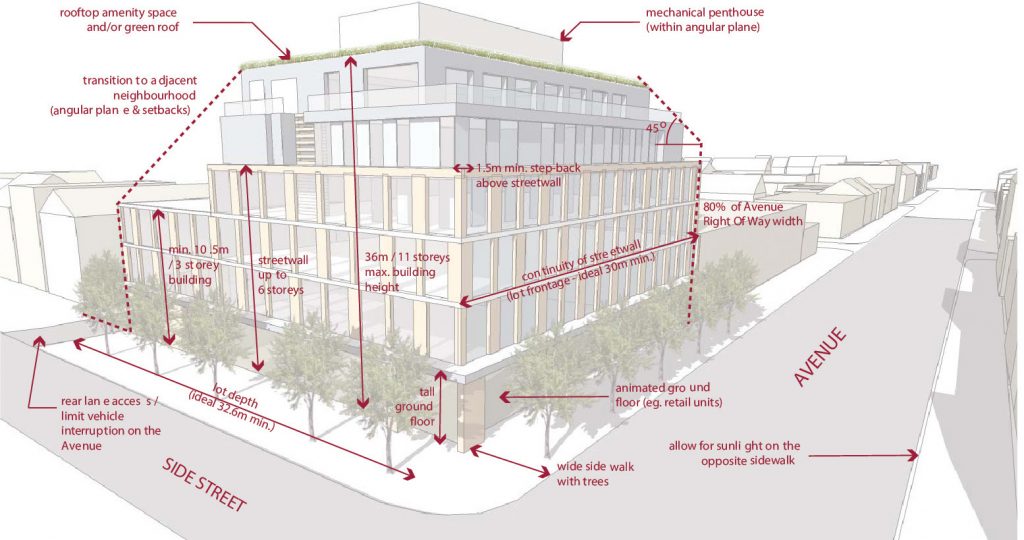 What is a Mid-Rise Building?
Mid-rise buildings are the 'in between' scale of building, they are bigger than houses but smaller than towers. Mid-rise buildings have a good scale and relationship to the street. They define or make walls to the street that are tall enough to feel like a city and provide lots of usable space, but low enough to let the sun in and open the view to the sky from the street. They support a comfortable pedestrian environment, and animate the street by lining the sidewalk with doors and windows with active uses including stores, restaurants, services, grade related apartments, and community uses.
Mid-rise buildings may contain a single use like an office or residential apartment but they usually contain a mix of uses which may include retail, office, community service, and residential all in the same building. The height of a mid-rise building varies from street to street, as we define mid-rises as buildings that are no taller than the width of their adjacent street right-of-way (the width of the publicly owned portion of the street). In Toronto, on the narrower 20 metre wide streets in the downtown, a mid-rise is 5 or 6 stories high. On the wider arterial streets outside of the Downtown, a mid-rise may be taller up to a maximum of 11 storeys on the widest Avenues. Mid-rises typically are designed with step-backs or terraces at upper levels to make them appear lower in height from the street, and to allow sunlight and sky views at the sidewalk.
Avenues & Mid-Rise Buildings Study
Full Consultant's Report (2010)
Sections:

Table of Contents and Executive Summary
Section 1: Introduction
Section 2: Applying the Avenues and Mid-Rise Recommendations
Section 3: Performance Standards for Mid-Rise Buildings
Part 1
Section 3: Performance Standards for Mid-Rise Buildings
Part 2
Section 4: Recommendations

To arrange viewing of the Appendices, please contact midrise@toronto.ca. Appendices include:

Appendix A: Avenues Character Area Analysis
Appendix B: Retail Analysis
Appendix C: Avenues Not Included in the Study
Appendix D: Related City Initatives
Appendix E: Mid-Rise Building Typologies
Appendix F: Summary of Completed Avenue Studies
Appendix G: Summary of Consultation
Appendix H: Prototypical Sites
Appendix I: Urban Design Glossary
Acknowledgments and Image Sources
Note: As a result of adopted motions in July 2010, Standard 5B was not adopted and changes have been made to the following Study maps.
The Study
In 2008, the City Planning Division initiated the Avenues and Mid-Rise Buildings Study with the assistance of Brook McIlroy Planning + Urban Design / Pace Architects (BMI/Pace). Building on and learning from Avenue Studies already completed and in consultation with stakeholders and the public, the Study identifies a list of best practices, evaluates the Official Plan Avenues based on historic, cultural and built form characteristics, establishes a set of performance standards for new mid-rise buildings, and identifies areas where the performance standards should be applied. The Study received 4 prestigious awards; including:
2012 National Urban Design Award
2011 Ontario Professional Planners Institute's Excellence in Planning Award
2011 Toronto Urban Design Award
Honourable Mention for the Canadian Institute of Planners' 2011 Award for Planning Excellence in the Urban Design Category.
Policy Context
We know that Toronto is growing, and the Official Plan sets out where and how to grow at a high level. One of these directions is to grow and intensify the number of jobs and residents along arterial corridors throughout the city, known as 'Avenues' in the Official Plan (see Map 2 of the Official Plan). The Avenues and Mid-Rise Buildings Study was conducted to determine how to intensify along the Avenues in a way that is compatible with the adjacent neighbourhoods through appropriately scaled and designed mid-rise buildings.
Background
Staff Reports and Decision History
Responding to Council Direction, the Avenues and Mid-rise Building Study was initiated in 2008, and a related Staff Report was presented to Council in July 2010. That Staff Report was adopted by City Council, and included adoption of the Performance Standards (section 3 of the Study, with the exception of Standard 5B). At that time, Council provided City Planning with a series of directions to encourage the realization of the 'vision' of the Official Plan identified Avenues more quickly, and to monitor the Performance Standards over a 2 year period.
In November 2013, City Council extended the monitoring period, and directed City Planning to include resident and ratepayer groups as stakeholders in any consultations.
In May 2014, City Planning provided an update to the monitoring period to Planning and Growth Management Committee.
There were 156 applications for mid-rise sized buildings and 61 approvals from the time of adoption of the Standards in July, 2010 and the end of December, 2014.
In 2016, an addendum was brought forward to update the Performance Standards based on results of the monitoring period and to bring greater clarity for their use. The addendum was adopted by City Council in April 2016.
The addendum is to be used by City Staff together with the 2010 approved Mid-Rise Building Performance Standards during the evaluation of development applications where mid-rise buildings are proposed and the Performance Standards are applicable.
The Performance Standards and Addendum may also be used to help inform the preparation or review of area studies and policies involving mid-rise buildings. The Addendum is approved as an interim supplement to the 2010 Performance Standards until such time as Council considers and adopts updated Mid-Rise Building Design Guidelines.
Travel Survey
A survey was sent out to evaluate the travel behaviour of residents of mid-rise buildings throughout the city. Thousands of replies were received and synthesized into results and included in Volume 2 of the Eglinton Connects Planning Study. Download this appendix.