Overview: Visioning Study for Jane and Wilson Area
The purpose of the study is to create a vision, goals and principles to guide future growth and redevelopment on Wilson Avenue, between Highway 400 and Jane Street which involve these steps;
Undertake a background review and analysis of the study area's character and context;
Identify and/or create a potential policy framework to support appropriate reinvestment and contextual development on Wilson Avenue and surrounding areas;
Identify public realm implications and required improvements arising from potential development along Wilson Avenue and surrounding areas through the creation of a Public Space and Streetscape Plan; and
Provide clarity on the built form that may occur on developable parcels of land along Wilson Avenue and the surrounding areas through the creation of Urban Design Guidelines.
Objectives
To consult with local residents, Ward Councillors, property owners and other stakeholders in developing a long term vision for Wilson Avenue and Jane Street within the study area.
Identify opportunities for improving existing community services and facilities and ensuring that an appropriate range of services and facilities are available.
Identify appropriate "infill development" and intensification in the study area including location, height and massing.
To protect stable low-rise residential Neighbourhoods and Apartment Neighbourhoods.
Improve and support pedestrian activity as well as improve the main street character that serves local needs and serves a variety of retail/commercial businesses, while balancing and recognizing the potential for residential, commercial, employment uses/growth along Wilson Avenue and Jane Street.
To identify opportunities for public realm improvements.
Key Challenges
Ensuring that appropriate levels of social infrastructure/community services and facilities are in place to support growth/development.
Overcoming the current development patterns, particularly along Wilson Avenue that are auto-related and support large surface parking lots that front onto the Avenue.
The lack of reinvestment and limited redevelopment in the area.
The orientation/location of buildings, vehicular access, service areas, utilities and vehicular parking cumulatively do not support orderly development or contribute to the attractiveness of the street.
The public realm along Wilson Avenue is not comfortable, attractive and pedestrian friendly due to the absence of well coordinated street tree planting and street furniture as well as vehicular and pedestrian conflicts due to multiple driveways that service adjacent surface parking lots.
Balancing the needs and priorities of various users within the right-of-way on Wilson Avenue and Jane Street.
Attention to the character and quality of the streetscape and pedestrian safety is required.
Study Area
The study area is characterized by a mix of retail, residential and employment uses that will be experiencing pressure for new and infill development, revitalization and reinvestment.
The study area is also characterized by a variety of building types reflecting their various uses. Sheridan Mall and other retail/commercial buildings with large vehicular surface parking areas occupy the north side of the Avenue. In addition, walk-up apartment buildings also occupy the north side of the Avenue. The south side of the Avenue is occupied by a commercial strip plaza, Toronto Plaza Hotel, a place of worship, a park/open space, and a variety of stand-alone retail/commercial buildings with vehicular parking areas fronting on the Avenue.
The lands south of the properties fronting Wilson Avenue along Beverly Hills Drive include an open space, a place of worship, a Catholic Secondary School, a Seneca College campus, a funeral home, an entertainment establishment, a bakery and a surface parking lot behind Toronto Plaza Hotel.
The portion of Wilson Avenue between Jane Street and Daliner Road is characterized by narrow sidewalks adjacent to vehicular parking spaces, limited street furniture and the absence of soft landscaping, particularly in the areas occupied by commercial uses. The portion of Wilson Avenue between Daliner Road and Highway 400 has soft landscaping with trees on private and public property.
Chalkfarm Park, the Black Creek, a Toronto Fire Services Station and a commercial plaza are located on the west side of Jane Street, north of Wilson Avenue. On the east side of Jane Street, an apartment neighbourhood, a commercial plaza, Heathrow Park and a neighbourhood with low-scale buildings are located further east. Strip commercial plazas, an office building and a cluster of apartment buildings with Natural Areas (open space) are located in the southeast quadrant of Jane Street and Wilson Avenue.
The study area illustrated below includes lands fronting Wilson Avenue between Highway 400 and Jane Street. The study area also includes land fronting on Jane Street between Chalkfarm Drive and Wilson Avenue.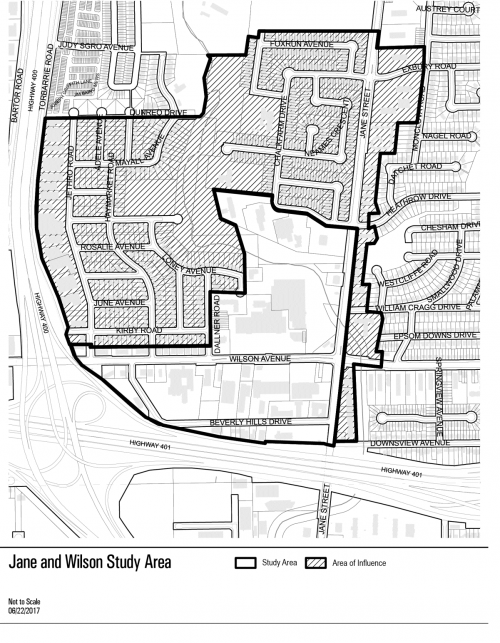 Schedule and Phasing
It is anticipated the study will commence in the fourth quarter of 2017 and involve 2 to 4 public meetings throughout the study time period. The public meetings will be held on weekday evenings and weekends (if necessary) and will be 2 – 3 hours in duration.  A kick-off meeting will be held in the fourth quarter of 2017, to outline the study to the public and establish a work plan, ground rules, meeting locations and schedule. In addition, a Stakeholder Advisory Committee (SAC) will be created and will be consulted prior to each public meeting as identified below.
Stage 1 (Fall 2017)
Review of planning framework and relevant studies
General analysis of existing conditions
Identification of potential development sites
Meeting with City staff and relevant agencies
Kick –off community meeting
Establish a Stakeholder Advisory Committee (SAC)
Stage 2 (Winter 2017-2018)
Visioning workshop
Consultation with SAC/community
Development of draft vision/concept plans
Consultation with SAC/community
Stage 3 (Spring 2018)
Further consultation with SAC/community if necessary
Develop and finalize the Vision for the area, Urban Design Guidelines, Public Space and Streetscape Plan/Site and Area Specific Policies
Develop and Implementation Strategy
Prepare Staff Report on the study findings and recommendations
Background
The study area is located in an area identified as a Neighbourhood Improvement Area in the City of Toronto. Neighbourhood Improvement Areas are recognized neighbourhoods in the City that have inequities in a number of key areas of well-being, namely, Economic Opportunities, Social Development, Healthy Lives, Participation in Decision-Making and Physical Surroundings.
A portion of Wilson Avenue in the study area is identified as an Avenue in the Official Plan. Avenues are important corridors along major streets where reurbanization is anticipated and encouraged to create new housing and job opportunities, while improving the pedestrian environment, the look of the street, shopping opportunities and transit service for community residents. The study area along Wilson Avenue is designated Mixed Use Areas and General Employment Areas in the City's Official Plan, which are areas that will absorb most of the anticipated increase in retail, office and service employment in Toronto in the coming decades, as well as much of the new housing. The lands in the study area along Jane Street are designated Apartment Neighbourhoods, Mixed Use Areas and Natural Areas. Apartment Neighbourhoods are stable areas that were not expected to experience significant growth, but, where compatible infill development may be permitted on underutilized sites that contain apartments. Natural Areas are to be maintained primarily in a natural state whereas Mixed Use Areas, as noted above is a land use designation that supports growth.
Toronto's Official Plan sets out the vision for where and how the City will grow to the year 2031. The vision of the Plan is about creating an attractive and safe City that evokes pride, passion and a sense of belonging – a City where people of all ages and abilities can enjoy a good equality of life. The Official Plan also recognizes the importance of diversity and opportunity so that the City can offer a dynamic mix of opportunities for everyone to live, work and play. The Official Plan envisions the City's future to be one where housing choices are available for all; children and youth find their surroundings safe, stimulating and inviting; the elderly can live comfortably and securely; educational, public transit and employment opportunities are available to all; and multiculturalism is celebrated and cultural diversity is supported.
The Official Plan describes the general location for new housing, employment, office and retail areas, community services, parks and other land uses. The Official Plan also establishes policies for the built environment such as criteria for how new buildings relate to the street, for improvements to the City's hard services (such as transit, roads and sewers) and for the protection of the City's natural and built environment.