Golden Mile Employment & Social Services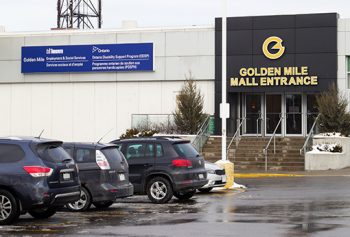 1880 Eglinton Ave. East, Unit 139, Toronto M1L 2L1 (enter through mall entrance)
Postal Codes Served
Hours of Operation
8:30 a.m. to 5 p.m. Monday, Wednesday, Thursday, Friday
8:30 a.m. to 6 p.m. Tuesday
Golden Mile Employment & Social Services provides drop-in services and resources to help you during your job search, and issues financial benefits through Ontario Works.
Help us keep the air we share healthy. Please do not wear or use scented products when visiting our offices.
Address
1880 Eglinton Ave. East, Unit 139, Toronto M1L 2L1
Visit TTC trip planner to plan your route.
Government Partners
Ontario Disability Support Program
The Ontario Disability Support Program (ODSP) provides income and employment support to people with disabilities. You can apply for ODSP while receiving Ontario Works, but it is not a requirement to be on Ontario Works to apply for the program.
8:30 a.m. to 5 p.m. Monday – Friday
Phone: 416-212-2807
Fax: 416-350-8441
Community Partners
Neighbourhood Link Support Services
ID clinic
Every Monday from noon – 2 p.m.
Employment services offered every 2nd and 4th Thursday
The Neighbourhood Organization (TNO)
Settlement counselling
Languages spoken: Mandarin and Cantonese
Every Wednesday from 9 a.m. – 4 p.m.
College Boreal
Employment services
French language services
Every Tuesday from 10 a.m. – 5 p.m.
Appointments to Discuss Record Suspension (Pardon)
Information provided on an individual basis on the requirements for getting a criminal record suspended
Every 2nd Friday of the month until April 2019
Some of the above additional services are available by appointment only. For more information on these services, please call 416-338-8888.
---
Services sociaux et d'emploi de Golden Mile
1880, Eglinton Avenue East, bureau 139 (y accédez par l'entrée principale du centre commercial)
8 h 30 – 17 h lun, mer, jeu, ven
8 h 30 – 18 h mar
Codes postaux désservis
Renseignements généraux
416-338-8888
Aidez-nous à assurer la qualité de l'air que nous respirons. Ne portez pas et n'utilisez pas de produits parfumés lorsque vous visitez nos bureaux.
Services
N'hésitez pas à venir nous voir si vous avez besoin d'aide avec:
la planification de carrière
l'encadrement à la recherche d'emploi
la rédaction du curriculum vitae et de la lettre de motivation
les techniques d'entrevue
les techniques de réseautage
la recherche sur divers métiers
l'aiguillage vers des programmes
les possibilités d'éducation et de formation
l'éducation financière
le soutien au maintien d'emploi
l'information sur le marché du travail
les ressources communautaires
Les ressources et services offerts incluent:
des prestations financière du programme Ontario au travail
l'accès à un système Web qui apparie les emplois et les personnes
des ordinateurs : accès à l'internet, MS Office
des imprimantes lasers, scanneurs, télécopieurs, photocopieurs et téléphones
des ateliers et présentations d'agences communautaires
de l'information sur les salons de l'emploi et les évènements communautaires
des livres et matériels sur la recherche d'emploi et la planification de carrière
de l'information sur les services gouvernementaux
Directions par transport public TTC
À partir de la station Victoria Park, prenez l'autobus 24 Victoria Park et descendez à Eglinton. Nous sommes situés au 1880, Eglinton Avenue East. Veuillez y accéder par l'entrée principale du centre commercial.
Vous pouvez aussi joindre le TTC au 416-393-INFO (4636) pour obtenir des renseignements sur les directions à suivre.