Golden Mile Employment & Social Services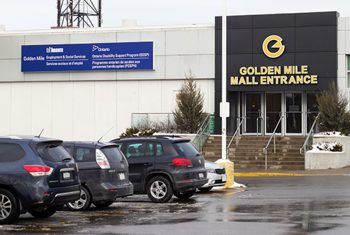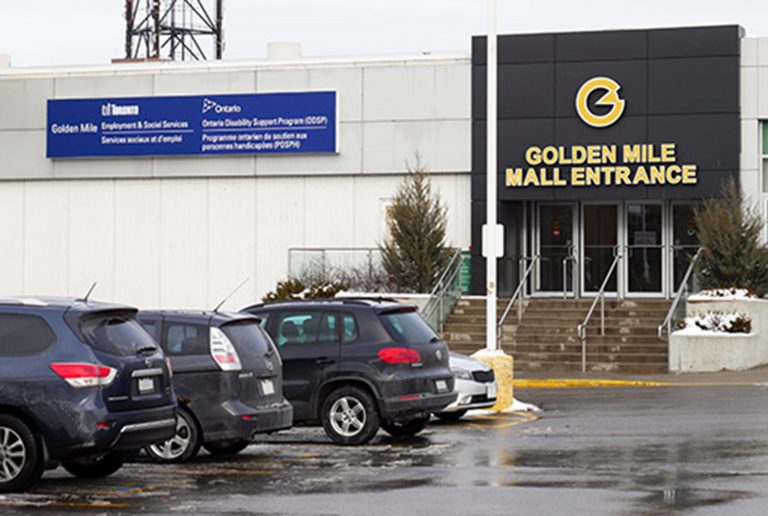 Office Location
1880 Eglinton Ave. East, Unit 139
Toronto, ON M1L 2L1
(enter through mall entrance)
Mailing Address
PO Box 3888 Stn Industrial Park
Markham, ON L3R 5T2
Postal Codes Served
Hours of Operation
8:30 a.m. to 5 p.m. Monday, Wednesday, Thursday, Friday
8:30 a.m. to 6 p.m. Tuesday
Golden Mile Employment & Social Services provides financial benefits through Ontario Works, employment supports and social supports to people living in Toronto. All of our locations provide similar supports.
Help us keep the air we share healthy. Please do not wear or use scented products when visiting our offices.
Government Partners
Ontario Disability Support Program
The Ontario Disability Support Program (ODSP) provides income and employment support to people with disabilities. You can apply for ODSP while receiving Ontario Works, but it is not a requirement to be on Ontario Works to apply for the program.
8:30 a.m. to 5 p.m. Monday – Friday
Phone: 416-212-2807
Fax: 416-350-8441
TTY: 416-212-5426
Onsite Services
The following organizations visit the office on a regular basis to provide services onsite. For more information, including dates/times these services are available onsite, please call the office or register online.
College Boreal
provides employment/job search information and assistance in French
Housing Help Centre
guidance regarding access to affordable housing, housing options and landlord mediation
Neighbourhood Link Support Services
Employment Services
provides job search/training information and access to Employment Services
ID Clinic
helps individuals with no permanent address to secure identification documents
Toronto District School Board
Essential Skills
one-on-one help and assessments with English literacy, basic math, and referrals to computer training courses
University of Toronto
information on the process for criminal record suspensions
Adresse postal
PO Box 3888 Stn Industrial Park
Markham, ON L3R 5T2
Codes postaux désservis
Heures d'ouverture
8 h 30 – 17 h lun, mer, jeu, ven
8 h 30 – 18 h mar
Renseignements généraux
416-338-8888
Aidez-nous à assurer la qualité de l'air que nous respirons. Ne portez pas et n'utilisez pas de produits parfumés lorsque vous visitez nos bureaux.