Scarborough Village Employment & Social Services
3660 Kingston Rd, Unit K1, Toronto M1M 1R9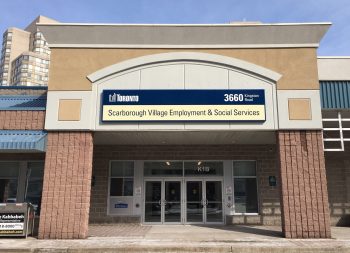 Postal Codes Served
Hours of Operation
8:30 a.m. to 5 p.m. Monday, Wednesday, Thursday, Friday
8:30 a.m. to 6 p.m. Tuesday
Please Note: Due to a life-threatening allergy, please do not bring any bananas, banana peels or products that contain bananas with you to this building. Please share this message with anyone else you might invite to this office, in order to ensure a safe environment for all.
Scarborough Village Employment & Social Services provides drop-in services and resources to help you during your job search, and issues financial benefits through Ontario Works.
Help us keep the air we share healthy. Please do not wear or use scented products when visiting our offices.
Address & Directions
3660 Kingston Rd, Unit K1, Toronto M1M 1R9
TTC Directions: From Kennedy subway station, take either the 905 Eglinton East Express bus towards University of Toronto (Scarborough), the 86A Scarborough bus towards Toronto Zoo, or the 116C Morningside bus towards Finch. Exit at Eglinton Avenue East and Kingston Road.
You can also call the TTC  at 416-393-INFO (4636) for directions.
Service sociaux et d'emploi de Scarborough Village
3660 rue Kingston, Unité K1
8 h 30 – 17 h lun, mer, jeu, ven
8 h 30 – 18 h mar
Codes postaux désservis
Remarque: En raison d'une allergie mortelle, veuillez ne pas amener de bananes, de pelures de banane ni de produits contenant de la banane dans ce bâtiment. Veuillez en informer toute autre personne susceptible d'être présente afin de garantir un environnement sûr pour tous.
Aidez-nous à préserver la pureté de l'air que partageons. Veuillez ne pas porter ni utiliser de produits parfumés lors de la visite de nos bureaux.
Adresse et itinéraire
Directions de la TTC: De la station de métro Kennedy, prendre l'autobus express 905 Eglinton East vers l'Université de Toronto (Scarborough), l'autobus 86A Scarborough vers le Zoo de Toronto, ou l'autobus 116 Morningside vers la station de métro Finch. Descendre de l'autobus au coin d'Eglinton Avenue East et de Kingston Road.
Vous pouvez aussi joindre le TTC en appelant le 416-393-INFO (4636) pour en savoir plus sur l'itinéraire à suivre.