The Queensway Employment & Social Services
779 The Queensway, Toronto M8Z 1N4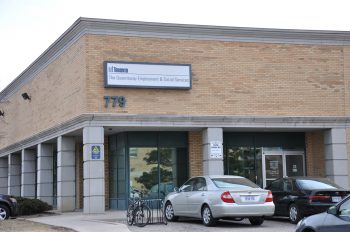 Postal Codes Served
M6P
M6S
M8V
M8W
M8X
M8Y
M8Z
M9A
M9B
M9C
Hours of Operation
8:30 a.m. to 5 p.m. Monday, Wednesday, Thursday, Friday
8:30 a.m. to 6 p.m. Tuesday
The Queensway Employment & Social Services provides drop-in services and resources to help you during your job search, and issues financial benefits through Ontario Works.
Help us keep the air we share healthy. Please do not wear or use scented products when visiting our offices.
Address & Directions
779 The Queensway, Toronto M8Z 1N4
TTC Directions:  From Royal York subway station, take the 76 Royal York South bus to The Queensway. Walk west on The Queensway from Royal York Road. We are located on the south side of The Queensway at 779 The Queensway, at the back of the complex.
You can also call the TTC at 416-393-INFO (4636) for directions.
Community Partners
Humber Employment Centre
Employment services including resume and interview preparation, job search and job placement provided on the 2nd Thursday of each month from 1:30 – 4 p.m.
JobStart
Settlement counsellor providing support, programs and services for newcomers available on the 2nd Wednesday of each month from 10 a.m. – 12 p.m.

March of Dimes
Employment support for people with disabilities available on the 1st and 3rd Tuesday of each month from 9:30 a.m. – 3:30 p.m.
Pathways to Possibilities (PTP) Adult Learning and Employment Programs
Employment services and employment essentials programs for low-literacy individuals available on the 4th Tuesday of each month from 10 a.m. – 12 p.m.
Polycultural Immigrant & Community Services
Settlement services to newcomers in more than 40 languages available on the last Thursday of each month from 1 – 4 p.m.
VPI
Employment services, job search, pre-employment training and job placement available on the 3rd Tuesday of each month from 1:30 – 3 p.m.
West Toronto Housing
Housing support and assistance with housing applications available on the 2nd and 4th Tuesday of each month from 1 – 4 p.m.
Youth Employment Services
Employment services for youth and clients who are out of school and out of work available on the 3rd Wednesday of each month from 2 – 4 p.m.
For more information on these services, please call 416-338-8888.