York Humber Employment & Social Services
605 Rogers Road, Toronto M6M 1B9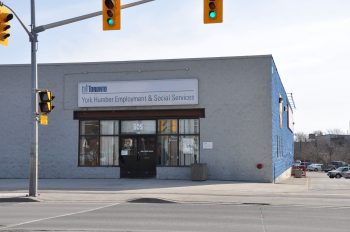 Postal Codes Served
Hours of Operation
8:30 a.m. to 5 p.m. Monday, Wednesday, Thursday, Friday
8:30 a.m. to 6 p.m. Tuesday
York Humber Employment & Social Services provides drop-in services and resources to help you during your job search, and issues financial benefits through Ontario Works.
Help us keep the air we share healthy. Please do not wear or use scented products when visiting our offices.

Community Partners
Toronto District School Board
Essential Skills worker is onsite every 2nd and 4th Thursday of the month, 11 a.m. – 12:30 p.m., to help with English literacy, basic math and referrals to computer training.
West Toronto Community Legal Services
Housing worker is onsite every 2nd and 4th Tuesday of the month, 1 – 4:30 p.m., to help with subsidy applications, finding affordable housing, and housing resources.
Yorktown Child and Family Centre
Youth outreach worker is onsite Mondays and Fridays, 12 – 4 p.m., to offer help and referrals for young people, including: legal support, health and wellness, addictions, family and parenting, employment, and education.
North York Community House
Newcomer settlement worker is onsite every Wednesday, 8:30 a.m. – 4 p.m., to offer free and confidential help with: immigration, education, childcare, language classes, and citizenship.
University of Toronto Student
Criminal Record Suspension (Pardon Law Student) is onsite every 3rd Friday of the month, 1:30 – 4:30 p.m., to provide legal education and help with record suspension applications.
For more information on these services, please call 416-338-8888.