Anti-Black Racism & Mental Health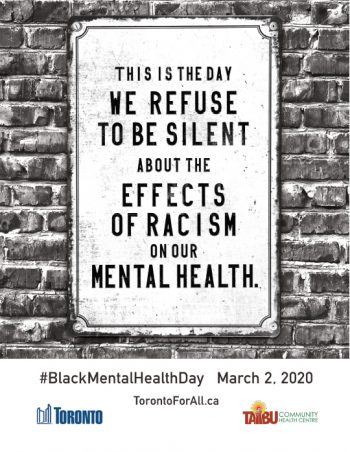 Anti-Black racism is prevalent in our society and has negative impacts on the health of Black Torontonians. There has been increasing research that anti-Black racism takes a toll on mental health, despite the resilience of Black Torontonians. On top of that, Black Torontonians cannot easily access culturally appropriate mental health supports and services. The City of Toronto & TAIBU Community Health Centre have partnered to help highlight the impact of anti-Black racism on mental health in our city. Addressing barriers means raising awareness, having tough conversations and working together to build strong communities and allyships committed to lasting change.
As a first step, the City will officially declare Monday, March 2, 2020, as Toronto's first Black Mental Health Day. And the first Monday of March, every year after.
Download:
Download the poster in other languages: French | Amharic