Richmond-Adelaide Cycle Track Study, Including Peter & Simcoe Streets
The Richmond-Adelaide bike lanes are the most used cycling facilities in the City with an average weekday volume 6,540 cyclists per day (24 hour counts taken in June 2016).
Bike lanes were installed on Simcoe Street between Queen Street and Front Street in fall of 2014. The existing painted bike lanes south to Lake Shore Boulevard were upgraded to separated cycle tracks in the summer of 2016.
In November 2016, the cycle track on Peter Street was installed in the section between Queen Street and King Street.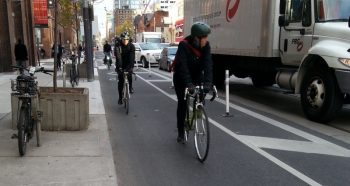 Cycle tracks (separated bike lanes) were installed on Richmond Street and Adelaide Street between Bathurst Street and Parliament Street in two phases: in the summer of 2014 (Bathurst Street to University Avenue)  and in the fall of 2015 (University Street to Parliament Avenue).
These cycle tracks are a pilot project for demonstration, testing, and evaluation before a decision is made on whether they should be made permanent (with possible upgrades).
Transportation staff plan to publish detailed evaluation reports, for presentation to City Council in 2018. At that time it is anticipated that City Council will make a decision on the future of each cycle track. The pilot projects will remain in place until a decision is made by Council to have them maintained, modified, or removed.
Public Consultation History
Prior to installation of the pilot bike lanes, the City consulted with the public and stakeholders through workshops, meetings, and extensive communications.
Following the installation of cycle tracks on Richmond, Adelaide, and Simcoe, the City received feedback through public online surveys, meetings with local business representatives, and email and voicemail to the project inbox.
If you require assistance in understanding any of the above files, please contact Jason Diceman at 416-338-2830.