West Toronto Railpath Extension
The next public event is expected to take place later in 2019. Stay tuned for more information.
Project Recap
The Detailed Design phase is being carried out jointly by the City of Toronto and Metrolinx.
A complete design plan is being developed to guide the future construction of the Railpath Extension multi-use trail, including detailed plans and drawings for:
Four pedestrian-cycle bridges: over the Barrie rail corridor south of Dundas St. West (with provision for future connection to Sorauren Park), over Lansdowne Ave., over Brock St. and over Queen St. West)
Landscape architecture and plantings
Trail amenities and elements such as signage, lighting, seating, waste and recycling receptacles, bike parking options, etc.
The Detailed Design phase is being coordinated with other projects planned in the area, including:
Barrie Rail Corridor Expansion
Kitchener Rail Corridor Expansion (including modifications to West Toronto Railpath Phase 1, north of Dundas St. West)
Bloor-Lansdowne GO Station Environmental Assessment Study
King-Liberty SmartTrack Station design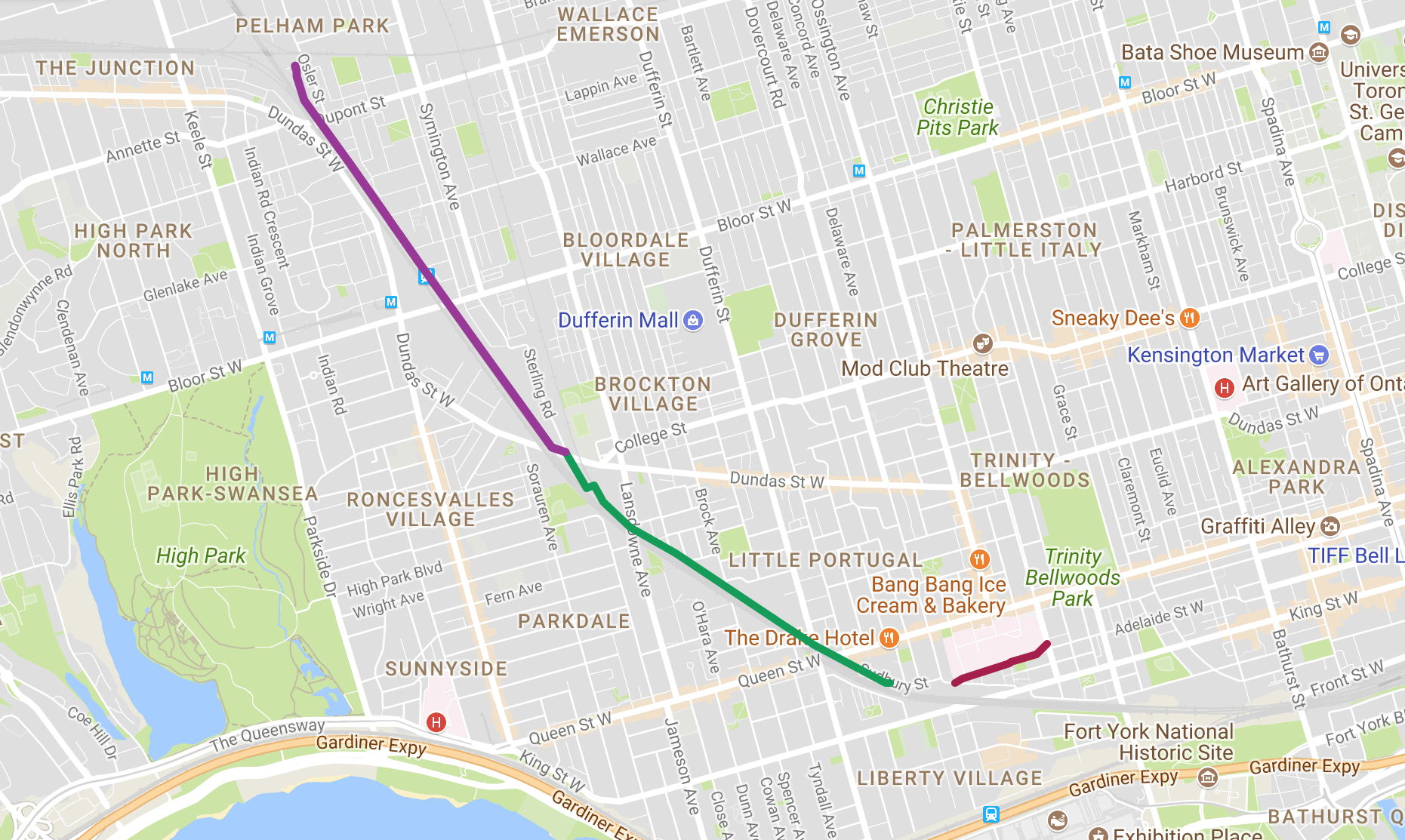 Background
In 2001, City Council adopted the Toronto Bike Plan which set out short and long-term goals for on and off-street cycling infrastructure. The Toronto Bike Plan identified an off-road trail connection along the Kitchener GO Transit rail corridor from north of Dupont Street to Strachan Avenue.
The first phase of the West Toronto Railpath from Cariboo Avenue (just north of Dupont) to the Dundas Street West Overpass along the rail corridor was completed in 2008. This section of Railpath received the 2011 City of Toronto Urban Design Award.
In June 2012, City Council adopted the multi-year Bikeway Trails Implementation Plan and new trail connection priorities. These priorities included a recommendation for an environmental assessment study to develop a preferred route to extend the West Toronto Railpath south from Dundas Street West to Strachan Avenue.
Environmental Assessment
The City completed its study in 2016 for extending the West Toronto Railpath from Sterling Avenue (at Dundas Street West), along the Kitchener GO rail corridor to just south of Queen Street West (at Abell Street).
This study followed a Municipal Class Environmental Assessment (Class EA) Schedule 'C' process, which included identifying the problem/opportunity, developing and evaluating a reasonable range of alternative solutions, and providing opportunities for public input.
The study determined:
Preferred alignment of the Railpath extension
Urban design features such as landscaping, public art, bike parking, signage and lighting
Access points linking the Railpath to communities along the rail corridor
Design options for new pedestrian and bicycle bridges that may be required, and feasibility and cost-effectiveness of the different options
The Environmental Study Report (ESR) was issued for a 30-day public review period from January 14 to February 15, 2016.
Environmental Study Report
The Environmental Study Report (ESR) was prepared to document project activities, correspondence and decision-making process up to and including Phase 4 of the EA process. The ESR was prepared for public record and provided an opportunity for the public, review agencies, Ministry of the Environment, Conservation and Parks (MOECP) and other project stakeholders to review the process.
On May 17, 2016 the Minister of the Ministry of Environment, Conservation and Parks approved the West Toronto Railpath Extension Environmental Assessment study.
The project is now in the implementation phase which includes completion of detailed design, contract drawings and documents, followed by trail construction and operation with appropriate monitoring, as detailed in the Environmental Study Report.
To view the report contact Maogosha Pyjor at 416-338-2850 or email Maogosha.Pyjor@toronto.ca.
Stakeholder Meeting #2
The project team met key stakeholders on June 25, 2019 in order to provide a project update and discuss various topics including landscape architecture, bridge structures, community connections and public art.
Meeting notes will be posted shortly.
Community Connection Meetings
Community meetings took place on April 15, 16 and 17 2019 to hear from residents with planned connections points to the Railpath from their streets including: Delaney Crescent, St.Clarens Avenue, Northern Place and Shirley Street.
Drop-in Event #1
View information materials from September 13, 2018 drop-in event which highlighted the different design elements being considered.
Stakeholder Meeting #1
The project team met with key stakeholder groups on May 14, 2018. These groups were highly involved in the Environmental Assessment study and were engaged to share their priorities moving into the next design phase of the project.
Note: These documents may not be fully accessible. For accessible formats or communications support, please contact Maogosha Pyjor by phone 416-338-2850 or by email Maogosha.Pyjor@toronto.ca
1. What is happening during the current detailed design phase?
Detailed design includes refinement and finalization of the preferred trail design which was selected in the Environmental Study Report. This phase produces detailed design drawings including construction standards and specifications, Construction Management Plan, Environmental Monitoring Plan and Trail Operations and Maintenance Plan.
2. What is the general design for the West Toronto Railpath Extension?
The Railpath will be designed as a multi-use facility and will function as a shared space between a variety of different users including cyclists, pedestrians, rollerbladers etc. Generally, the paved portion of the trail will be 3.5 metres or wider, based on available space from Metrolinx Rail Corridor. The exact width of the trail needs to be determined and will be somewhat dictated by the space available within the rail corridor. The surface of the Railpath will be paved while bridges and other specialty structures will have a concrete or other durable hard surface that conforms to accessibility requirements. Street lighting and fencing will be installed similar to the earlier phase of the Railpath.
Wherever possible, the trail will be designed and built to comply with the Accessibility for Ontarians with Disabilities Act (AODA).
3. Where will the Railpath extension be located?
A new multi-use trail will be aligned in the rail corridor from the Dundas Street Bridge to Queen Street West (east side of the railway corridor) and adjacent to the rail corridor from Queen Street West to Abell Street. South of Queen Street West, the lands in the rail corridor are more constrained due to Metrolinx's railway track expansion plan and as a result a multi-use trail will be located within municipal road right-of-way.
There will be four new pedestrian-cycle bridges as part of the route including bridges over the Barrie GO rail corridor, Lansdowne Avenue, Brock Street and Queen Street West. As part of the Railpath Extension, a pedestrian-cycle bridge was built over Dufferin Street in 2016.
4. Where will access be provided to the Railpath?
The following community connections were identified in the environemental study report (from north to south):
Dundas St. W. and Sterling Road
222 Lansdowne Avenue (No Frills)
Shirley Street
Northern Place
Clarens Avenue
Delaney Crescent
Brock Avenue (both east and west sides of street) – to be confirmed through design phase
Dufferin Street (north of Queen St. W.)
Sudbury Street (south of Queen St. W.)
5. What are the benefits of extending Railpath?
Multi-use trails are actively enjoyed by a wide range of users and are generally considered an attractive neighbourhood amenity. Trails provide a space for interaction with neighbours and increase access for people to discover natural, cultural and heritage places in the city.
Public places that are actively used by residents are generally regarded as safer and more comfortable for all ages – the most effective crime prevention approach is to encourage a high level of activity along the trail system. Trails support the opportunity for physical activity through walking, running, rollerblading and cycling which is in tune with the City's public health objective to encourage physical activity to improve the health of Torontonians. Building trails that are high-quality and with accessible infrastructure also promotes social equality.
6. Will the trail include winter maintenance?
Yes. The Railpath is maintained by Parks Forestry and Recreation in the winter, including plowing, salting, and litter picking. Transportation Services maintains the bridges and Waste Management empties the receptacles year round. 
7. Will the plan include additional by-law enforcement, e.g. to reduce off-leash dogs and cyclists riding too fast?
The City will continue to encourage safe and appropriate use of the Railpath Extension by including signs and pavement markings. Further efforts, such as public education campaigns and increased by-law enforcement, are beyond the scope of this conceptual design project, but recommendations for such efforts will be shared with appropriate City divisions.
8. When will construction of the Railpath Extension take place?
Construction timelines still have to be determined and will be subject to available funding. Most of the Railpath extension is located within the Metrolinx owned rail corridor and construction also requires coordination with Metrolinx and their planned construction for rail corridor widening.9
9. Has funding for the Railpath Extension been secured?
The detailed design for the West Toronto Railpath Extension is funded jointly by the Federal Government and the City of Toronto through the Public Transit Infrastructure Fund (PTIF). Funding for construction is not secured yet. The City is continuing to explore other opportunities for funding in collaboration with other levels of governments.
10. Is there a cost estimate for this project?
Based on the EA study which was completed in spring 2016, the estimated total cost is $23 million.
11. Why are you stopping at Abell Street?
Given the lack of space within the rail corridor, technical issues and impacts to neighbouring properties, more consultation and study is needed to find a solution which lessens impacts and balances different interests.
Under the Public Transit Infrastructure Fund (PTIF) – Phase 1, the Government of Canada is investing up to $1.45 million for the West Toronto Railpath Extension Design project.  The City of Toronto is matching this funding contribution.