Automated Shuttle Trial
Learn about the proposed plan and route options in our
information panels
for public consultation.
A new kind of local transit service: convenient, safe, quiet, zero emissions and accessible
The City or Toronto, Toronto Transit Commission (TTC), and Metrolinx are working towards launching a trial public transit service to connect local residents to and from Rouge Hill GO station.
The temporary service would be provided using a small state-of-the-art electric shuttle running a route set through residential streets not currently served by conventional transit. The shuttle would be an automated vehicle (AV) that is mostly self-driving with an on-board human attendant at all times.
The aim is to demonstrate the future opportunity for a safe, green, accessible and convenient transit technology to support local travel needs. This type of "first and last mile" service would be offered as an alternative choice for residents to get to the nearest transit station, which could reduce future local traffic congestion and parking lot demand.
Public consultation will be an important part of the planning and evaluating of this temporary trial transit service. We invite you to get involved.
Proposed Plan
The service would start in Fall 2020 and run for about 6-12 months
Passengers would ride for free
The shuttle would travel on the road to and from Rouge Hill GO station during morning and evening rush hours
The shuttle is likely to be a zero-emissions electric automated vehicle (AV), that will quietly and safely operate at low speeds
Automated Shuttle Area: West Rouge Community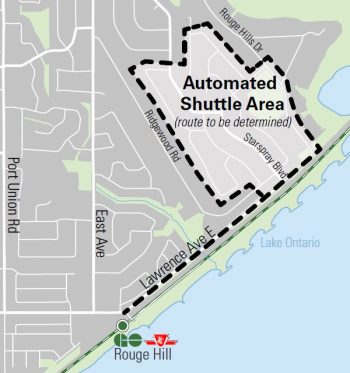 The West Rouge neighbourhood is located in the south-east corner of Scarborough, roughly bounded by Lake Ontario to the south, the Rouge River to the east, Port Union Road to the west and Kingston Road to the north
The shuttle route on locals streets within West Rouge is to be determined.
The proposed plan is in the early stages, with many decisions still to be made. We want to connect with local residents to make sure this plan can work for the neighbourhood.
Learn about the proposed plan and route options in our information panels for public consultation.
We look forward to continued public engagement and consultation starting in the spring of 2020. Subscribe below to receive email updates and consultation invitations.
Completed Engagements
An online survey was provided from September 13 to October 31, 2019. We received more than 400 responses, including 134 from residents who live in the West Rouge neighbourhood.
We also hosted a public consultation drop-in event on October 2, 2019, in the West Rouge Community Centre, where 39 residents attended and discussed the project with team members.
If you require assistance in accessing any materials on this page, please contact Jason Diceman.
The primary public information about the project are included in the information panels above. The content of this page is intended to provide additional details.
Project Rationale
Automated vehicles offer exciting opportunities for transit providers and transit users. The City of Toronto, TTC and Metrolinx are working together to explore and understand how this technology can make it easier for people to access transit.
The project partners want to understand the value of an automated shuttle service in the transit and transportation system so that they can make decisions about the use of this and similar technologies in the future. The project partners also want to understand how users and community members respond to this type of service, and provide an opportunity for the public to learn more about automated vehicles.
There is currently no intention to make this project permanent.
Business Case
The trial is intended for research purposes and not designed for cost-recovery. The trial is intended to generate knowledge about the potential for this kind of technology to be integrated into the transit system over the long term.
Project Partners
The Automated Shuttle Trial is jointly delivered by the City of Toronto, TTC and Metrolinx. The City, TTC and Metrolinx make decisions together about the design and implementation of the temporary trial.
Funding
The trial is funded by a contribution from Transport Canada through the Program to Advance Connectivity and Automation in the Transportation System (ACATS), as well as funding from the City of Toronto. The project partners (City of Toronto, TTC and Metrolinx) are also contributing in-kind support, such as staff time and other resources.
Transport Canada is providing a contribution of $365,000 for service preparation, delivery and evaluation. Total value of the project including in-kind support is estimated to be $1.153 million.
Previous AV Shuttle Projects in Canada
There have been hundreds of other shuttle demonstrations and trials around the world and in Canada (including in Vancouver, Calgary, Ottawa, Candiac, and Montreal). However, this will be the first for Toronto and the only trial in Canada that has been conducted in partnership with transit agencies and which seeks to understand the specific potential of automated shuttles in the transit system.
Automated Vehicles in the City of Toronto Streets
Through the Ontario Automated Vehicle Pilot program, administered by the Ontario Ministry of Transportation, organizations can apply for a permit to test automated vehicles on Ontario public roads, including in the City of Toronto. This program has been in effect since 2016. The selected service provider will be responsible for ensuring that a permit is obtained under this program.
Defining Success
For the City and its partner agencies, success would include:
Developing a greater understanding of:

The automated shuttle technology and its application in "first-mile, last-mile" applications and other use cases,
The potential for integration of this type of service to fill gaps in the existing transit system
Whether this type of service could offer a benefit to customers in the long term.

Generating regular use of the shuttle by residents and gathering feedback on customer experiences
Encouraging increased public awareness in the use of automation
Making Toronto even more attractive for economic activity in the area of automated transit vehicle technology
We look forward to hearing from the public about other measures of success.
Beyond the Trial
At this time, there is no intention to make this temporary trial permanent, nor to scale up automated shuttle services across the transit system without further analysis. During and after the trial, the City and its partners will conduct a full evaluation of the technology and its potential for integration into the transit system and other possible applications. This will include identifying future work and research that needs to be completed to continue preparing for this technology. More information on the City's forthcoming Automated Vehicles Tactical Plan.
The City, TTC and Metrolinx have no intention of purchasing the shuttle vehicle.
Why We Chose West Rouge Neighbourhood
To select the preferred location, the City, TTC and Metrolinx began by developing selection criteria. They were:
Route fills a current unmet need in the transit system

Outside of the existing TTC 400-metre service area
Close proximity to a major transit hub
Route is able to meet the technological limitations of the anticipated shuttle technology
Acceptable grade, no rail crossings, pick-up/drop-off areas available, storage/charging areas available
Total route distance <5km (allows approximately 30-min headways with 1 shuttle)
Mixed-traffic environment with low traffic volume
Route possesses preferred location characteristics
Identify whether in a Neighbourhood Improvement Area
Avoid School Zones
Ability to avoid or coordinate with planned capital projects/road works
Ability to clearly communicate to potential customers
Using these criteria, the team generated a list of potential locations within the City of Toronto and evaluated them against the criteria. West Rouge was the best candidate for meeting the project needs, and we hope residents will welcome this trial public service in their neighbourhood.
Defining "Outside of the existing 400-metre TTC service area"
The TTC has a service coverage standard that states: "The base network of transit services is designed so that 90% of the population and employment is within a 400 metre (5 minute) walk of transit service, seven days a week." There are small pockets of the City that fall outside of this standard. For this trial, we wanted to target these geographical gaps.
No Changes to Existing Bus Transit Service in the Area
No changes will be made to existing TTC and Durham Region Transit (DRT) bus services connecting to Rouge Hill GO.
Shuttle Route Decision-Making
The City of Toronto, TTC and Metrolinx make decisions together about design and implementation via a Steering Committee. Public consultation activities will include door-to-door visits in the neighbourhood, a website and survey, and a public drop-in event. Final decisions on the route will be made after gathering local public input and conducting a technical evaluation in collaboration with the shuttle service provider, to be selected in Spring 2020.
How the Shuttle Sees Its Surroundings
Automated shuttles on the market today are equipped with LiDAR, radar and external cameras to sense and respond to their environment. Paired with digital mapping of the route, they use these tools to navigate their environment along a "virtual track" that is pre-programmed.
Weather Conditions
One of the objectives of the trial is to learn about the vehicle's performance in a range of weather conditions. This is why we want to pilot for 6-12 months.
Based on our current knowledge, automated shuttles can operate in different weather conditions, including some snow conditions. The exact reliability of the vehicle in a range of weather conditions is not yet known, however, as it will depend on the chosen shuttle provider. The selected provider will be expected to create a service plan based on the vehicle's capabilities to ensure safe operations at all times.
Shuttle Speed
The shuttle will have a maximum speed of approximately 20 km/h, and may travel more slowly in some circumstances.
Role of the Attendant in the Shuttle
At least one fully trained attendant will be on board at all times to monitor vehicle performance, conduct any necessary manual overrides, assist users including those with disabilities, and answer questions about the trial project.
Use by People with Disabilities
The trial service will be designed to comply with the Accessibility for Ontarians with Disabilities Act (AODA), the Highway Traffic Act (HTA), the TTC Accessible Customer Service Policy, and the Metrolinx Accessibility Policy. The exact design of the vehicle will depend on the provider selected, but accessibility criteria will be included in the call for proposals.
An attendant will always be on board to provide assistance as needed.
Shuttles on the market today offer access ramps (manually-deployable or automatic), information screens with visual/audio alerts and other features.
No Fares (Ride for Free)
There will be no fare to board the shuttle, but users will have to pay the fare when boarding GO, TTC or Durham Region Transit (DRT) services at the transit hub (Rouge Hill GO Station).
Anyone Can Ride
As a public transit service, everyone will be welcome to ride the automated shuttle.
Where to Find the Shuttle Schedule and Route
Information about the shuttle route and schedule will be publicly available online, by computer or mobile device, and by phone to assist users in planning their trip.
Stops Locations
The automated shuttle service will have fixed stops throughout the neighbourhood for convenient access by users. The locations for the stops will be determined in 2020 after public consultation and in collaboration with the service provider.
The criteria for locating stops will include: user need, accessible waiting area, safety, and appropriate spacing for transit service, in consultation with the local community.
Service Frequency
The automated shuttle will provide service on weekdays approximately every 20-30 minutes, during rush hours only (approximately 6:30-9:30 a.m. and 4-7 p.m.). To the extent possible, the service will be coordinated with GO Train arrival and departure times.
No WIFI on the Shuttle
For this trial project, we do not anticipate offering WIFI onboard the vehicle.
Attendant on Board to Help
The attendant will be on board at all times to provide information and assistance to users.
How We Are Consulting with the Community
The public consultation for this project will be a continuous process over several phases.
Phase 1 included a public online survey from September 13 to October 31, 2019 and a drop-in event on October 2, 2019.
A summary report of the Phase 1 Public Consultation will be published in the coming weeks.
The project team is also engaging with local stakeholder groups early and often.
Further public outreach and surveys will be conducted once the service provider is selected (Spring 2020). Consultation with shuttle users, residents, and other Torontonians will be an important component of the project during and after implementation.
Whether or not you live in or near West Rouge, we encourage you to write to us at automatedvehicles@toronto.ca, and to subscribe below to stay tuned for future opportunities to participate.
Data Collection Related to the Shuttle Use
Some data such as operating statistics, vehicle performance, ridership, and impact on the traffic system may be collected by the service provider and/or the City and its partners. Only that data required to evaluate the trial results against the stated objectives will be collected.
Some optional, in-person surveys of community members and shuttle users will be conducted anonymously.
The City will be partnering with researchers at the University of Toronto to measure and evaluate the project and may share select information with the University for those purposes.
No Connectivity
Currently, there are no plans for the automated shuttle to be connected to, or communicate with, local infrastructure or vehicles via wireless technology in this trial.
In the future, automated vehicles could also be "connected vehicles," meaning that they could communicate in real time with traffic lights, other infrastructure, or other vehicles through wireless technologies such as DSRC and 5G. This "connected" feature of some vehicles is related to, but separate from, automation.
Subscribe for e-Updates
Type (don't copy and paste) your email address into the box below and then click "Subscribe" to receive updates about a trial public transit service to connect West Rouge residents to and from Rouge Hill GO station using an automated shuttle vehicle. Subscribers will receive approximately three emails each month.
You can unsubscribe at any time.
The personal information on this form is collected under the authority of the City of Toronto Act, 2006. The information is used to allow the City to send you an email to confirm your wish to subscribe to a City of Toronto e-notice. Questions about this collection may be directed to the ListServ Administrator, Strategic Communications Division, City of Toronto, Toronto City Hall, 7th floor, West Tower, Toronto M5H 2N2. Telephone: 416-397-5318. By subscribing to one of the City of Toronto's e-updates you are providing express consent, as defined by the Canadian Anti-Spam Legislation (CASL), to receive email updates from the City of Toronto.
The short URL for this web page is toronto.ca/AVshuttle