Conlins Bike Lane Upgrade
The City of Toronto is planning to upgrade the existing bike lanes on Conlins Road between Ellesmere Road to Sheppard Avenue East to a combination of bicycle lanes and cycle tracks (bike lanes that are physically separated from traffic).This work would be done as part of already scheduled road resurfacing on Conlins Road later this year.
This upgrade would provide a safer and more comfortable connection for cyclists. In particular, the cycle track portion between Canmore Blvd. and Sheppard Ave. E. would ensure a separated bicycle lane along "The Meadoway" bike trail route. When completed, this 16 kilometer separated bike trail will run along the Gatineau Hydro Corridor from the Don Valley to Rouge National Urban Park and Conlins Road will be used to connect the Meadoway sections north and south of Highway 401.
Revised Upgrade Proposal
Following a public event held on April 9, 2019, the original proposal for cycle tracks from Ellesmere Rd. to Sheppard Ave. E. has been revised to minimize impacts to on-street parking and includes:
Buffered bicycle lanes instead of cycle tracks proposed for Ellesmere Road to Canmore Boulevard

No impact to on-street parking and reduced cost of municipal services

Cycle tracks remains proposed to provide a physically separated facility from Canmore Boulevard to Sheppard Avenue East

Approximately 5 of the 14 existing parking spaces between Canmore Boulevard and Good Road would be retained
Improving connections to the existing Gatineau Hydro Corridor Trail with the potential future Meadoway facility that may extend west from the Canmore Boulevard / Chartway Boulevard intersection
Review diagram of revised proposal provided under the Map tab.
Read Public Event Feedback Summary
Report to Committee
Staff have submitted a report to the June 27, 2019 Infrastructure and Environment Commitee (IEC) that includes details for the proposed Bike Lane Upgrade.
Interested members of the public can arrange to speak or submit comments to the Committee. To speak at the June 27th IEC meeting, contact the City's Clerks Office at 416-397-4579 or iec@toronto.ca by 4:30 p.m. on June 26th.
For more information on this process, please visit the Toronto meeting information system.
The Ten Year Cycling Network Plan was approved in-principle by City Council in 2016 to connect, grow, and renew cycling infrastructure throughout Toronto. The planned road resurfacing for Conlins Road provides an opportunity to renew and upgrade the existing bike lanes, consistent with the objectives of the Plan.
Map of Revised Bike Lane Upgrade Proposal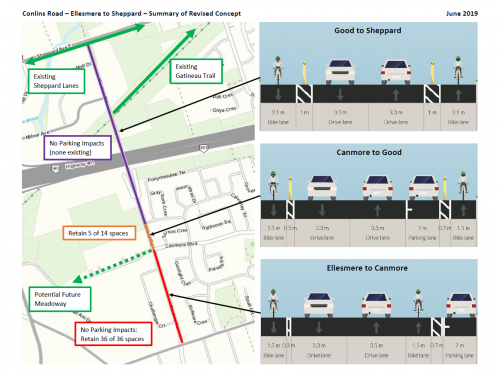 Original cycle track options from April 9 public event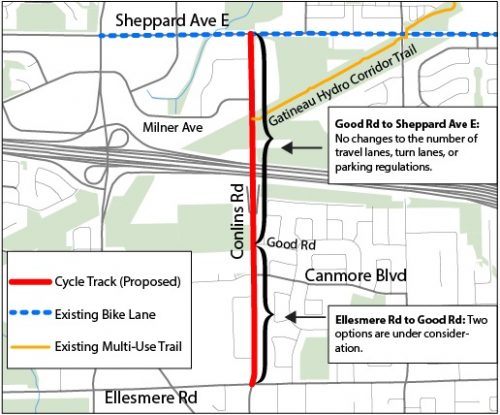 Public Open House
A public open house took place on April 9th and feedback was open until April 23rd. People could learn more about the proposed design options, ask questions, and provide feedback.
Public Open House Materials
Original Proposed Changes Included
Between Good Road and Sheppard Avenue East, the existing travel lanes are proposed to be narrowed to provide space for a buffer and physical separation for the bike lanes. No changes to the number of travel lanes, turn lanes, or parking regulations are proposed.
Between Ellesmere Road and Good Road, two options are under consideration:

Option 1: Remove all on-street parking to provide space for wider bike lanes, buffers, and physical separation.
Option 2: Move existing bike lane (northbound) to be next to the curb and position the parking lane between the bike lane and travel lane. The existing lanes would be narrowed to provide space for buffers and physical separation. This option retains approximately 18 parking spaces on the street which exceeds the maximum observed parking demand.