Richmond-Adelaide Cycle Track Study, Including Peter & Simcoe Streets
The Richmond-Adelaide Cycle Tracks, including Peter Street and Simcoe Street, were installed as a pilot project between 2014 and 2016. After installation, the cycle tracks on Richmond Street and Adelaide Street have become the highest volume cycling facilities in Toronto. On January 30, 2019 the cycle tracks where made permanent by
City Council
.
Construction Notice:
Installation of bicycles lanes
on Blue Jays Way from Wellington St W to Navy Wharf Ct. Planned installation is November 6 to 9, 2019.
Switching Adelaide Street Cycle Track to the Left Side (North Side)
There are currently gaps in the cycle tracks at commercial loading zones and TTC stops.
City staff are changing the configuration of Adelaide Street by moving the separated cycle track from the right side (south side) lane configuration, to the left side (north side).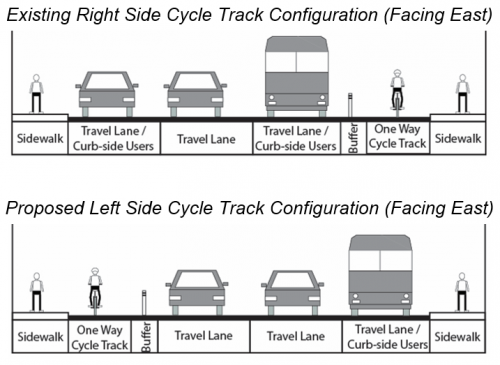 The left side cycle track configuration extends from Bathurst Street to Parliament Street.
June 2018 Public Drop-in Event
On June 25, 2018, we hosted a drop-in event at Metro Hall to introduce this proposal to the community and receive feedback. Over 60 individuals participated and provided comment.
To request assistance reading this file, please contact the Cycling Unit at 416-397-7097 or cycling@toronto.ca.
Staff will continue to engage with stakeholders as this project moves forward.
Why This Change Is Being Considered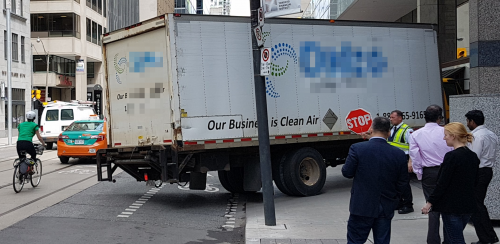 Between York Street and Yonge Street, two large commercial business complexes on the south side have requirements for queuing and access to major truck loading docks. There are also several TTC bus stops on the south side.
A new left side cycle track configuration on Adelaide Street would have the following benefits:
Provide a continuous separated cycle track
Eliminate the requirement for cyclists to merge with through-traffic over streetcar tracks during off-peak periods between York Street and Yonge Street
Eliminate conflicts between cyclists and turning trucks at major loading dock driveways on the right side (south side) between York Street and Yonge Street
Eliminate conflicts between cyclists and TTC buses at bus stops
All existing left side parking and loading zones will need to be removed and replaced on the right side, as needed and where feasible, in consultation with adjacent properties.
The number of traffic lanes, bike lane width, and use of flexi-posts with planters, is expected to remain about the same, mirrored on the left side.
Left-side bike lanes are only possible on one-way streets or two-way median divided streets. While this would be the first left side bike lane in Toronto, left side bike lanes can be found in many cities including Hamilton, Boston, New York, Chicago, and Philadelphia.
Other Changes Planned
If the Richmond-Adelaide Cycle Tracks are approved as a permanent cycling facility, modifications would be made to the design in the future. Potential modifications could include providing a greater degree of separation between cyclists and motor vehicles, pavement marking modifications, and traffic signal timing modifications.
Public Consultation History
Prior to installation of the pilot bike lanes, the City consulted with the public and stakeholders through workshops, meetings, and extensive communications.
Following the installation of cycle tracks on Richmond, Adelaide, and Simcoe, the City received feedback through public online surveys, meetings with local business representatives, and email and voicemail to the project inbox.