Proposed Bike Lanes on Scarlett Road
Cycling is one of the fastest growing transportation modes in Toronto. The City is working to make travel by bike safer and more inviting.
In 2019, the City of Toronto is proposing to install a physically separated bike lane (cycle track) along Scarlett Road from the Humber River to just north St. Clair Avenue at Bernice Crescent.
Reduced Vehicle Speeds
The separated bike lane design will require the reduction of traffic lanes, which will reduce vehicle speeds on Scarlett Road and improve safety.
Update
View the Scarlett Road Bike Lanes Public Consultation Summary Report
Transportation Services will seek Council authority to install this proposed cycling infrastructure on Scarlett Road (from Bernice Crescent to 105 metres south of Edenbridge Drive) at the June 27, 2019 Infrastructure and Environment Committee (IEC) meeting.
View IEC Agenda Item #IE6.12 including detailed reports under Background Information.
To speak at the June 27, IEC meeting, please contact the City's Clerks Office at 416-397-4579 or iec@toronto.ca by 4:30 p.m. on June 26. For more information on this process, please visit Have Your Say!
The new bike lane will provide a dedicated space for cyclists, improving safety and comfort for all road users. The bike lane will expand the local cycling network by connecting to the existing multi-use trail on the Humber River, at Black Creek Trail, and future bike lanes under the Scarlett Road Bridge.
Options for cycling connections to Scarlett Road being considered for the future include Eileen Avenue to Pritchard Avenue or Eileen Avenue to Corbett Avenue.
Scarlett Road Bike Lane Design
The installation of the separated bike lanes on each side will require a reduction in the number of motor vehicle travel lanes from four lanes, to two, plus center turning lane.
The Scarlett Road bike lane separation would include short concrete walls where ever possible, bollards (short posts) and curbs in some locations, along with signs and pavement markings throughout.   No stopping or parking will be permitted next to or in the bike lane.
TTC bus stops will continue to function along the route.  This work will be coordinated with TTC's planned Junction Area TTC route and stop location updates.
This project will also include road resurfacing and traffic signals will be optimized to keep traffic moving.
Safety Improvements
The proposed lane reduction in this project would reduce the recognized road safety problem of high vehicle speeds along Scarlett Road.
In support of pedestrian safety, a new traffic signal at Eileen Avenue is also proposed, which will replace the existing pedestrian crossover at Bernice Crescent.
The center turn lane will make it easier and safer to turn to and from the side streets.
Public Art
The proposed short concrete walls separating the bike lane from the traffic will be covered in painted murals through a partnership with stART Toronto.
The Scarlett Road Bridge project will include public art throughout the site: in the underpass, along retaining walls, and in the parkette.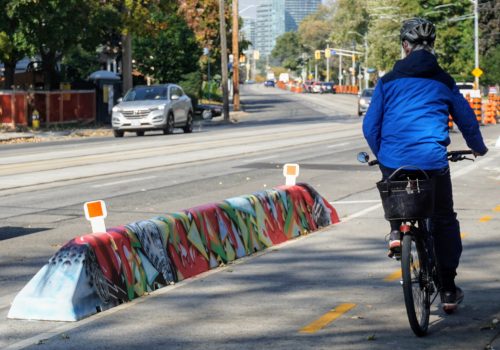 On April 29, 2019, the City hosted a public consultation meeting to provide residents with an opportunity to learn more and provide comments about the proposed bike lanes. Over 100 residents attended.  View the bike lane information materials below (PDF):
To request assistance reading these files, please contact Jason Diceman.
Scarlett Road Bridge Update was also presented at this April 29 meeting.
The short URL for this page is toronto.ca/cycling/scarlett