Scarlett Road Bridge
In 2008, the City completed a study to address the safety and traffic operations in the area around the Scarlett Road Bridge. The study recommended making changes to the bridge and surroundings roads in order to improve the road capacity and reduce congestion.
Bridge and Road Improvements
Replacement of the railway bridge above Scarlett Rd and the addition of one northbound lane and one southbound lane under the bridge for a total of two lanes in each direction.
Lowering of Scarlett Road to allow large vehicles and trucks to pass underneath the bridge.
Improved sidewalks under the bridge and at the intersections at Scarlett Road and Dundas Street West and Scarlett Road and St. Clair Avenue West.
Addition of second northbound left turn lane on Dundas Street West and future bike lanes added on both sides of Dundas Street West.
New southbound left-turn lane from Scarlett Road to Dundas Street West.
New traffic control signal at Gooch Avenue and Dundas Street West and new left-turn lane from Dundas Street West to Gooch Avenue.
Road widening for future dedicated bike lanes on Dundas Street West and Scarlett Road.
New landscaping and public art.
The City is now moving forward with approved plans to reconstruct the bridge and reconfigure the intersection. Construction is scheduled to begin in 2018 and is expected to last approximately three years.
November 2017
A Public Meeting was held on November 28, 2017, to present initial designs for the reconstruction of the Scarlett Road Bridge and the intersection of Scarlett Road with Dundas Street West and St. Clair Avenue West.
The meeting provided an opportunity for the public to ask questions, provide feedback and speak with members of the project team.
Scarlett Road Bridge Public Meeting #1 Public Meeting Notice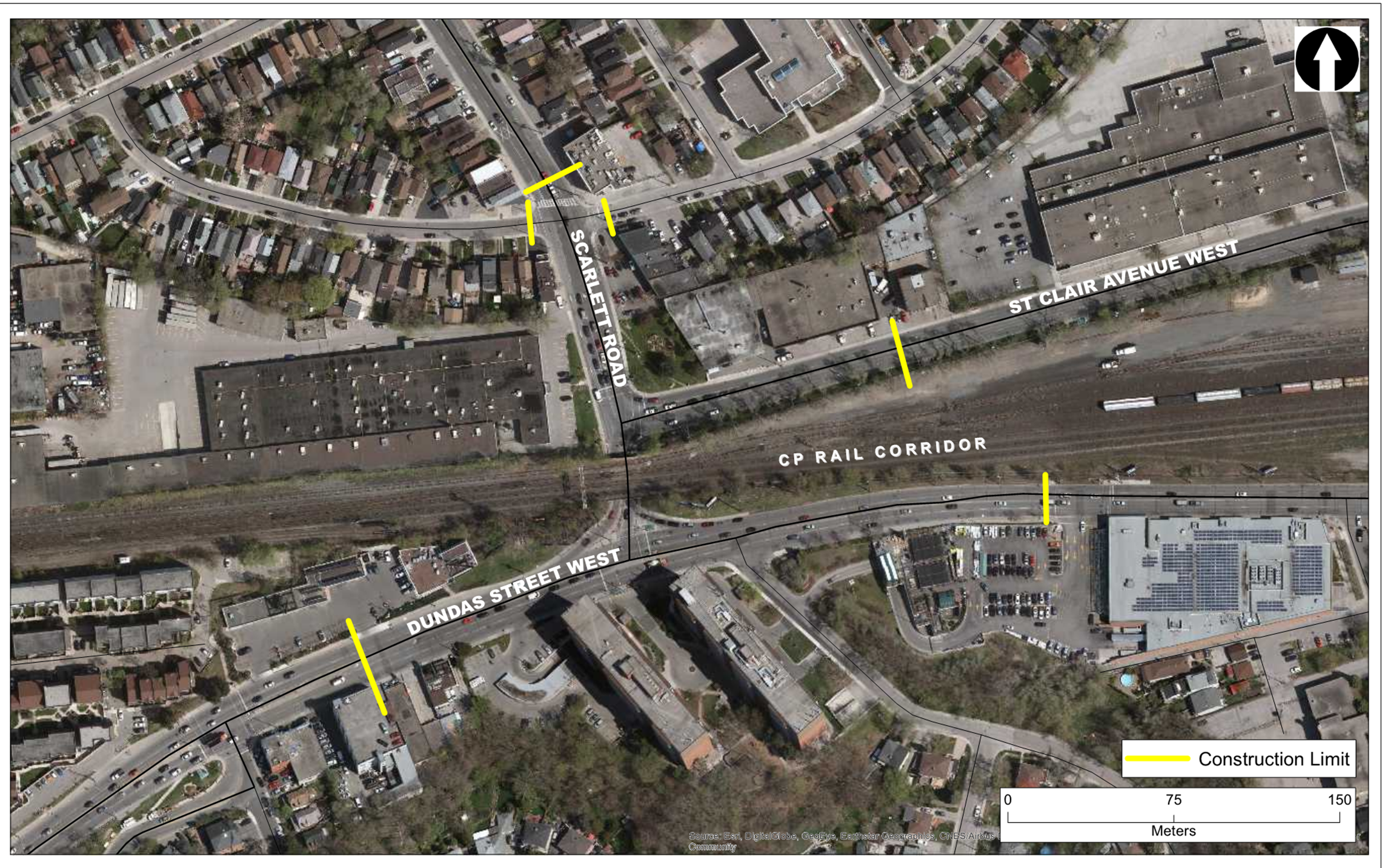 Whether you live, work, or pass through the Scarlett Road-Dundas Street-St Clair Avenue area, we want to hear from you. There are many ways to stay informed about this project.
Sign-up for email updates: Stay up to date on key project milestones and opportunities to get involved. Your contact information will be kept private, and will only be used to share information about the Scarlett Road Bridge. Please email Tracy.Manolakakis@toronto.ca to be added to the email update list.
Attend an event in-person: Public Meeting #1 was held in November 2017.  A second public event will be held where you can learn more about the project, speak with City staff, and discuss questions and concerns in person. Please refer to the News & Updates tab for information about public meetings.
By email, phone or mail: Send an email, letter or give us a call. All information received will be responded to, recorded, and reviewed by the project team.
For more information about the November 2017 Public Meeting, please review the Public Meeting #1 Display Boards.