How to Prevent Basement Flooding
Every home is at risk of basement flooding, even if it has not happened before. Water in your basement is most likely to occur during a heavy rainfall, or when snow and ice is melting.
The good news is that you can take steps to help reduce or prevent it from happening.
The City offers a Basement Flooding Protection Subsidy of up to $3,400 per property.
Outside the House
Keep Water Out
Seal cracks or leaks in walls, floors, windows and foundations, and seal all window wells.
Clear eavestroughs and downspouts of leaves and other debris that prevent drainage.
Disconnect your downspouts from the sewer system, where feasible (without negatively affecting neighbouring properties or creating an area where water will pool on a sidewalk or driveway).
Make sure your disconnected downspouts are draining properly, ideally two metres from your foundation's walls.
Ensure the grading around your home slopes away from the foundation wall to help drain water away from your home (without negatively affecting neighbouring properties).
Increase the green space around your home with native plants and shrubs and install porous pavement to help absorb rainwater and melted snow.
Repair or replace damaged weeping tile systems.
Safely clear debris from roadside catchbasins (grates) to help water enter the stormsewer.
Ensure drainage swales (shallow ditches) between properties are maintained and clear of obstructions.
Inside the House
Understand your Plumbing
Homeowners are responsible for plumbing from the property line to inside the home. You can hire a licensed plumber who conducts specialized testing or inspections, if needed, to help you identify the location and condition of key features of your household plumbing system:
Sewer service pipe (connects the plumbing in your home to the main sewer on the street).
Storm sewer pipe.
Backwater valve or sump pump; understand how to keep a sump pump maintained, and operational during power outages.
Weeping tiles; identify their condition and where they are connected (a weeping tile is a perforated pipe that runs around your foundation to collect groundwater. Where the groundwater goes once collected depends on your home's drainage system).
Maintain your Plumbing System
Ensure that your plumbing and drainage systems are in good working condition, and understand how they function and how to maintain them.
Fix cracks, blockages or other condition problems.
Avoiding creating clogs:

Do not flush dental floss, Q-tips or other personal care products (i.e. "flushable" wipes, condoms or tampons). These should be disposed of in the appropriate bin.
Never pour fats, oils and grease down the drain. Dispose of small amounts in your green bin with material to absorb it.
Learn more about what not to flush and how to dispose of these items.

Hire a City-licensed plumber to install a backwater valve and a properly-sized sump pump and piping. Ensure proper and regular maintenance of these devices in your home. Sump pumps need power to operate, so consider installing a back-up power source.
Diagram: How Water can Enter a Home
Backwater Valves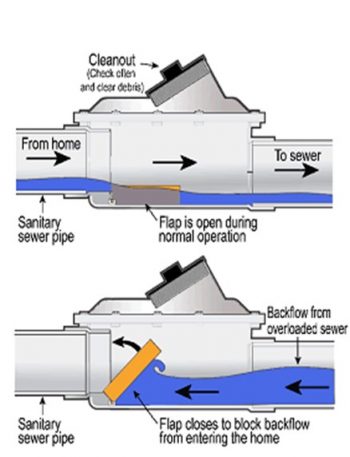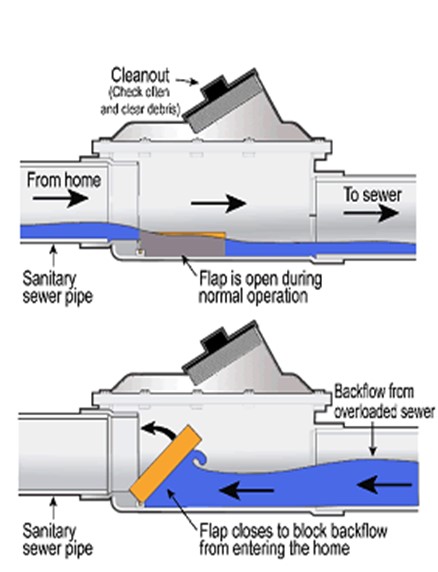 Backwater valves are designed to close the sewer line during periods of extreme rain to prevent water from entering your home. When the valve is closed you should not use any plumbing fixtures (i.e. toilets, sinks, dishwasher, washing machine) because water will not drain and will backup into your home.
Backwater valves should be installed by a licensed plumber and require a building permit to be installed. They also need to be maintained and regularly inspected according to product specifications.
The City offers a subsidy of up to 80% of the invoiced cost, up to a maximum of $1,250 to help offset the cost of installing a backwater valve. Learn more under the Basement Flooding Protection Subsidy Program. 

Sump Pumps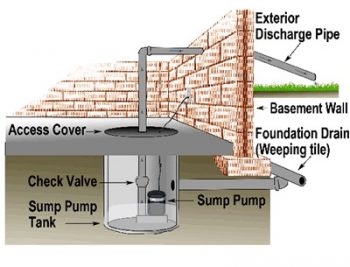 Install a properly-sized sump pump to help pump water collected by the weeping tile system to an area outside. Make sure the sump pump empties onto a permeable surface at least 2 m from the foundation wall.
Sump pumps can lose power during severe storms, so you may wish to consider a battery back-up. They also need to be inspected and maintained according to product specifications to ensure optimal performance.
The City offers a subsidy of up to 80% of the invoiced cost, up to a maximum of $1,750, to help offset the cost of installing a sump pump. Learn more under the Basement Flooding Protection Subsidy Program.