Mandel Sprachman fonds – The Cineplex Concept
Canadian theatre mogul Nat Taylor (1906-2004) had been a continual experimenter with the multi-screen cinema format, culminating in Mandel Sprachman's conversion of The Uptown Theatre to five theatres in 1970. In the mid-1970s, Taylor came up with the Cineplex concept to revitalize the second-run film market that had been all but abandoned by the film industry as a source of revenue. He asked Sprachman to design a prototypical complex of twelve auditoriums with 125 seats each. This served as the model from which the Cineplex concept grew.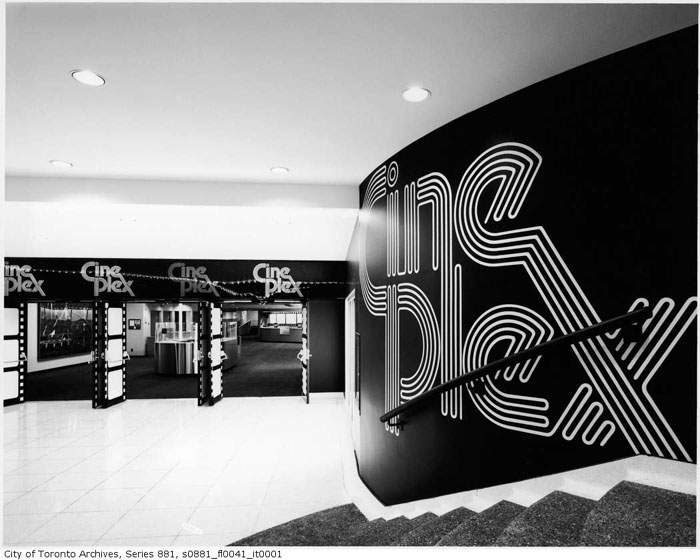 The first to open was the Eaton Centre Cineplex. Opening on April 19, 1979, it had eighteen screens, and was the largest cinema complex in the world, making the Guinness Book of World Records. Computerized ticket vending, colour-coded tickets matching the decor, staggered starting times and cleaning of cinemas after every show were all new and unique to Cineplex. The concept caught on, and by 1981, 146 screens had opened or were planned to open, from Montreal to Vancouver.
In 1982, the Beverly Center Cineplex opened in Los Angeles, a first foray into the American market for the Canadian company. In 1981, a shift from using 16mm to using 35mm film led to a shift from being a second-run to a first-run circuit. This contributed to an escalating battle with Famous Players and Canadian Odeon that ultimately led to the 1984 takeover of Odeon by Cineplex.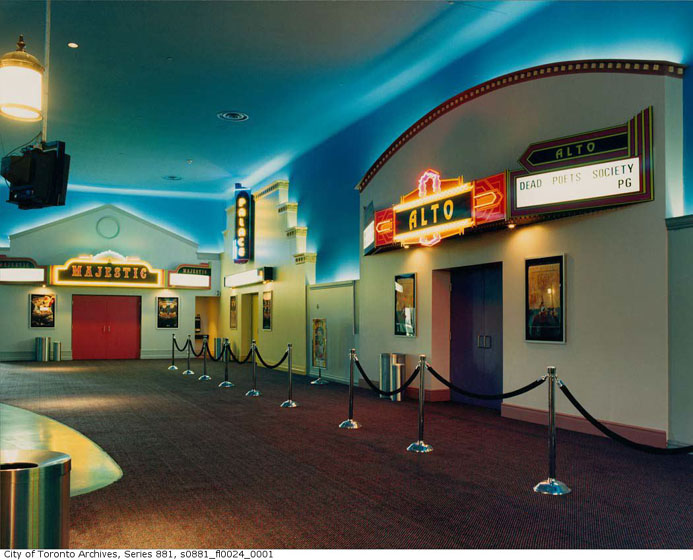 Once again, the economies of moviegoing have changed. Multiplexes are being replaced by regional "megaplexes," total entertainment environments, multi-screen venues with stadium seating, fast food outlets and gaming arcades. The Eaton Centre Cineplex, the first to open, was recently closed. Today, the Cineplex name survives, in the form of the theatre giant Cineplex-Galaxy. In Ontario alone, the company operates Cineplex Odeon, Famous Players, Galaxy, SilverCity, Coliseum, Alliance Atlantis, Colossus and Paramount venues.