That I May be of Service – About the Records

The records of the Alumnae Association of the School of Nursing, Toronto General Hospital are remarkably complete, and provide a vivid portrait of the Association's activities from its inception in 1894.
The members of the Alumnae recognized very early that an important part of their mandate was to maintain contact with graduates wherever they may live and work.
Through the numerous anniversaries and reunions organized by the Association, they ensured that connection spanned generations.
But they also realized the importance of their own history. In 1929, as shown in the meeting minutes to the right, they decided they needed an archivist.
Their archivist was drawn from the Alumnae membership, and she took on the task of organizing, maintaining and preserving the records of the Association. There have been numerous archivists over the years and, largely as a result of their efforts, the Association amassed a sizeable collection of material.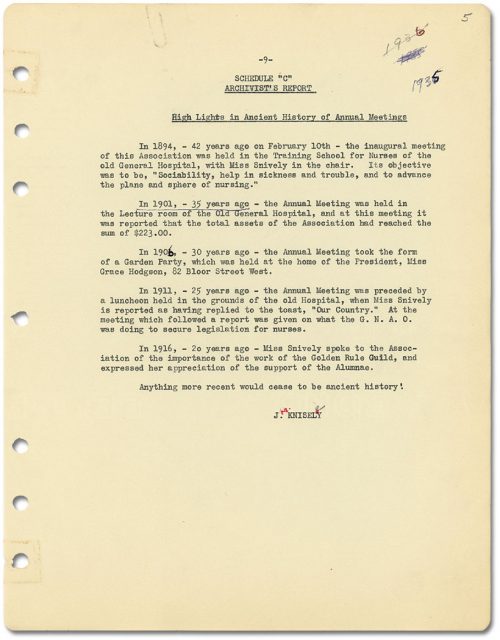 In 1993, the executive of the Alumnae Association realized that this collection contained materials of historical significance to the history of nursing, both locally and across North America. Consequently, it was decided to enlist the part-time services of a professional archivist to organize the collection and produce a finding aid.
This work began in the summer of 1993 and the finding aid was completed in 1995. Updates were made in 1997 and 1999.
The Alumnae Association records, now part of collection of the City of Toronto Archives, were created between !892 and 2008. They form fonds 234 and are comprised of 4.5 metres of textual records, publications, photographs, graphic records and artifacts. The records constitute very detailed evidence of the personal and professional lives of those many women who were educated by and/or worked for Toronto's largest hospital.
Some examples of the records included are:
The Constitution
Complete meeting minutes
Committee Reports
Financial information
Information about anniversaries and Annual General Meetings
Directories containing graduates' contact information.
The publication: Quarterly News Bulletin
Numerous photographs
A variety of student notebooks
History of the School For Nurses, Toronto General Hospital – Commemorating the Fiftieth Year of its Establishment 1881-1931, edited by Margaret Isabel Lawrence
History of the School For Nurses, Toronto General Hospital – Commemorating the Fiftieth Year of its Establishment Volume 2 1932-1967, written by Mary E. Macfarland
Miscellaneous news clippings and publications
Miscellaneous memorabilia
To learn more follow this link:
The Alumnae Association, School of Nursing, Toronto General Hospital fonds
Back to introduction