That I May be of Service – Guiding Hands Part Two

Jean I. Gunn – 1913-1941
On September 29, 1913, Miss Jean I. Gunn was appointed the new Superintendent of Nurses. She was born in Belleville, Ontario and graduated from the Presbyterian Hospital of New York in 1905.
She was a strong proponent of public health nursing and after World War One encouraged students to take post-graduate courses in that field.
Like Miss Snively before her, Miss Gunn was highly respected and admired by both her students and her associates. At the Alumnae dinner held in honour of her 25th year in the position, 600 people turned out to take part in the celebration.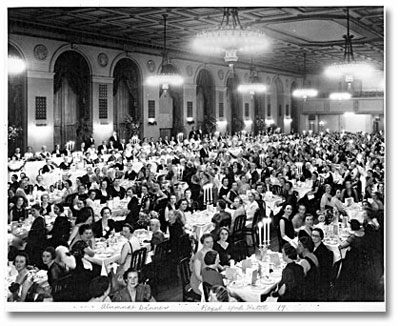 Unfortunately, towards the end of her career, Gunn's health began to fail, and she was hospialized in 1941. When the time came to present her annual report, her assistant, Helen Locke read it in her absence. Upon finishing the report she added, "Dr. Gunn is the noblest and wisest of all our leaders in the profession, which makes her respected wherever good nursing practice exists. This has won for her a devotion which makes her the idol of nurses."
Miss Gunn passed away on June 28, 1941.
Helen G.R. Locke – 1941-1942
Mary E. Macfarland – 1942-1960
Mary E. Macfarland was born in the Ottawa area and received her nurses training at TGH, graduating in 1926.
Macfarland was an active member in nursing associations at provincial, national and international levels. She served on Red Cross committees, the Council of the University of Toronto, School of Nursing, and the Advisory Committee, University of Western Ontario.
She left her position of Director of Nursing in 1960.
M. Jean Dodds – 1960-1969
Before succeeding Macfarland in 1960, she served as Assistant Director of Nursing Services for one year. Dodds also served three separate terms as president of the Alumnae Association, and was a member of the committee that organized the 100th anniversary of the School in 1994.
Patricia S.B. Stanojevic – 1969 – 1974