Equity, Diversity & Human Rights Winner: City of Toronto Refugee Resettlement Program
The Refugee Resettlement Program, approved by Council in October 2015, aims to reduce barriers facing Syrian refugees arriving in Toronto by mobilizing existing supports within and outside of City structures, and facilitating enhancements where needed. The Toronto Newcomer Office led the implementation of the Program by facilitating a coordinated municipal response that included nince City divisions, the federal and provincial governments and over 25 community agencies.
Since November 2015 more than 29,713 Syrian refugees have arrived in Canada. Almost half have come to Ontario, with approximately 4,613 Syrian refugees arriving in Toronto. Through the Refugee Resettlement Program, the City of Toronto was able to quickly and efficiently implement targeted services and supports to meet the urgent needs of Syrian refugees and private sponsors. The Program sought to remove barriers for successful settlement by addressing emerging issues and gaps in service provision, highlighting the important role municipalities play in advancing the successful settlement and integration of newcomer communities.
By facilitating a timely and coordinated municipal response, the Refugee Resettlement Program maximized use of existing municipal and other resources, while ensuring that any emerging gaps in settlement support systems were addressed quickly and efficiently. With contributions from other City divisions including Children's Services, Parks, Forestry and Recreation and Toronto Public Health as well as TDSB/TCDSB, WoodGreen Community Services, private landlords and sponsors, the Refugee Resettlement Program is a true embodiment of the City of Toronto's motto Diversity Our Strength.
The program effectively used Council-directed resources to support the economic and social settlement needs of Syrian newcomers, building a foundation for their long-term success in our community.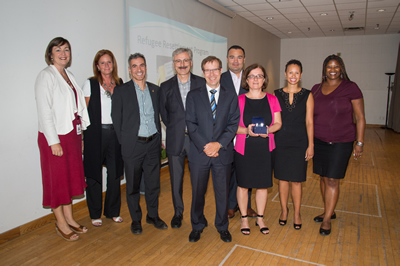 ---
Divisional Project Winner: Water Treatment and Supply's Transmission Operations Optimizer
This innovative initiative automatically determines pumping schedules for the Water Transmission System in the most efficient and cost effective manner. In simple terms, it reduces greenhouse gases, keeps all our customers satisfied while being cost effective. Based on an algorithm combining real time weather data, real time hydro rates, real time operational data and historical demand data, the next 26 hours optimum pumping strategy is projected – a very complex task. Over the first six months of operation, Toronto Hydro has verified savings of 16,285,948 kilowatt-hours per year.
After careful planning and testing so as to not affect service delivery levels for water pressure and quality, TOO's results speak for themselves. It reduced our environmental footprint by reducing greenhouse gases through optimized energy consumption.
At a savings of $1M per year this represents a 3% cost decrease to provide the same level of service, water pressure and volumes. It also reduces the GHG emissions and helps protect the environment.
As one of the first programs of its kind, the hardware and database control methods can be mapped to analogous situations in other divisions such as Transportation Signals and Traffic Management, Facilities & Real Estate Building Automation Systems, TTC Operations and private enterprises such as the District Energy Systems.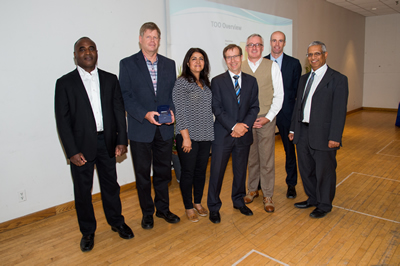 ---
Cross Corporate Winner: Tenant Relocation Support Services
The "Tenant Relocation Support Services Project" (TRSSP) is an innovative partnership between Shelter, Support and Housing Administration (SSHA) and City Planning, that emerged as a response to a redevelopment application in the downtown east. The redevelopment had the effect of removing a 45 bed rooming house – home to extremely vulnerable tenants. With an increasing number of rooming houses in Toronto being purchased for redevelopment, tenants, many of whom are long-term and with low incomes, are forced to relocate. Priced out of the housing market, displaced tenants often find themselves at imminent risk of homelessness. The TRSSP was designed to respond to this critical issue by creating a best practice in identifying at-risk tenants and developing strategies to keep them housed.
The project's success is the result of a tripartite effort between the City, a private developer and a non-profit community agency who worked together with the support of the local City Councillor. This partnership resulted in the development and delivery of a highly successful, customized, wrap-around service that was fully funded by the developer, and included access to practical and financial supports such as landlord outreach and intensive housing search, housing allowances, and long-term follow-up support.
By taking a holistic approach to a complex problem, within a strong legislative and policy framework, TRSSP has balanced the needs of diverse stakeholders and leveraged opportunities provided by private investment, for the public good.