Corporate Strategic Plan
A great city needs a shared vision, and a great public service needs a shared commitment. The Corporate Strategic Plan gives us that shared vision and commitment.
Toronto Public Service's Corporate Strategic Plan sets out our highest priorities and creates a common understanding of the work the City will focus on to be successful, to deliver a high quality of life for residents, businesses and visitors, and to earn the trust and confidence of Torontonians, City Council and staff.
The plan is guided by City Council's vision, Toronto's motto and the Toronto Public Service's mission. It identifies our organization's strategic areas of focus and is grounded in our commitment to our people, partnerships, and performance. The Plan identifies six key priorities for the Toronto Public Service, expected results and strategies, plans and initiatives that we will deliver on to meet Council's directives. Combined, these elements focus the City's leadership and guide staff on how their work fits into the City's overall long-term goals.
Read the entire Corporate Strategic Plan document.
Read a one page summary of the Corporate Strategic Plan.
Vision, Motto and Mission
Vision
Toronto is a caring city
Toronto is a clean, green and sustainable city
Toronto is a dynamic city
Toronto invests in quality of life
Motto
Mission
To serve a great city and its people
We understand that trust must be earned
Toronto's governance relies on a relationship built on trust and confidence between the Toronto Public Service, Torontonians, and City Council. Critical to earning and improving trust and confidence is providing good government.
Trust, confidence and good government require a set of relationships to work well. The results when they do is a shared vision for Toronto, strategies to deliver on that vision, and valued municipal services.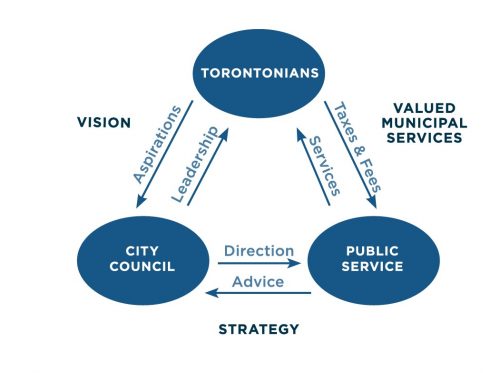 We understand that trust must be earned. That it is something we must work at and demonstrate through our actions. We will regularly ask City Council and the public to measure their trust and confidence in the City. The results will show us how we are doing and where to focus our attention.
To read more about the relationships between Torontonians, City Council and the Public Service see Appendix A.
What the Toronto Public Service does each day matters
We go nowhere without our people. Achieving City Council's vision for Toronto and delivering on its directions would not be possible without the dedicated, committed and skilled staff of the Toronto Public Service. Our reputation as public servants depend on the care and judgement we demonstrate as stewards of the public's trust.
Staff working for the City make a difference in Toronto's communities. The Toronto Public Service offers a wide range of career choices and a respectful, diverse, safe and healthy workplace. We are committed to fostering an inclusive, accessible environment where all employees and members of the public feel valued and supported. We are dedicated to building a workforce that reflects the diversity of the public and the communities which we serve. We are one of the Greater Toronto's Top Employers and one of Canada's Top 100 Employers, Best Diversity Employers, and Top Family Friendly Employers.
Our Workplace Culture
As an organization we are building a culture where all employees are engaged in our mission to serve a great city and its people. We know that building a positive workplace culture that reflects the City's ethics and values, and builds trust and confidence with the public and staff, will shape how our people work and interact day-to-day. Our leadership teams understand that they play a critical role and are accountable in building that positive workplace culture, so that collectively we achieve Toronto's vision, motto and mission.
Being Respected, Empowered and Valued
We trust each other, are empowered to express our ideas and openly consider other points of view. We all have opportunities to contribute and make decisions, and are encouraged to learn and grow.
Embracing Diversity and Inclusion
We model the diversity of the communities we serve and embrace our differences. We are receptive to a diversity of perspectives and treat others as they want to be treated.
Making a Difference
We are innovative, professional and customer-focused in our approach to delivering services, so that we can make a difference in people's lives. We support staff in all job roles to contribute ideas, we let them know that they matter and encourage them to apply new ways of thinking.
Working Together
We believe in teamwork, collaborating across divisions and engaging with all levels to achieve common goals. We support each other, work together for the benefit of all, and communicate honestly and respectfully.
We will be intentional and actively seek partnerships that support programs and services which improve the quality of life in Toronto
Toronto's success decades from now will be measured on how we work with our partners. Achieving our vision and carrying out our mission requires the City to work with residents, other governments, institutions, the private sector, the not-for-profit sector, and Indigenous peoples.
We must be specific and strategic in our partnerships by defining the results we are trying to achieve, our partners' roles and responsibilities, and how we will work collectively to achieve those results. Addressing many of the challenges facing Toronto – such as gun violence, a shrinking middle class, regional transit and transportation, and precarious employment – will require us to work collaboratively. This is true within our organization as well – each service must support the others to achieve success.
Our close partnership with other governments matter deeply, including neighbouring municipalities in the region and the Governments of Ontario and Canada. The City is an important partner in achieving the shared outcomes of the region, province, and country. To be most effective, we must focus on identifying shared outcomes, making real progress towards achieving them and institute steady, focused leadership towards improved quality of life for all.
Toronto will be an even greater city in the future as governments, businesses, not-for-profit organizations, community groups, Indigenous peoples, universities and colleges, institutions and residents work in better, closer partnership together.
A disciplined approach to continuous improvement
The City has the important responsibility of delivering a wide array of programs and services under the pressures of increasing service demands, competing priorities and limited funding. The Toronto Public Service uses corporate performance management methods and tools to help us manage our programs and services in a consistent, effective and efficient way.
Our corporate performance management system considers five main areas.  For greater details for each of these areas, see Appendix C.
Corporate Performance Management System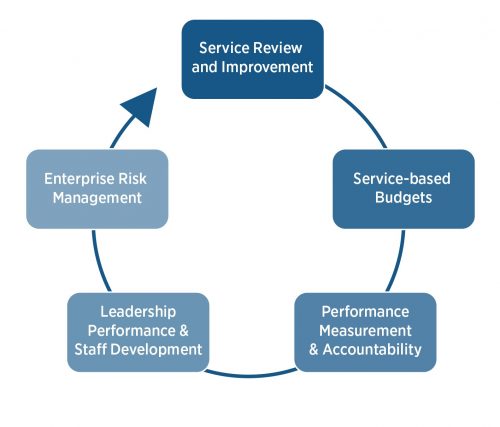 A clear focus on achieving our long-term vision for Toronto while delivering our day-to-day services with excellence
This Plan establishes six priorities – two corporate priorities and four strategic priorities – to guide our organization in the coming years. These priorities were determined based on what we heard from the public, directions and budget decisions we received from City Council, discussions among the City's leadership teams, and in response to the challenges facing Toronto and other major urban areas.
Equity
We recognize the barriers presented by discrimination and the disadvantages faced by equity-seeking groups and vulnerable populations. The City strives to create and sustain equity in government, including how we measure our impact, our financial decisions, and deliver services. In everything we do, we work towards realizing equitable outcomes for our residents.
---
Corporate Priorities
Our Corporate Priorities are what we will focus on to improve the performance of our organization. Success in these priorities will result in a more resilient, effective and efficient organization, able to face challenges and seize opportunities.
Financial sustainability

We will work and partner to ensure value and affordability for taxpayers, adequately fund municipal services and infrastructure, make needed investments in the city, and improve our financial health. We will make informed financial decisions and effectively manage resources for Toronto's future.

Find out more details about the Corporate Strategic Plan's Corporate Priority: Financial sustainability.

A well-run City

We will have a committed, engaged and diverse workforce. We will improve the lives of residents, businesses, and visitors by providing simple, reliable and connected services that anticipate changing customer needs. We will build trust and confidence in local government.

Find out more details about the Corporate Strategic Plan's Corporate Priority: A well-run City.
---
Strategic Priorities
Our Strategic Priorities are what we will focus on to improve quality of life for Torontonians. Success in these priorities will result in more livable, healthy, safe, prosperous, affordable and resilient Toronto.
How We Will Get There
Implementation of the Corporate Strategic Plan is led by the Senior Leadership Team with support from across the organization.
All members of the Toronto Public Service have a role in implementing this Plan. We all must work to build trust and confidence with Torontonians and City Council. It's the Toronto Public Service that serves this great city and its people. We can only be a high performing organization through the hard work, dedication, and talent of our staff. Our partnerships with others will result in improved quality of life in Toronto. Many staff work directly on the priorities in this Plan – ensuring financial sustainability, helping us be a well-run city, creating housing that's affordable and helping Torontonians along the housing continuum, keeping Toronto moving, investing in our people and neighbourhoods, and addressing climate change. Many other staff work to support these priorities and ensure staff have the tools and resources they need to deliver excellent services every day.
Divisional service and work plans, and the implementation of strategies and initiatives, are used by the Corporate Leadership Team to manage their division's work to align and advance the Corporate Strategic Plan. Progress towards achieving the results in the plan will be reported out to City Council and the public. It will be clear how we're doing and what we may need to do better. Refer to the complete list of the City's services and programs.