2018 Issues Briefing: City-wide Real Estate Transformation
This Note is part of a series of Notes on key City issues to update City Council at the start of its 2018 – 2022 term.
Issue description
---
The City of Toronto owns one of the largest, most complex and valuable real estate portfolios in North America. In January 2018, the City launched a City-wide Real Estate Transformation project to address the diverse governance structures, program objectives, investment plans, processes, data and technology, skills and expertise between the over 24 City divisions, agencies and corporations involved in real estate activities. The new City-wide approach sets a mandate to strategically plan decision-making and outcomes in a coordinated, cost-effective way.
The City has centralized authority for strategic oversight of real estate assets, placing a renewed focus on more comprehensive portfolio strategies and planning to establish clear investment directions, engagement and coordination of all City partners.
Status
---
In 2019, City Council will consider a report on a City-wide Real Estate Portfolio Strategy which will include an over-arching strategy and subsequent real estate asset and investment strategies, such as Office Optimization.
Background
---
In 2015, City Council approved a formal review of the management of the City's real estate.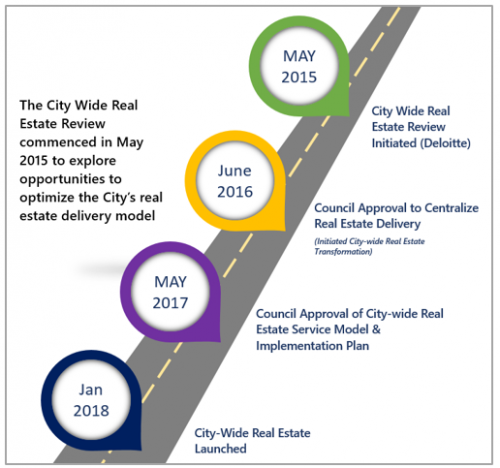 The outcome of the review found an entangled system of governance and service delivery, which presented considerable challenges to achieving desired city building outcomes.
The City-wide Real Estate (CWRE) transformation streamlines governance, authorities, and coordination to manage the City's complex real estate portfolio better and improve strategic functions, such as forecasting, prioritizing, identifying opportunities, and delivering integrated solutions that enable broader City strategies.
City Council's new broader mandate for real estate management in 2017 included:
City Building: enabling City priorities and pursuing opportunities in the public interest;
Program and Service Focus: delivering quality real estate service and solutions to City programs; and
Enhanced Asset Stewardship: centralizing governance and oversight of all City-wide real estate activities.
The transformation is supported by a strong accountability and governance structure with City Council oversight, and built-in flexibility to operate in the changing marketplace and make adjustments to meet the City's evolving and complex real estate needs.
New City-wide Real Estate Operating Structure
The new real estate operating structure centralizes and integrates real estate strategy, planning, and major capital project delivery into one City agency, CreateTO and will, where prudent, centralize day-to-day real estate transaction services (i.e. expropriations, leasing, sales) into one City division, Real Estate Services, and day-to-day facilities management (i.e. maintenance, minor office renovations), into one City division, Facilities Management.
CreateTO provides a strategic City-wide approach to the delivery of real estate services that promote a balance of community and economic benefits. CreateTO, Real Estate Services, and Facilities Management have established an integrated real estate team that will work with City programs with significant real estate assets and functions, such as the Toronto Transit Commission, Parks, Forestry, and Recreation, Toronto Police Services, etc. to support the delivery of real estate services from long-term planning to execution.
While real estate authorities for all City agencies, divisions and corporations, except Toronto Community Housing Corporation and Toronto Hydro, have been centralized, currently day-to-day building management and maintenance activities are still distributed across the organization. As the CWRE transformation project progresses, relevant operational activities will be centralized over the next three years, if deemed prudent (e.g., consolidate staff, budgets, & functions, as appropriate).
City-wide Real Estate Portfolio
The City of Toronto real estate portfolio consists of extensive asset holdings (8,446 properties and over 106.3 million square feet) plus significant annual operational ($1.1 billion) and capital ($1 billion) expenditures.
As part of the CWRE Transformation, City Council directed CreateTO in collaboration with City staff to develop a City-wide real estate portfolio strategy for Council approval in 2019. The portfolio strategy will frame key opportunities to make the best use of land, capital and resources through strategic actions such as co-location, facilities modernization, land intensification, partnerships and asset rationalization (e.g. reducing third-party leases).
CWRE's portfolio strategy includes all City agencies, divisions, and corporations, except Toronto Hydro and Toronto Community Housing Corporation, who will be considered in the future. The strategy will:
Provide a snapshot of City-wide real estate assets;
Identify major real estate needs;
Address City-wide coordination and innovation;
Provide a strategic framework to utilize real estate assets better; and
Provide a roadmap for optimizing City assets classes over a longer-term phased approach.
The City is also advancing Office Modernization and Optimization pilot, led by the Deputy City Manager, Corporate Services. CreateTO will recommend scaling the modernization and optimization pilot as part of the City-wide Portfolio Strategy in 2019. Six successful office modernization pilot projects have been completed, with two more in progress, in City-owned buildings. In addition to space savings and accommodation improvements, the pilot projects demonstrated clear improvements in organizational effectiveness by enhancing City culture, performance and employee engagement.
City-wide Real Estate Transformation Portfolio

TCHC and Toronto Hydro Portfolio

Total City Real Estate Portfolio

Total number of properties

6,656 properties on

27,592 acres of land

1,790 properties on

1,231 acres of land

8,446 properties on

28,823 acres of land

Total number of buildings

4,664 buildings with

55.7 million square feet

2,312 buildings with

50.6 million square feet

6,976 buildings with

106.3 million square feet

The assessed value of property
$17 billion
$10 billion
$27 billion
Annual operating cost (core real estate & facilities management)
$724 million
$376 million
$1.1 billion
Annual capital & development cost
$608 million
$392 million
$1.0 billion
Actions / Plans
---
Business Plan: An integrated team from CreateTO, the Office of the Deputy City Manager Corporate Services, Real Estate Services, and Facilities Management are developing a business plan for 2019 to advance the CWRE transformation program. The business plan will focus on:
Strategy and Governance: Strategic decision-making and forward-looking stewardship over the City's real estate portfolio, based on robust data, analytics, and standardized practices.
Centralized Service Delivery: A centralized business model that modernizes operations, invests in critical functions, required practices and processes, and pursues economies of scales leveraging the City's purchasing power.
Sustainable Financial Model: A sustainable financial model that provides a transparent view of cost and capital expenditures to ensure the value of the City's assets are maximized, seeks impactful opportunities for long-term investment and maintains quality service and stewardship toward community services.
Collaboration, Communication & Partnerships: Pursue creative partnerships, a strong culture of collaboration, and proactive engagement to ensure the required coordination to deliver high-impact city building outcomes.
Talent & Expertise: Develop and elevate talent and expertise through the City's practices, people and workplaces.
Real Estate Portfolio Strategy: CreateTO is developing a strategy to maximize value from the City's real estate assets and priorities. CreateTO and the Deputy City Manager, Corporate Services will submit the City-wide Real Estate portfolio strategy for approval to City Council in 2019. The strategy will report on how the City can optimize its real estate portfolio over several years and will focus on:
Modernizing and optimizing City facilities (e.g., office, industrial/yards) by scaling office modernization, exploring appropriate mobility solutions, and making better use of City yards and industrial properties;
Supporting the development of diverse housing types across the housing continuum, such as shelters, transitional housing, social housing, and affordable housing;
Supporting City service delivery by identifying opportunities for co-location, space sharing, value maximization and real estate cost savings;
Advancing and delivering city building projects that have a high economic, community, or cultural impact.
Delivering transit-oriented development by working with partners to coordinate development that integrates the build-out of transit infrastructure with nearby mixed housing, business, and leisure spaces.