Ward Profiles 2018
The City of Toronto's current 44 Ward boundaries will be replaced by the 47-Ward model on December 1 for the 2018-2022 term of City Council. The profiles listed below are for the forthcoming 47 Wards.
What are Ward Profiles?
The 2018 Ward Profile – 2016 Census contain information for the new 47 Wards from the 2016 long-form Census on population by age, households and dwelling types, families, language group, household tenure and period of construction; immigration, mobility, ethnic origin and visible minorities; education and labour force; income and shelter cost (Revised July 7, 2018). Learn more about the Census data. For comparison, review the profiles relating to the existing 44 Wards.
Toronto Ward Boundary Review
The City of Toronto's 2018 municipal election will be conducted using a new 47-Ward model, which will replace the 44-Ward model. The 47 Ward boundaries will take effect on December 1, 2018, when the new 2018-2022 term of City Council begins.
Update on the 2018 Municipal Elections
On July 30, 2018, the Province of Ontario introduced Bill 5, the Better Local Government Act, 2018. If the Bill is adopted it would reduce the number of Toronto City wards from 47 to 25 with the boundaries aligning with current federal and provincial electoral ridings.  These changes would be in place for the October 22, 2018 municipal election.
The Clerk will provide notice to candidates, electors and the public as it becomes available. Please continue to check the Election Services website regularly for updated information, and visit the Ministry of Municipal Affairs and Housing to obtain additional information for the 2018 municipal election.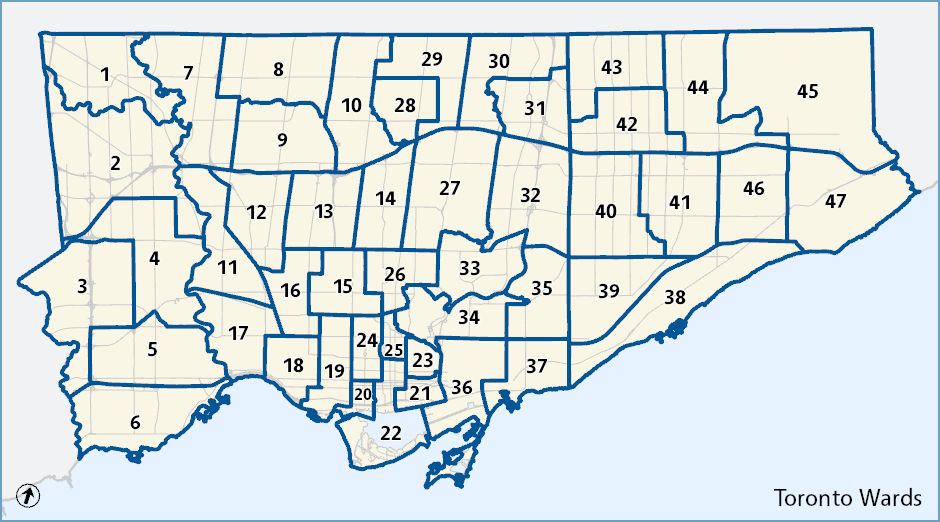 .
Learn More About the Data