Exhibition Place – Master Plan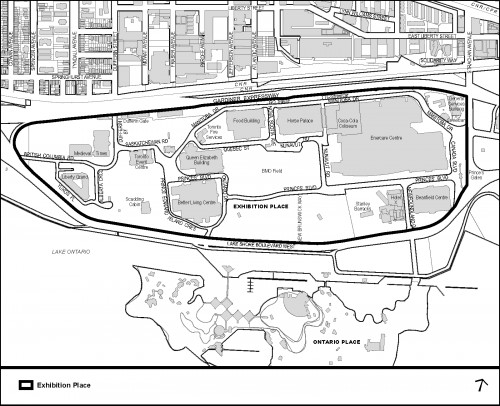 Exhibition Place is situated between the Gardiner Expressway, Lake Shore Boulevard, Dufferin Street and Strachan Avenue just north of Lake Ontario. It is Toronto's largest entertainment venue, with approximately 192 acres of land.
Exhibition Place is a special and unique waterfront asset located in the city of Toronto. It hosts over 350 events and festivals a year, including the CNE and Honda Indy, and attracts 5.3 million visitors annually. It is a visually prominent site defined by iconic entrances, connected to a network of waterfront attractions. It is well known to Torontonians and people all across the country. It is also a place that through its history, has presented opportunities to its site planners, users, and city inhabitants. It has showcased critical periods and crowning achievements in Toronto's history, and events that are also significant within the Province of Ontario.
Past Events
Public Open House #1 – Why do you visit Exhibition Place?
Your turn to talk about the future of Exhibition Place
When:
June 25, 2019 – 6:00 p.m. – 9:30 p.m.
Where:
City Hall (100 Queen Street West)
Council Chambers
Get Involved
Do you have a favourite place or event at Exhibition Place?
Snap a photo and use the hashtag #nextplaceplan to be a part of the City's Photo Essay.
Join us at the Public Open House on June 25th, 2019 at City Hall to see the display and vote for your favourite. Your photo maybe selected to be used at public meetings or be a part of the official reports.
Information & Reports