Public Realm Transformation
Raised Transit Stop Platforms
New 'raised transit stop platforms' have been installed on King Street at Portland Street and Peter Street.
The platforms are the first for a Canadian city and an international best practice at transit stops. They help improve safety for cyclists, streetcar riders and drivers along King Street, and:
improve accessibility by making it easier to board/exit streetcars
eliminate drainage/pooling issues in the waiting zone
clearly mark zones for cyclists and pedestrians
The platforms are being tested at these two locations to assess their durability and performance, collect feedback from the people who use them, and because they do not conflict with utilities or any impending development and/or construction projects.
How to use the new platforms:
When no streetcar is present – Streetcar riders stand behind the wide yellow line (in the wait zone) until a streetcar has arrived to the platform.Cyclists can ride over the platform and should be aware of pedestrians at all times.
When a streetcar is present – Cyclists wait at the foot of the platform when streetcar riders are boarding/exiting.
These platforms have also been used in many U.S. cities including New York City, Pittsburgh, Oakland, and Baltimore.
The Future of King Street staff report identifies a number of near-term improvements to implement an interim build out of public realm and transit priority infrastructure that will remain in place until the permanent streetscape reconstruction proceeds.
---
Background
The King Street Transit Priority Corridor has allowed for the expansion of public space areas along King Street.
The new public spaces serve a variety of uses
They act as a relief valve for pedestrians who are crowded on existing sidewalks – especially during peak periods.
Contribute to placemaking and enhance peoples' experience on King Street
Existing restaurants and cafes are able to use the abutting public spaces – freeing up sidewalk room and helping their bottom-line.
Bicycle parking has been added to meet increasing demand and ensuring less clutter on sidewalks.
Some of the spaces feature temporary or fixed seating and creative installations.
The City is currently implementing an interim build out of public realm infrastructure that will remain in place until permanent streetscape reconstruction.
The following tabs provide more information about other unique public realm elements enhancing the pedestrian experience throughout the Transit Priority Corridor.
Parklets
The King Street Transit Priority Corridor improved how transit works on King Street. It also provided the opportunity to explore bold, transformative ideas about how public space can be used in Toronto, and has provided expanded opportunities for public life and activity in new curb lane public space areas.
Temporary parklets are creative structures that encourage people to gather, sit, and enjoy their surroundings. They are an economical and innovative solution to provide more space for people in areas that have limited sidewalk space.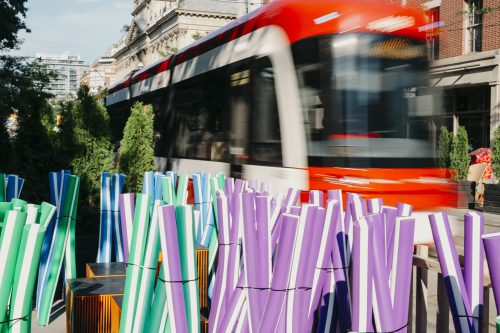 Public Seating Areas
Ten public seating areas are available for pedestrians along the corridor.
Cafés
Many licensed cafés have been established within the curb lane within the pilot area. The City developed a café strategy for the pilot to provide a unique economic opportunity for businesses and further beautify the area.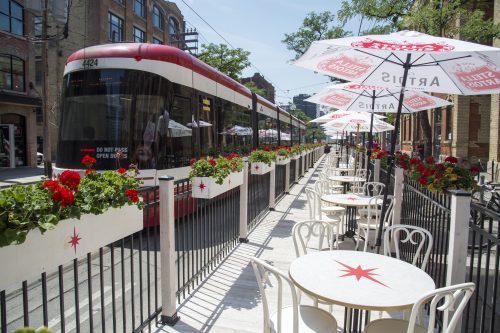 Cycling Infrastructure
New bike share stations and bike corral parking have been added to the street. A 1.8m cycle throughway is maintained throughout the corridor.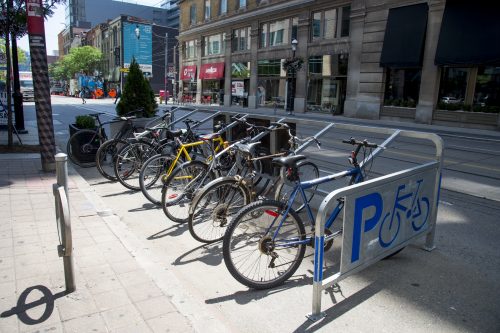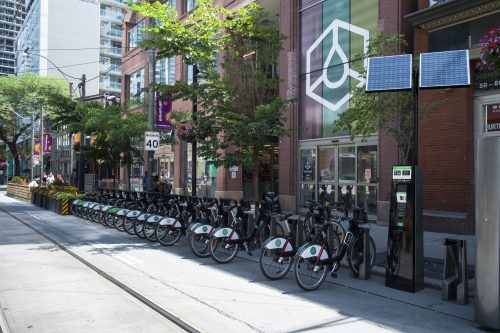 Accessibility Ramps
AODA compliant ramps enable access to the protected passenger waiting areas for far side stops.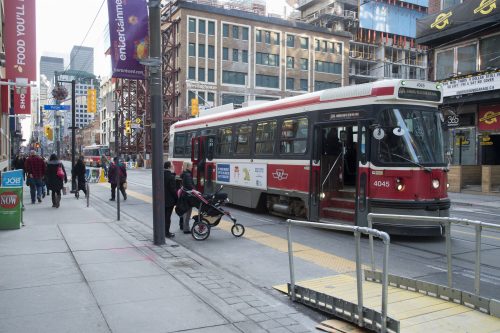 Jersey Barriers
To relieve sidewalk congestion, passengers are encouraged to use waiting areas located on the curb lane at far side TTC stops. These areas are protected by a concrete jersey barrier.
The City sought submissions from digital, visual, and graphic artists to create designs for the barriers to animate and beautify the area. Designs were digitally reproduced on two-dimensional vinyl wraps and installed on the barriers.
The winning designs were created by artist Christopher Rouleau, who sought to memorialize King Street's rich history in a contemporary style.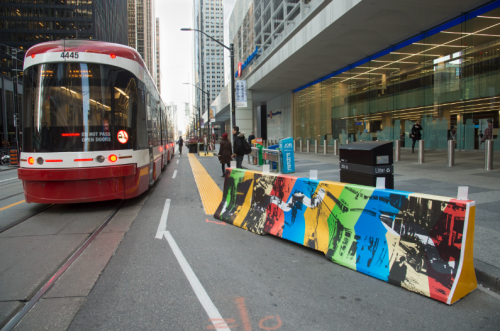 Tactile Walking Surface Indicators
Yellow tactile truncated dome mats are placed on the road at TTC stops alerting people with low vision or no vision of potential hazards, such as moving cars, cyclists and streetcars.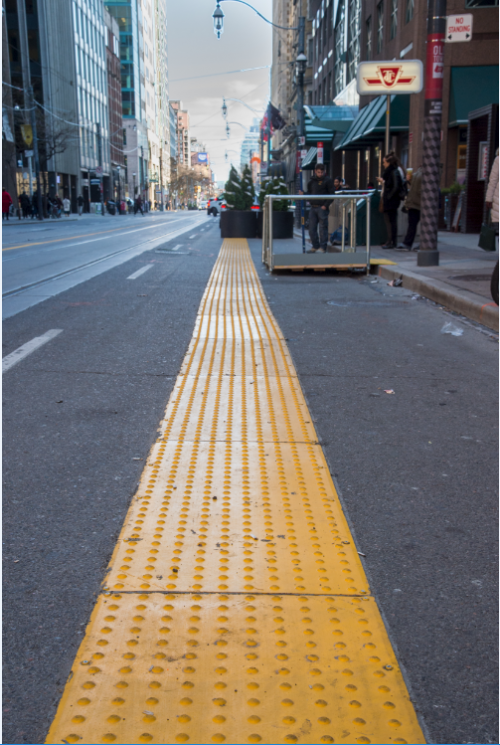 Urban Forestry's "King's Grove"
For the second summer in a row, the City's Urban Forestry Division will create "The King's Grove", incubating 40 saplings along the curb lane at David Pecaut Square. Last fall the trees installed on King Street were planted in a new permanent home at Centennial Park.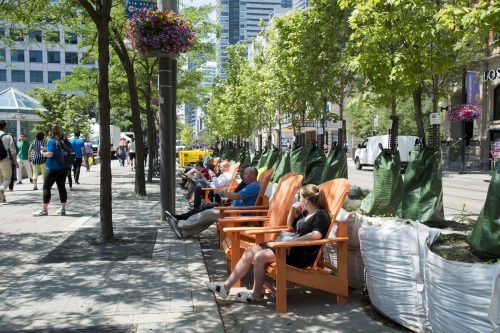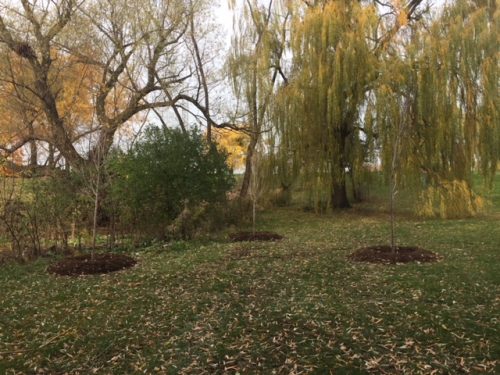 Planters
Planters enhance the street, demarcate the ends of the TTC passenger waiting areas and delineate the public spaces.