Public Realm Transformation
The City is undertaking a King Street Transit Pilot to explore bold, transformative ideas on how to redesign King Street, testing options to improve streetcar transit reliability, capacity and efficiency. The Pilot presents an opportunity to enhance the public realm and create an environment for people to walk, sit and socialize.
Public Spaces
Transforming sections of the curb lane has enabled the creation of 19 new public spaces. The map shows the activations in these spaces.
In January 2018, the City launched a Design Build Competition to encourage individuals, arts and community groups, not-for-profit organizations and institutions to bring forward their design and animation ideas for some of the public spaces. This design build competition facilitated the creation of two durable destination parklets and ten temporary public space installations.
This approach allowed City staff to observe where pedestrian overflow needed to be protected, as well as providing flexibility for any operational needs of the Pilot as it continues to roll out.
The new public spaces serve a variety of uses
They act as a relief valve for pedestrians who are crowded on existing sidewalks – especially during peak periods.
Existing restaurants and cafes are able to use the abutting public spaces – freeing up sidewalk room and helping their bottom-line.
Bicycle parking has been added to meet increasing demand and ensuring less clutter on sidewalks.
Some of the spaces feature temporary or fixed seating and creative installations.
The following tabs provide more information about other unique public realm elements enhancing the pedestrian experience throughout the Pilot area.
Everyone is King Design Build Competition
Everyone is King Design Build Competition provided an opportunity for businesses, the community, and design professionals to be a part of and contribute to the rethinking of King Street.
The community responded with enthusiasm to the call, with 74 Public Space Installation and 22 Durable Destination Parklet applications submitted for consideration.
Learn more about the competition by visiting the Design Build Competition Background page.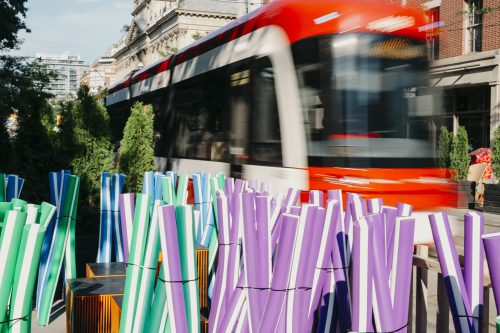 Cafés
Nine licensed cafés have been established within the curb lane within the pilot area. The City developed a café strategy for the pilot to provide a unique economic opportunity for businesses and further beautify the area. The map above shows each of the licensed cafés.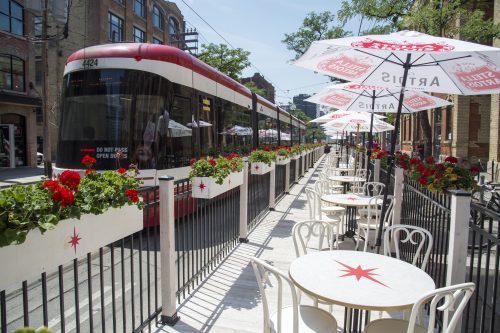 Streetcar Stop Road Murals
The NXT City 2016 winners (Wysp) implemented two streetcar safety murals located at the King Street and Church Street stops. The murals are meant to bring awareness to the safety zone where passengers enter and exit the streetcar.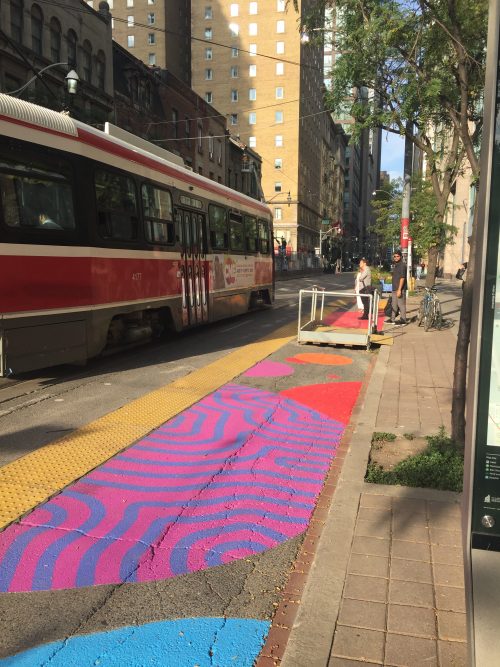 Accessibility Ramps
AODA compliant ramps enable access to the protected passenger waiting areas for far side stops.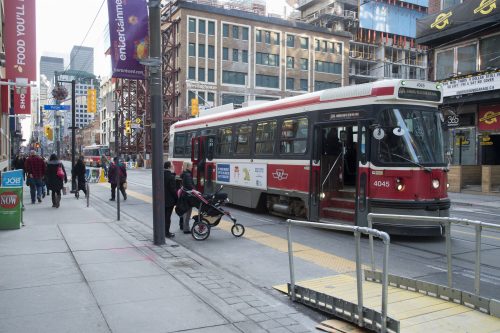 Jersey Barriers
To relieve sidewalk congestion, passengers are encouraged to use waiting areas located on the curb lane at far side TTC stops. These areas are protected by a concrete jersey barrier.
The City sought submissions from digital, visual, and graphic artists to create designs for the barriers to animate and beautify the area. Designs were digitally reproduced on two-dimensional vinyl wraps and installed on the barriers.
The winning designs were created by artist Christopher Rouleau, who sought to memorialize King Street's rich history in a contemporary style.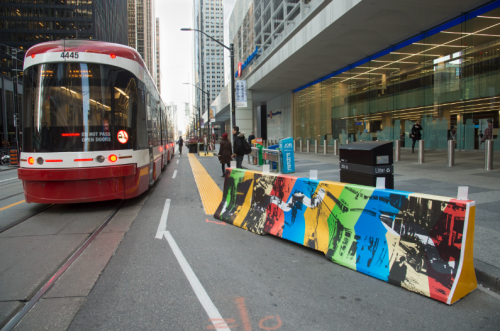 Tactile Walking Surface Indicators
Yellow tactile truncated dome mats are placed on the road at TTC stops alerting people with low vision or no vision of potential hazards, such as moving cars, cyclists and streetcars.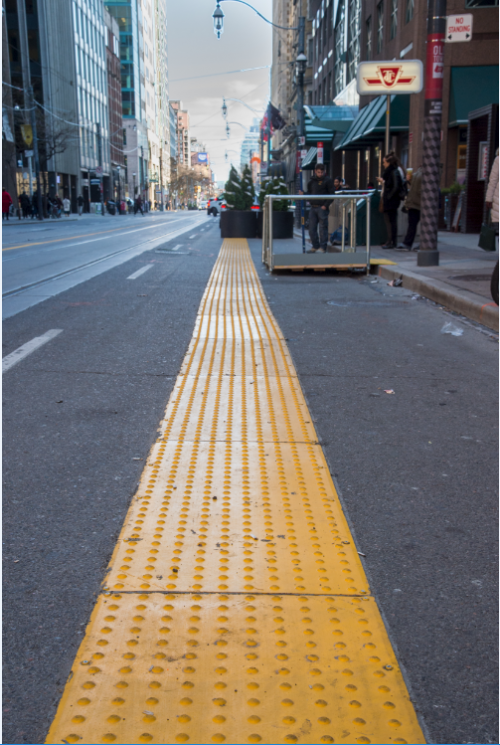 Other City Initiatives
Numerous City initiatives have enhanced the public realm, including providing chairs and curb lane seating areas, trees for shade, bike share stations, and bike corral parking.