Basement Flooding Study Area 45 (Black Creek)
You are invited to a Drop-In Event on Wednesday, December 11, 2019, from 6 – 8 p.m. at the
Falstaff Community Centre
(50 Falstaff Avenue, west of Jane Street, south of Highway 401)
A study is underway to determine the contributing factors for surface and basement flooding in the City of Toronto and recommend solutions to improve the City's sewer system and overland drainage routes in order to mitigate flooding problems.
Study Area 45 location in the Black Creek and Highway 401 (north and south) area has experienced recurring basement and surface flooding during extreme storms in the past.
To receive a copy of the latest materials – recommended solutions to improve drainage in the study area, please email or call Mae Lee.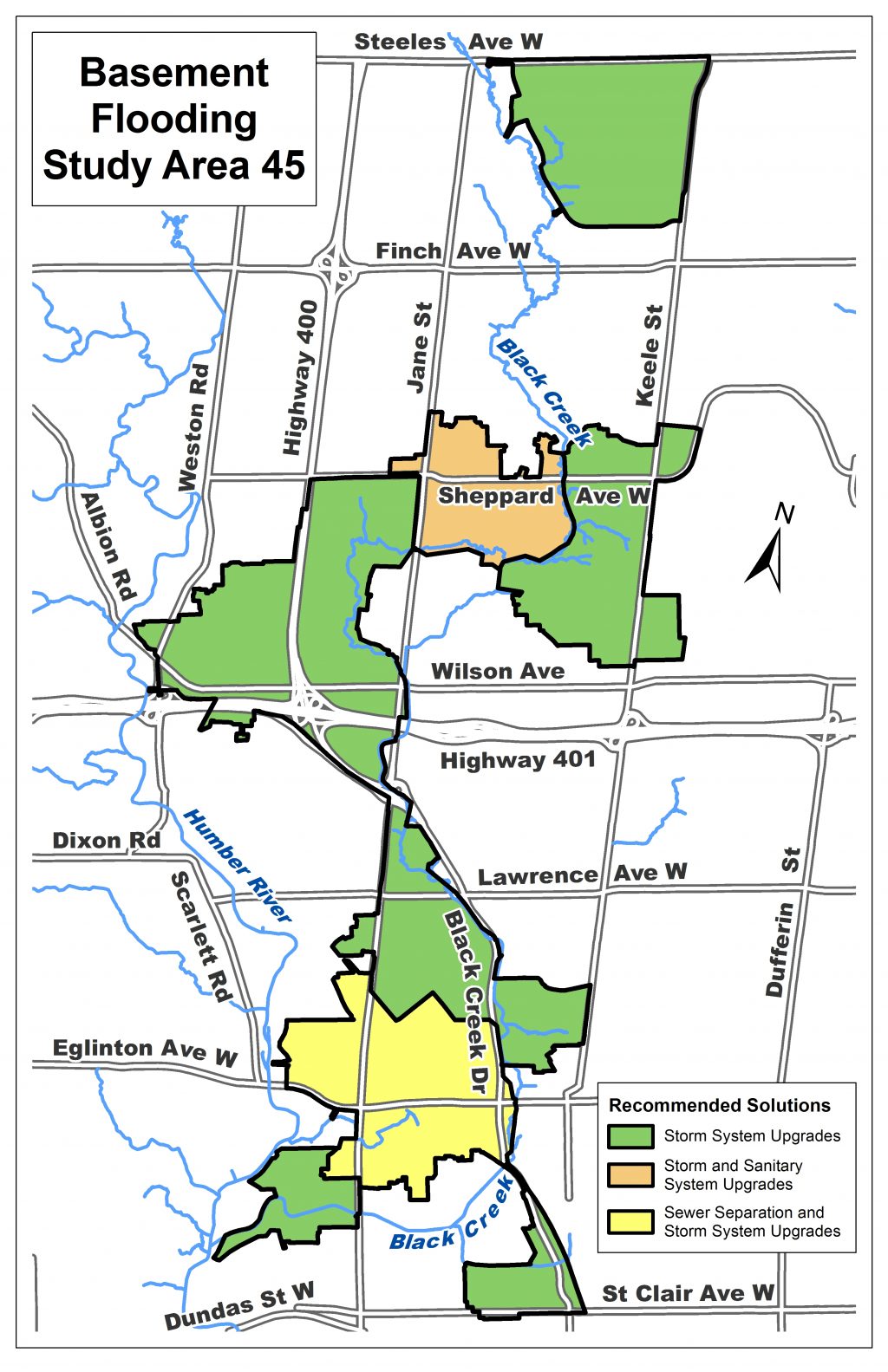 Study Area 45 consists of several individual sewersheds distributed in portions of Wards 5, 6, 7 & 9. These sewersheds are roughly located in the area bounded by Steeles Avenue West to the north, St Clair Avenue West to the south, Highway 400 to the west, and Keele Street to the east.
Join us at an upcoming drop-in event to review, discuss and provide your feedback on the recommended solutions for reducing the risk of basement and surface flooding and improving stormwater runoff quality in the study area.
Wednesday, December 11, 2019, 6 p.m. to 8 p.m.
150 Falstaff Avenue
(West of Jane Street, south of Highway 401)
What is a Class Environmental Assessment?
Ontario's Environmental Assessment (EA) program promotes good environmental planning by determining and managing the potential effects of a project prior to implementation.
The EA program ensures that public concerns are heard. EA balances economic, social, cultural and natural environmental needs so that projects benefit Ontario.
This study is being carried out according to the Municipal Class Environmental Assessment process. This is an approved approach to satisfying requirements of the Environmental Assessment Act specifically tailored to municipal infrastructure. The process includes identifying the problem or opportunity to be addressed, developing and evaluating a range of alternative solutions, providing opportunities for public input and identifying a preferred solution.