Bloor Street Construction
The City of Toronto will replace the 142-year-old watermain and the City-owned portion of substandard water services, on Bloor Street West between Bathurst Street and Spadina Avenue. The project will also involve:
sidewalk replacement
construction of permanent cycling facilities
streetscaping
installation of five new parkettes
The first stage of watermain work is expected to start in May 2019, with street and sidewalk work to follow in fall 2019. The expected end date is December 2019.
Bloor Street Parkettes
The Bloor Annex Business Improvement Area (BIA) will transform underused paved rights of way adjacent to Bloor – at Brunswick Avenue, Robert Street, Major Street, and Howland Avenue – into new green spaces.
Each parkette will feature pollinator planting, sustainable wood decking, bike parking, accent lighting, and custom site furnishings, including salvaged materials from the former Honest Ed's site.
Discarded quarried stone will be reclaimed and transformed into public art, which will pay homage to the site's glacial past while forming new striations of local culture, ecology, and economy.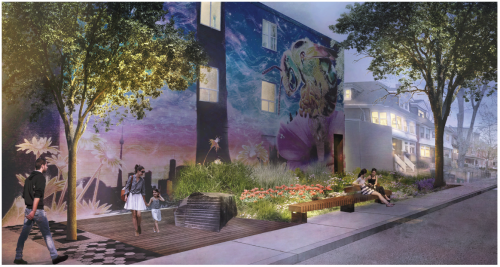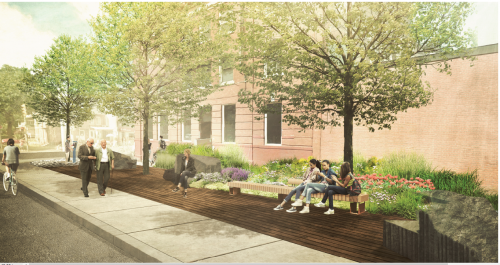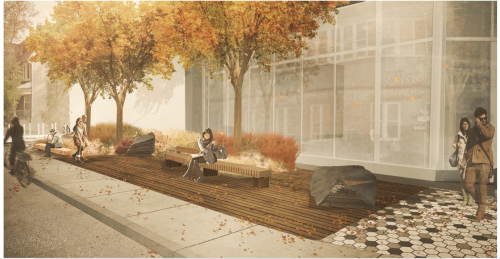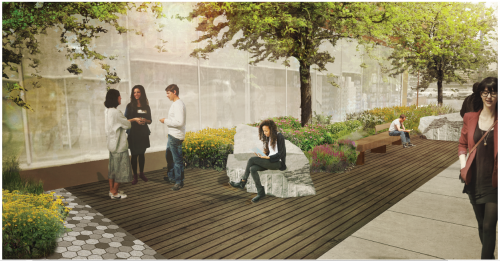 Brunswick Avenue & Bloor St West Parkette
The goal for the parkette on the northeast corner of Brunswick Avenue and Bloor Street West is to take-back City lands that were previously fenced and used for private use only.
The Bloor Annex BIA's vision is to:
Install extra bike parking
Relocate the Bike Share station from the south side and
Install a bench under the shade tree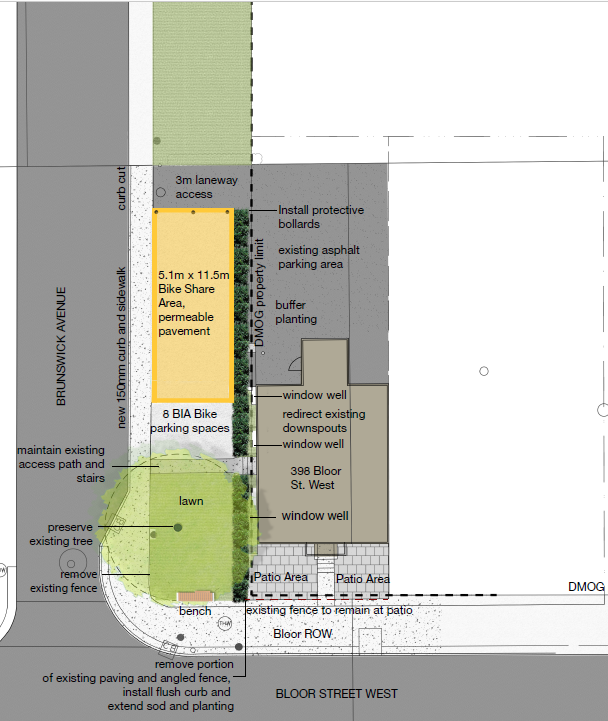 Learn more about the Bloor Street Revitalization Project.
---
Bloor Street Bike Lanes
The Bloor Street Bike Lane Pilot Project was approved by City Council in May 2016. The existing bike lanes on Bloor Street are being made permanent.
The permanent bike lanes will include raised cycle tracks or concrete curbs separating the bike lane from motor vehicle lanes, or parking, where possible.
The bike lane on the north side of Bloor Street W will include a painted buffer zone and bollards separating the bike lane from moving and parked vehicles. Green pavement markings will be used to highlight bike lanes near intersections.
This work is part of a two-phased project. The bike lanes between Spadina Avenue and Avenue Road will be reconstructed in 2020.
Learn more about the Bloor Street Bike Lanes.
Pre-Construction Inspection
A contractor, on behalf of the City of Toronto, will survey all properties within 30 metres of the construction area before construction starts.
Participation in the survey is voluntary, but participating is important in determining if construction caused damage. The inspection will look at both the interior and exterior of all properties to verify existing conditions.
A City contractor will deliver a separate notice requesting time to set up appointments. All inspection staff will be wearing photo identification and carrying photographic equipment during their work.
During Construction
Work crews will mark the locations of underground utilities, such as gas, water and cable so that the construction work does not interfere with these utilities.
Work in the boulevard in front of commercial properties and homes, is planned. This work includes removing and replacing a portion of driveways, municipal sidewalks and grassed boulevards, where necessary.
Property owners should remove items located within City property limits (boulevard), such as displays, street furniture, patio accessories and or decorative objects before work starts. The City will not be held responsible for damage to items in the boulevard.
Substandard Water Service Replacement
Please read the fact sheet as it contains important information about lead in drinking water and water service replacement.
Find out if your water service is lead – a licensed plumber can help you with this. If it is lead, the City of Toronto encourages you to replace it by obtaining several quotes. You can contact the City's contractor for one of your quotes. Their name and phone number will be on a construction notice you will receive approximately two to three weeks prior to construction.
Learn more about Lead and Drinking Water.
Work Hours
Work will take place from 7 a.m. to 11 p.m., Monday to Friday and from 9 a.m. to 7 p.m. on Saturdays or Sundays as required.
Traffic Management
Efforts have been made to manage traffic in the area for the safety of workers, road users and residents.
There will be one shared lane in each direction for vehicles and bicycles through the work zone.
Road users should continue to obey all posted traffic signage and traffic control personnel.
Access for emergency vehicles will be maintained at all times.

Alternating Traffic Control along Bloor St W
During watermain construction at specific sections along Bloor Street W alternating traffic control will be used to direct traffic through areas where construction allows only one lane accessible for traffic.

Parking Restrictions
There will be no parking on Bloor Street West between Spadina Avenue and Bathurst Street during construction.
Vehicles parked on the street will be towed. If your car is towed, contact parking control at 416-808-2222 to find the location of your vehicle.
Road & Sidewalk Access
In order to complete the work in a safe manner, there will be road and sidewalk restrictions within the construction zone. Access for emergency vehicles will be maintained at all times.
Driveway Access
The contractor will notify you of any temporary restrictions to your driveway access. Access for emergency vehicles will be maintained at all times.
Accessible Accommodation
If you require accommodation, please contact Paul Martin to discuss how the City can help meet your needs during construction.
Wheel-Trans drop-offs and pick-ups will be accommodated.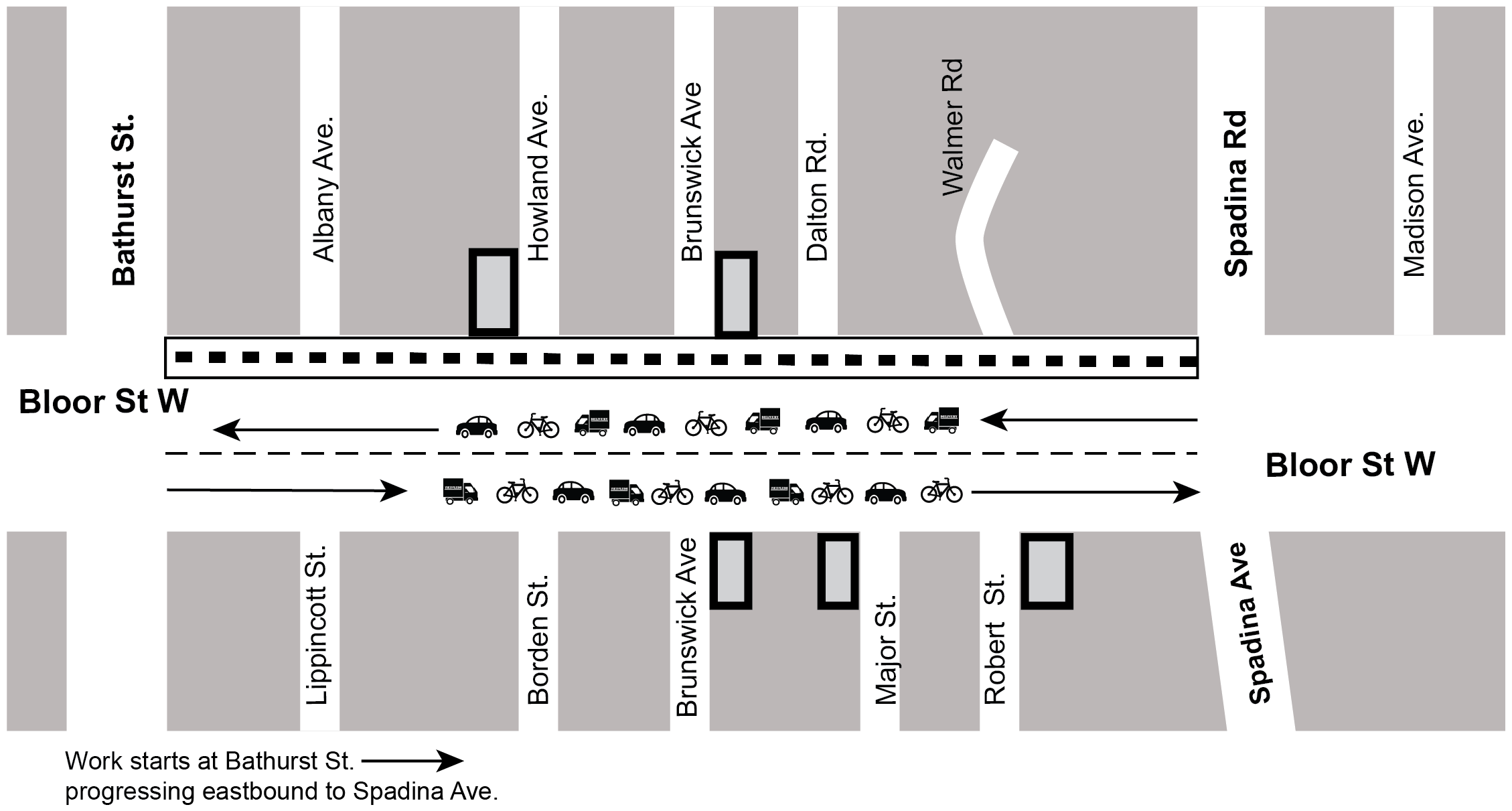 Phase 1
Phase 1 will have two construction crews working simultaneously on Bloor Street. The first crew will start at Bathurst Street and the second crew will be at Walmer/Robert Street. Both will work eastbound, progressing towards to Spadina Avenue.
Work
Crews will:
Dig a trench and replace the watermain
Replace the City-owned section of the water services
Disinfect and test the new watermain
Restore areas affected by construction
Begin constructing parkettes
Traffic Management
One shared lane in each direction for vehicles and bicycles on Bloor Street West.
No on street

parking between Bathurst Street and Spadina Avenue.
Phase 2
Starting at Bathurst Street and progressing eastbound to Spadina Avenue.
Work
When the watermain work is complete, crews will:
Construct permanent cycling facilities
Replace sidewalks
Resurface the road
Complete parkettes
Traffic Management
One shared lane in each direction for vehicles and bicycles on Bloor Street West.
No on street parking between Bathurst Street and Spadina Avenue.