Bloor West Bikeway Extension
Sign up
for e-updates to stay up to date on key milestones and opportunities to get involved.
In July 2019, the City of Toronto began planning, design and consultation on the Bloor West Bikeway Extension. The project will study and develop a design to add a bikeway on Bloor Street West from Shaw Street to Runnymede Road.
This project is currently in the planning and design phases with public engagement scheduled for January 2020. Installation is planned for August 2020, pending approval by the Infrastructure and Environment Committee (IEC) and City Council in spring 2020.
The existing bikeway on Bloor Street West from Avenue Road to Shaw Street was installed as a pilot project approved by City Council in 2016. Following evaluation of the pilot project, City Council approved the cycle tracks in 2017 as a permanent installation, including safety and operational design improvements.
Public Drop-In Events January 27th & 30th 2020
The City is hosting 2 public drop-in events in January 2020. View the information panels in print and discuss one-on-one with the project team. The same information will be available at both events.
January 27th Drop-in
Date: Monday, January 27, 2020
Drop-in: 4 p.m. to 8 p.m.
Location: St. Wenceslaus Church, 496 Gladstone Avenue
(behind the Bloor/Gladstone Library)
January 30th Drop-in
Date: Thursday, January 30, 2020
Drop-in: 4 p.m. to 8 p.m.
Location: Lithuanian House, 1573 Bloor Street West
Bloor West Bikeway Extension Public Drop-In Event Notice
Past Events
Drop-In Events for Businesses and Organizations November 2019
The City hosted four drop-in events in the project area for building owners, business owners and organizations in each of the Business Improvement Areas (BIAs) on Bloor Street West in the project area.
If you own a building or business that is not part of any of the four BIAs in the area, you were able to attend any of the four events. Future events will be organized for residents and the general public.
Event
Date
Location
Bloor by the Park BIA Area
Wednesday, November 13, 2019

8 a.m. to 10 a.m.
4 p.m. to 8 p.m.

Lithuanian House,
1573 Bloor Street West
Bloorcourt BIA Area
Monday, November 18, 2019

8 a.m. to 10 a.m.
4 p.m. to 8 p.m.

St. Wenceslaus Church,
496 Gladstone Avenue
Bloor West Village BIA Area
Tuesday, November 19, 2019

8 a.m. to 10 a.m.
3 p.m. to 7 p.m.

Swansea Town Hall,
95 Lavinia Avenue
Bloordale Village BIA Area
Wednesday, November 20, 2019

8 a.m. to 10 a.m.
4:30 p.m. to 8:30 p.m.

New Horizons Tower,
1140 Bloor Street West
At the drop-in events, building owners and representatives of businesses and organizations in the project area on Bloor Street West had an opportunity to:
View project information on the Bloor West Bikeway Extension
Ask questions and speak with City of Toronto staff
Provide feedback on the project in relation to properties and businesses (parking, loading, accessibility etc.)
If you were unable to attend any of the events, you were invited to review the consultation material before filling out the businesses and organizations stakeholder survey. The survey closed on December 9, 2019.
Add your email address to the project mailing list at the top of the page to stay informed about project updates and public consultation events.

The existing Bloor Street Bikeway was installed in 2016 and has since become the second busiest in the city with approximately 5,220 daily users.
The City of Toronto has identified Bloor Street West from Shaw Street to Runnymede Road as a priority for expansion of the cycling network, as identified in the City of Toronto's Cycling Network Plan.
The Bloor West Bikeway Extension would connect to existing and proposed north/south cycling routes on Shaw Street, High Park Avenue, Runnymede Road, and the West Toronto Railpath.
The goal of this project is to create a safe, multi-modal and vibrant Bloor Street West by:
Developing a primary east-west cycling corridor that builds upon the existing bikeway on Bloor Street West.
Creating a comfortable cycling space that physically separates cyclists from drivers.
Exploring opportunities to improve safety for all road users, particularly the most vulnerable such as pedestrians and cyclists of all ages and abilities.
Considering and accommodating all users and uses such as parking, loading, travel by car, emergency services and operations.
Examples of Physical Separation on Richmond/Adelaide and Lake Shore Blvd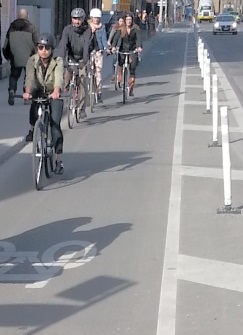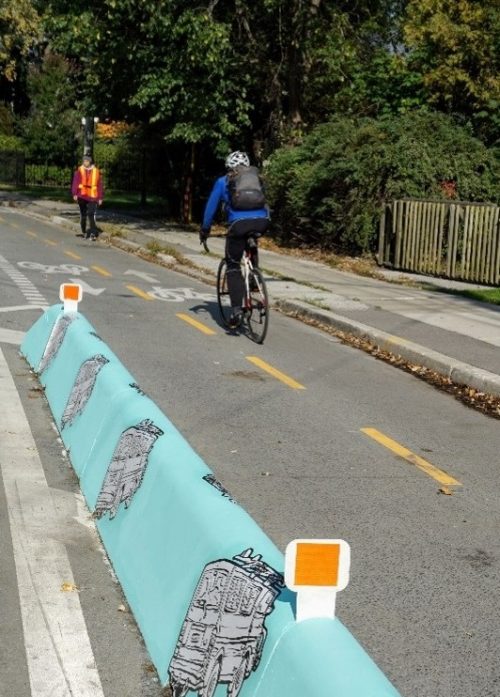 Fall 2019
Review existing conditions
Stakeholder consultation
Winter 2020
Spring 2020
Report to Infrastructure & Environment Committe and City Council
Summer 2020
Why Cycling in Toronto?
The Official Plan for the City identifies sustainable transportation as a priority, with a goal to make walking, cycling, and public transit increasingly attractive alternatives to single occupancy vehicle use. The Transform TO Climate Action Strategy has a goal of 75 per cent of trips under 5 km to be walked or cycled by 2050. And the Vision Zero Road Safety Plan strives to reduce traffic related fatalities and injuries in Toronto, in part through the provision of safe cycling routes throughout the City.
Why Bloor Street West?
This project will build upon the success of the Bloor Street Bike Lanes Project, which saw a bikeway installed on Bloor Street from Avenue Road to Shaw Street in 2016. The existing Bloor Street Bikeway is the second busiest in the City, with 5,220 daily users in 2017. This project intends to connect residents with businesses and other destinations along the Bloor Street corridor, and to increase the already significant cycling rates in these neighbourhoods. Bloor Street is also one of the few east-west arterial roads free of streetcar tracks, which allows for greater flexibility in the design. The proposed Bloor West Bikeway extension would connect with the West Toronto Railpath as well as existing north/south routes on High Park Avenue and Runnymede Road.
Why go all the way to Runnymede Road?
By extending the existing Bloor West Bikeway to Runnymede Road, the cycling network would be connected to a dedicated bike lane. Runnymede Road bike lanes also connects to cycling routes to the north on the Black Creek Trail, Scarlett Road, Humber River Trail and to Eglinton Avenue, and routes to the south on Ellis Avenue to the Waterfront Martin Goodman Trail.
How do the bike facilities connect to the surrounding cycling network?
The proposed Bloor West Bikeway Extension would connect to existing cycling routes on Shaw Street, High Park Avenue, Runnymede Road and the West Toronto Railpath.
How are on-street parking needs determined?
City staff conduct multiple counts to assess on-street parking demand during the busiest times of the week. This is done on a block-by-block basis. Available off-street parking is also considered.
Will the Bloor West Bikeway Extension have an impact on loading and deliveries for businesses?
The City will study existing loading and delivery needs through consultation with businesses, organizations and building owners on Bloor Street. In the existing Bloor Bikeway, business' loading needs are accommodated using mostly side streets and back alleys. Some have had to modify their loading process.
How does the bikeway accommodate accessibility?
WheelTrans vehicles and accessible taxis are allowed to load passengers in the bikeway. In addition, on-street accessible parking and loading spaces are being investigated in the design where feasible.
How do bikeways affect waste pick-up and emergency services?
The bikeway design will accommodate waste pick-up, emergency services and other municipal services.
How do bikeways affect TTC bus stops?
The TTC is consulted to ensure buses can reach curb-side bus stops.
How do on-street bikeways impact safety?
Bikeways provide safe options for people who want to bike to school or work, for shopping, recreation and other trips.
An important purpose of adding bikeways is to improve safety for people of all ages and abilities, including people who walk, take transit, ride a bike, or drive a car. Studies in Toronto and elsewhere have shown that adding bikeways improves safety for all road users. By adding bikeways and reducing traffic lane widths, motorists tend to slow down. Slower speeds reduce the number of collisions, and their severity if they do occur.
How will the bikeways impact vehicle traffic?
Traffic modelling on Bloor Street West will be undertaken to assess traffic operations and mitigate impacts to traffic in the proposed design.
What is the economic impact of bikeways on Bloor Street?
Three studies looked at economic impact of the existing Bloor Street Bikeway. They found that after the bikeway installation, the number of businesses reporting 100 customers per day or more increased 16%. People were spending more, and on par with other parts of the city. In fact, similar studies in Los Angeles, New York, Seattle, San Francisco and Vancouver show either neutral or positive impact of adding bikeways on business.
How are bike facilities designed?
Bike facilities are designed to support safe and accessible use. The Project Team consults with City staff and agencies including TTC, Emergency Services, and traffic engineering. The design of the bike facilities is informed through consultation and feedback received from local stakeholders and community groups, residents, and businesses, data analysis, and review of technical information.
Would the bike facilities impact building access?
The bike facilities are designed to maintain safe building access for people arriving on foot, bike, transit and by car.
Will physical protection, like bollards, be added to the bicycle lanes?
The Bloor West Bikeway Extension will be designed to provide separation for people cycling from cars. Driving, parking and stopping of motorized vehicles is prohibited in bike lanes and cycle tracks. In most locations, the bike lanes would be separated from vehicles using a physical barrier, such as plastic flexi-posts, concrete curbs, planter boxes, or some combination of the above.
Will additional bike parking and BikeShare be installed?
The Bloor West Bikeway Extension project includes installation of additional bike racks and bike parking locations, as well as BikeShare stations.
Are bike lanes cleared of snow?
Yes. Any approved bike lane design includes a maintenance program for snow removal and street cleaning, similar to other popular bike lanes.
Are Bike Lanes Used in the Winter?
Yes, data from permanent counters on the existing Bloor Street West bike lanes (and other locations) shows that approximately 20 per cent of the people who cycle in the spring, summer and fall continue cycling right through the winter.
What is the City's Cycling Network Plan?
In July 2019, Toronto City Council approved an update to the Cycling Network Plan to connect, grow and renew infrastructure for Toronto's cycling routes. The Cycling Network Plan outlines the City's planned investments in cycling infrastructure over 2016-2025. The plan identifies opportunities for cycling infrastructure investments in every part of Toronto.
Where can I access information and resources on cycling in Toronto?
Please visit the City of Toronto Cycling Page for more information on cycling in Toronto including programs to start cycling and safety information.