Douro St. & Wellington St. Bike Lanes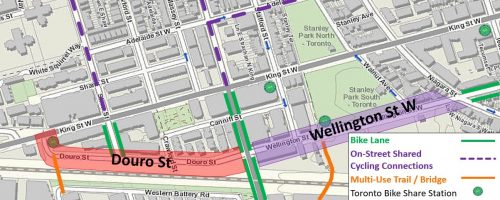 The City of Toronto is inviting residents to learn more about proposed bike lanes on:
Douro Street between King Street West and Strachan Avenue
Wellington Street West between Strachan Avenue and Niagara Street
The new bike lanes would provide dedicated spaces for people cycling and improve safety and comfort for all road users.
Public Consultation Completed
From November 27 to December 31, 2019, we invited residents to learn more and provide feedback on these proposed bike lanes, both online and at a public drop-in event (December 9, 2019 at the Trinity Recreation and Community Centre).
Over 80 participants, mostly local residents, provided feedback, with the high majority recording strong support for the project as recommended.
If you require assistance in reading these materials, please contact us.
View a copy of the public notice flyer (includes the same content as this page).
Project Goals
Project Goals
Improve safety for people travelling by foot, car and bicycle.
Minimize impact to on-street parking.
Maintain access for people driving.
Connect new cycling infrastructure in the area including the King-Liberty Pedestrian/Cycle Bridge, the Garrison Crossing Pedestrian/Cycle Bridge, and eventually with the West Toronto Railpath Extension from Sudbury Street.
Why this Project is Being Proposed
Cycling is one of the fastest growing transportation modes in Toronto. The City is working to make travel by bike safer and more inviting.  Making it easier for people to choose to cycle, helps ease congestion on the streets and transit, creates a cleaner environment, and promotes a healthier public life.
The City supports cycling by building and maintaining bike lanes and multi-use trails, installing bike parking facilities, distributing bike network maps, and carrying out other campaigns and projects to promote cycling confidence and safe road use behaviour. This project is part of the effort to make cycling safer and was an adopted project in the City Council supported Cycling Network Plan.
Potential Street Configuration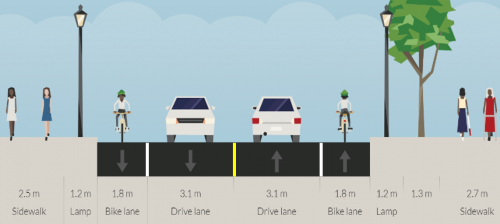 Parking Impacts
To provide the necessary space in the roadway for these new bike lanes, on-street parking will be impacted.
| Street | Section | On-Street Parking Impacts |
| --- | --- | --- |
| Douro St. | King St. W. to Shaw St. | Parking to be removed |
| Douro St. | Shaw St. to Strachan Ave. | Maintain 85% of parking |
| Wellington St. W. | Strachan Ave. to Stanley Ter. | No Impact |
| Wellington St. W. | Stanley Ter. to Niagara St. | Parking to be removed |
| Crawford St. | 40 m north of Douro St. | Parking to be added |
To help offset the loss of parking spaces, some additional spaces will be created on connecting streets, such as on Crawford Street.
The changes in configuration will be designed to meet City standards to ensure City services that use the road will continue to function well and serve the community, including Fire, Paramedics, Police, Solid Waste pickup, TTC, Wheel-Trans, road maintenance and snow clearing.
Next Steps
Further to public and stakeholders consultation and subject to the approval from the City Council, the City of Toronto plans to install proposed bike lanes on Douro Street and Wellington Street West in summer 2020.
The short URL for this web page is: toronto.ca/douro-wellington