Shaw Street Improvement Options
Shaw Street from Dupont Street to Dewson Street is scheduled to be resurfaced in 2020. The resurfacing provides a good opportunity to improve Shaw Street and make it safer for everyone, especially vulnerable road users such as people walking and cycling.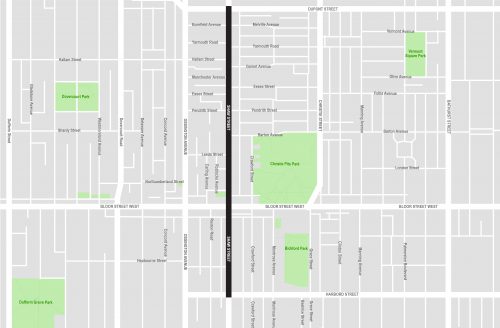 Shaw Street is a major city-wide cycling route, yet the volume of drivers exceeds the City of Toronto's Guidelines for a shared lane. A shared lane is where people cycling and driving use the same space.
Shaw Street is one of Toronto's busiest cycling routes. It has more than 300 people cycling in one hour during the morning rush, and more than 3,000 people cycling per day.
At least 21 per cent of people who live on or near Shaw Street ride bikes to work or school.
More than 75 per cent of people on Shaw Street either walk or bike during the morning rush hour.
At least 20-30 per cent of the driving on Shaw Street is to cut-through the neighbourhood.
Shaw Street experiences high volumes of motor vehicle traffic for a residential street. The volume of drivers is far above the City's guidelines for a shared lane, and there isn't space for a dedicated cycling facility in both directions.
The purpose of this project is to reduce cut-through traffic, and create safer and more comfortable conditions for people walking and cycling.
Public Drop-In Event #1
A public drop-in event was held on November 21, 2019, from 6 p.m. to 8 p.m. at Bob Abate Community Centre.
Four options presented at the Drop-In Event involved changing the street direction for people driving on Shaw Street between Dupont Street and Bloor Street West. In each option, different blocks on Shaw Street would be northbound or southbound for people driving. In all the options, people cycling would continue to travel both northbound and southbound. Also, some changes to on-street parking are proposed so that the contra-flow bike lane and on-street parking would be on opposite sides of the street.
A direction change is also proposed on Shaw Street between Bloor Street West and Harbord Street. For this section of Shaw Street, two options are being proposed that will improve safety by reducing the number of people driving on Shaw Street.
Please refer to the Presentation Materials for details on the proposed options.