RentSafeTO for Tenants
RentSafeTO: Apartment Building Standards is a bylaw enforcement program that ensures apartment building owners comply with building maintenance standards. The program applies to apartment buildings with three or more storeys and 10 or more units.
Residents are encouraged to contact their landlord first to make service requests for issues such as pests, low or no heat, plumbing problems, leaky ceilings or problems in common areas of the building. If you get no action from your landlord and problems persist, you can contact 311 for the RentSafeTO team.
Compliance by building owners/operators includes:
tracking tenant service requests and responding to urgent service requests within 24 hours
maintaining a capital plan for building repairs and keeping service and maintenance logs
developing and implementing a cleaning plan for common areas of the building
posting a tenant notification board and keeping it up to date
Owners of rental apartment buildings are required to register and comply with the program. If landlords do not comply with the maintenance standards, RentSafeTO officers can take actions such as issuing orders and court charges, which can result in substantial fines. The City can also have a contractor complete any necessary work and place the costs on the building's property taxes.
Learn more about what building owners must do to comply.
If you are renting an apartment in a building that is not part of the RentSafeTO program, such as a condo building, a townhome, or a unit in a private home (basement or main floor apartment) and are experiencing a problem, please talk to your landlord first. If the problem is not addressed, you can contact 311 to have the City investigate.
Making Service Requests
Service Request Forms
If you have issues with the physical condition of the apartment that you are renting (taps that don't work, heat that isn't working, a broken window) or the common areas of your building, talk to your building owner or manager and submit a request for service in writing. Use this service request form as a guide: English French
Timelines
When the service request is not urgent, allow your building owner a reasonable time to make the repairs. For repairs such as painting walls or replacing floor tiles or counters within a unit, a reasonable time could be several weeks.
If the repair is not performed in a reasonable time, contact 311 to file a complaint. You can reach 311 by dialing 3-1-1 or by email at 311@toronto.ca. Once a complaint is filed, a Bylaw Enforcement Officer will come and inspect your building.
Record Keeping
Make requests for service in writing and keep copies of your requests. Your landlord must track these requests and keep copies of service requests from the past two years, and you can request to see these records. Learn more about landlord record-keeping requirements.
How to Check the Status of Your City Service Requests
For any service requests you have made to the City through 311, you can check the status using the reference number provided to you by 311 staff. Enter your reference number in the Status Tracking box at the bottom of the toronto.ca home page and click "GO."
You can also check the history of bylaw violations at an address.
Pests
All landlords are responsible for maintaining a unit and ensuring it is free of pests, such as ants, cockroaches, bedbugs, spiders, mice and rats.
Landlord Responsibilities with Pests
Any landlord who is aware of the presence of pests at the property shall:
eliminate pests, and prevent their spread into other portions of the property
inspect the common areas of the property at least once every 30 days, and any area of the property within 72 hours of receiving any information indicating the presence of pests in that portion or portions of a property
hire the services of a professional pest control company licensed by the Ministry of Environment, if required
keep pest management records and post them on tenant notification boards
not allow the rental of any unit to a new tenant where there is a confirmed presence of pests.
Landlords will also work with Toronto Public Health to respond to complaints related to bed bug infestations where vulnerable diseases are involved, and the situation may constitute a health hazard.
If you have concerns about pests, speak to your landlord or property manager. If this issue is not resolved in a timely manner, you can contact 311.
What Tenants Can Do About Pests
While pest management is the landlord's responsibility, you can follow these steps to prevent pest infestations in your unit.
Keep your unit free of clutter.
Clean kitchens and bathrooms regularly. Keep kitchen countertops clean and free of crumbs.
Vacuum regularly under rugs and beneath furniture.
Rinse containers before putting them in the garbage or in recycling bins.
Empty kitchen garbage containers often.
Avoid picking up mattresses and other furniture from sidewalks or the trash.
Store foods (grains, legumes, sugar) in sealed plastic or glass containers in kitchens.
After travelling, check luggage carefully for spread of pests.
You must allow your landlord to treat your unit for a pest infestation. Landlords must notify a tenant ahead of time about what is required to prepare the unit for treatment (such as emptying cabinets, removing furniture from walls, etc.)
Vital Services (i.e. electricity, heat, water)
Vital services in your building include hydro (electricity), fuel, gas, hot and cold water.
The landlord cannot withhold the supply of any vital service for any reason, including the non-payment of rent.
If you have concerns about these services in your rental apartment unit or rental condo unit, contact 311. The landlord must address requests within 24 hours of receiving the complaint.
If your unit is in a condo building where units are individually owned, the City will not investigate a complaint about the condition of that unit, as the RentSafeTO program does not apply. In these cases, problems or deficiencies should be addressed by the individual unit owner.
Apartments should be a minimum air temperature of 21 degrees Celsius from September 15 – June 1. Learn more the heat bylaw.
Landlords are required to maintain a contact list of tenants who voluntarily self-identify as needing assistance during an emergency or temporary shut down of vital services.
Tenant Notification Boards
In order to keep tenants up-to-date, a notification board must be posted in a central location in the building. Electronic notification boards are allowed as long as all required information can be displayed and read easily by tenants. Hard copies of the required information must be made available to tenants and prospective tenants upon request.
If you do not see this board in your building, or do not have access to an electronic version, contact 311.
Learn about the information that must be posted on the board.
Window Safety Devices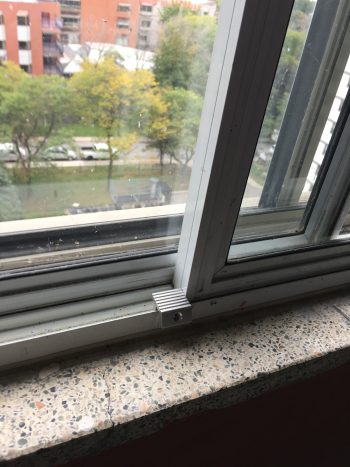 For the protection of Toronto residents, City bylaws require window safety devices be installed on rental apartment windows that:
do not lead to a balcony
are more than two metres above the ground and less than 1.5 metres from the unit floor, and
are a common window where the lower sill is less than one metre (3.28 feet) above the floor (in this case the guard must comply with the Ontario Building Code).
Window safety devices must prevent any part of the window from opening more than 10 centimetres, which is the amount of space a child can crawl through
Removal of window safety devices may result in penalties for both property managers and tenants.
Common Elements
Landlords are required to:
inspect all common areas daily for cleanliness, and must keep plans that show how often they will clean a building. You can request to see these plans at any time.
inspect the common areas of the property for pests at least once every 30 days
post in at least one common area of the apartment building waste diversion information that addresses, among other things, what items go into recycling, greens bins and garbage bins, as well as the location of the bins.
Electrical and Building Maintenance
Capital Plan
Landlords are responsible for maintaining a capital plan for building repairs that lists when each item is expected to be replaced or updated. Examples of capital elements include: roof, elevators, windows, flooring and wall finishes, handrails, and mechanical systems.
You can request to view this plan at any time.
New: Electrical Maintenance Requirements
Recent events in St. James Town have identified a number of concerns regarding the state-of-good repair of aging apartment buildings, particularly related to electrical systems. To protect the health and safety of tenants, Toronto City Council adopted a series of recommendations that outline new requirements for building owners/operators under the Apartment Buildings By-law (Toronto Municipal Code Chapter 354, Apartment Buildings).
Apartment building owners/operators are now required to:
Develop an electrical maintenance plan with a Licenced Electrical Contractor, and maintain any information and records necessary to demonstrate compliance with the plan.
Maintain a list of tenants who voluntarily self-identify as requiring assistance during evacuations or temporary shut down of vital services such as hydro (electricity), heat or water.
The City is also conducting proactive inspections of buildings that may be at higher risk of electrical malfunction. Learn more about the inspections, including those identified for the first round of inspections.
Audits and Inspections
Bylaw Enforcement Officers will conduct evaluations of buildings and score them every three years. If a building fails its evaluation by scoring less than 50 per cent, the RentSafeTO team will follow up with an audit. An audit requires an inspection of all common areas from rooftop to basement, the underground garage and exterior grounds. Tenants will be given advance notice of an audit through a notice posted on the tenant notification board. During an audit, you can file complaints with officers and request an inspection.
Apartment Building Audit Reports