Community Crisis Response Program (CCRP)
The Community Crisis Response Program (CCRP) works across Toronto providing support and resources to communities impacted by violent and traumatic incidents. By providing immediate supports, the CCRP mobilizes local resources to address individual/group needs, coordinates community debriefings and facilitates information sharing. Long-term supports offered by the program include establishing training and education sessions, facilitating community safety audits, and fostering the development of innovative, community safety projects.
About the Program:
The Community Crisis Response Program (CCRP) works across the City of Toronto in partnership with community members, agencies, and internal City divisions to enhance community safety and wellbeing.
The CCRP team supports communities with the development of safety networks that create neighbourhood strategies which focus on Crisis Intervention, Crisis Prevention, and Crisis Preparation.

Crisis Intervention: providing support to communities after a violent or traumatic incident.
Crisis Prevention: supporting education, development of strategies and methods and making systemic policy recommendations that may prevent future violent incidents.
Crisis Preparation: developing local safety networks which can provide cohesive and collaborative responses to critical incidents.

CCRP works with communities to identify concerns and develop localized strategies including the development of a coordinated community crisis response protocol.
When communities have been impacted by violent and traumatic incidents, the CCRP further supports communities with the recovery and healing process.
Violent and traumatic incidents include: shootings, shots fired, stabbings/slashings, swarming, community conflicts, gun/gang related activity, and raids/ execution of major search warrants.
Response Protocol:
The CCRP is not a first response program. Members of the public are reminded to call 911 in emergency situations. The program is automatically activated 12-72 hours after a violent incident occurs.
Each day, the CCRP staff gather and receive information on critical incidents from the police, news media, municipal services, community organizations and local place-based networks.  CCRP staff communicate with community stakeholders to arrange needs assessments for crisis response activities and to mobilize supports where necessary
CCRP Team
NAME
POSITION, NUMBER, EMAIL
Dan Breault
Manager

647-468-4715

Scerena Officer

 

Supervisor

416-886-7542

Saleha Nahdi

 

Community Development Officer (Etobicoke)

647-210-8189

Kevin Bourne
Community Development Officer (Etobicoke)

416-667-5094

Kecia Richardson

 

Community Development Officer (North York)

647-462-6053

Thipika Balakrishnan

 

Community Development Officer (Scarborough)

416-677-5291

Stephanie Mazerolle
Community Development Officer (Toronto)

416-526-0588

Matthew Dewar
Community Development Officer (East York)

647-217-4368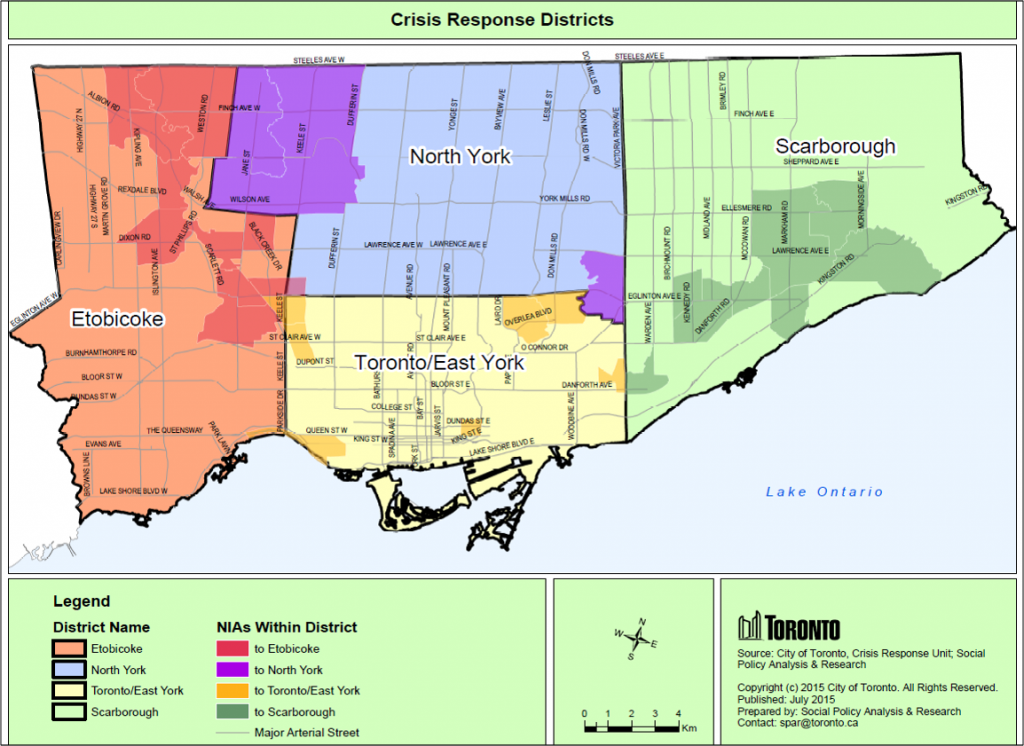 Partners/ Emergency Contacts
Community Supports
Name and Agency
Phone #
Toronto Police Services (EMERGENCY)
911
Toronto Police Services (Non-Emergency)
416-808 2222
City of Toronto –

Supervisor, CCRP

416-886-7542
Toronto Community Housing
416-981-5500

416-921-2323

What's Up Walk In Youth 13-29yrs

Free Walk-In Mental Health Counselling. No fee. No appointment.

No Health Card. Six locations across Toronto.

Toronto Public Health – Community Support Team           
416-338-7600
Victim Services Toronto

Victim Services Toronto provides 24/7 Immediate Crisis Response, intervention and prevention services which are responsive to the needs of individuals, families and communities affected by crime and sudden tragedies.

416-808-7066
Province of Ontario
416-325-3265

Crisis Outreach Services for Seniors
416-640-1459
Crime Stoppers

Crime Stoppers takes anonymous information 24 hours a day, 7 days a week. Calls are not recorded and Crime Stoppers does not have call display, guaranteeing your identity remains anonymous. People providing information will be given a secret code number. You will never be asked to identify yourself or testify in court.

416-222-TIPS (8477)
Toronto Distress Centre
Provides 24-hour telephone support, 365 days a day.  Offer round the clock response to those experiencing emotional distress or in need of crisis intervention and suicide prevention. They also provide face to face support and counselling to people dealing with the effects of suicide and homicide.
416-408-HELP (4357)
Kids Help Phone Line

When young people reach out for help, either by phone or online. Kids Help Phone is there for them with the immediate, caring, professional, anonymous help and hope they need and deserve. Kids Help Phone doesn't trace calls or IP addresses, and they don't use call display.

1-800-668-6868
Gerstein Centre

The Gerstein Centre provides crisis intervention to adults, living in the City of Toronto. The Centre provides supportive counselling for immediate, crisis issues and referrals to other services for on-going, non-crisis issues. Our service is a community mental health service and is non-medical.

crisis line, 416-929-5200

referral line 416-929-9897

Shelter Assessment and Referral Centre

416-392-3777
211Toronto

Web-enable local data to create a fully searchable, bilingual point of access to over 60,000 community, social, health and related government programs and services in Ontario.

211
311

Information of City Services – available 24/7

311