Toronto Sculpture Garden
The Toronto Sculpture Garden (TSG) is a small City of Toronto park opposite St. James Cathedral on King Street East. Since 1981, the TSG has commissioned temporary artworks by more than 80 artists. Until 2014, the space was operated as a partnership between the City of Toronto and benefactors, the Louis L. Odette family. Under the direction of Rina Greer, the TSG provided artists with the opportunity to work experimentally in public space, explore issues of scale and materials, and engage with the local community as well as visitors to the neighbourhood. For some, the expansion of their practice beyond the studio led to major public artworks elsewhere.
Now managed by the City of Toronto's Arts & Culture Services (part of Economic Development and Culture), the TSG will host two projects per year, beginning with commissions for the spring and fall of 2018.
Current Exhibition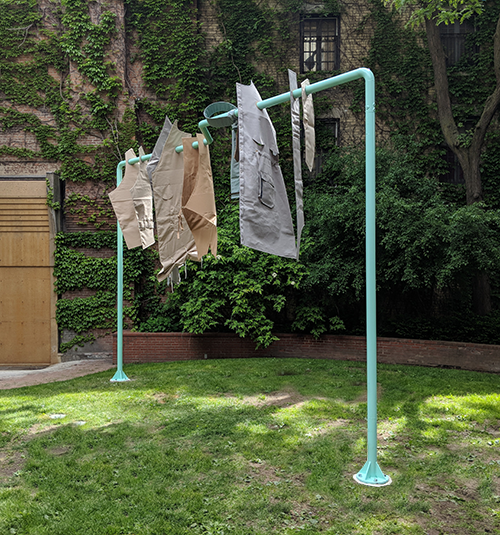 Pins and Needles by Karen Kraven (steel, marine canvas)
June 7 to September 15, 2018
Long interested in the ways clothing acts as a trace of the work performed by the human body, Karen Kraven's Pins and Needles investigates how and where women's work can be visualized. Inspired by histories of labour action in garment factories in Montreal, Toronto and New York, the installation takes its name from a 1937 Broadway musical revue organized by the International Ladies' Garment Workers' Union (ILGWU) that aimed to garner public support for factory workers. Drawing on the presence of garment factories in her own family history—her father and grandfather owned a sweater factory in Stratford, Ontario—and on archival photographs and oral histories of a ten-week strike by women dressmakers in Toronto in 1931, the sculpture considers how individual and collective histories are intertwined through the making and wearing of clothing and uniforms.
Comprised of 10 shapes rendered in marine canvas and lightweight plastic, Pins and Needles disassembles some of the pattern pieces used to make women's trench coats and reimagines them as sculptural elements. Unmoored from their functional use, these unsewn sleeves, bodices and collars suggest absented bodies but they fail to fit together as one cohesive whole. Exposing the seams that should hold these pieces together, the sculpture evokes the unfinished work of striking: the pieces of wool, felt and interfacing abandoned mid-shift at dusty workstations, and piled high on hooks and hangers across the factory floor. Much like the act of going on strike, Kraven's textile pieces are spectacularly unproductive but visually enticing, inviting the viewer to imagine other ways of working and organizing in a time of unregulated labour. — Gabrielle Moser
Karen Kraven is a Montreal-based artist who works in sculpture, photography and installation. Recent solo exhibitions include MAW Gallery (New York), Centre Clark (Montréal), the Institute for Contemporary Art (Portland, ME) and Mercer Union (Toronto). Her work is in the collections of the Art Gallery of Ontario, TD Bank, RBC and Banque Nationale.
Karen Kraven is represented by Parisian Laundry, Montréal.