Toronto Sculpture Garden
The Toronto Sculpture Garden (TSG) is a small City of Toronto park opposite St. James Cathedral on King Street East. Since 1981, the TSG has commissioned temporary artworks by more than 80 artists. Until 2014, the space was operated as a partnership between the City of Toronto and benefactors, the Louis L. Odette family. Under the direction of Rina Greer, the TSG provided artists with the opportunity to work experimentally in public space, explore issues of scale and materials, and engage with the local community as well as visitors to the neighbourhood. For some, the expansion of their practice beyond the studio led to major public artworks elsewhere.
Now managed by the City of Toronto, the TSG hosts two projects per year. Calls for proposals are posted here each winter.
Current Exhibition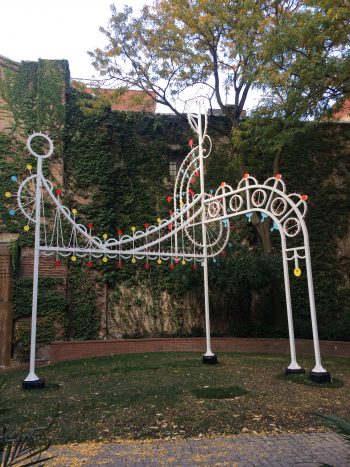 Pigro by Tony Romano (Steel, lighting)
October 2018 to April 2019
Inspired by the adjacent St. James Cathedral and the decorative ironwork that surrounds the park, Pigro ("lazy" in Italian) takes as its starting point the elaborate structures of Italian festival lights, strung across streets and illuminating church facades. Pigro is a playful reclining figure, connecting the Baroque decorative tradition to the everyday design of city street fixtures like wrought-iron railings and lamp posts. It also acknowledges the park as a place for rest and relaxation, where laziness is not out of place. With its soaring arches and colourful glow, Pigro lights up the path for visitors, whether they have time to linger or are just passing through.
Tony Romano is a Toronto-based artist whose work includes sculpture, film and video, installation, music and text-based pieces. Romano received his BFA from the Emily Carr Institute of Art and Design, Vancouver. Recent solo shows include New Work: 2014-2016 at Clint Roenisch; Night Thoughts at Beers, London; Goodnight My Love at Night Gallery, Los Angeles; Onward Future at Oakville Galleries and MuseumLondon; and Notary Moon at the MacLaren Art Gallery, Barrie. He is represented by the Clint Roenisch Gallery, Toronto.