Camp Claireville
Campers spend fun-filled days enjoying camp activities in an amazing natural setting.
Address: 925 Albion Rd, Etobicoke, ON M9V 1A6
For more information, visit How to Register for Recreation Programs.
Program Information
Adapted Camp (13-24 years)
This camp offers a great outdoor camp experience for youth with additional needs but who don't require 1:1 support. Lower ratios, life skills and nature activities are offered in this camp.
Adventure Camp (6-12 years)
Enjoy crafts, hiking, group games, archery, low ropes and special events.
Adventure French Camp (6-12 years)
All the fun of Adventure Camp in a French Immersion environment.
Sports Camp (7-12 years)
A unique blend of sports and outdoor camp activities. Develop skills in various sports such as soccer, baseball, football and enjoy clinics and special guests. We also offer 1 specifically focused sports camp each session. Soccer, volleyball, lacrosse, and touch football are each offered.
Nature Explorers (9-12 years)
Enjoy Claireville's traditional activities while digging deeper into the less explored areas of the conservation area. Special guests will include TRCA staff who take care of the conservation area as well as other nature specialists.
Challenge Plus (11-15 years)
Youth will enjoy outdoor challenges through group interaction and making lasting friendships. Enjoy all the activities at Claireville as well as a compulsory 2 night, 3 day out trip to a provincial park.
Counsellor In Training (15-16 years)
This program will combine theoretical learning as well as practical experience. Campers will get to experience all the activities at Claireville as well as the chance to shadow a leader and put their new knowledge into practice.
Spaces are limited so call 416-394-8546 or e-mail clairevillecamps@toronto.ca to receive an application package.
Western Horseback Riding (10-14 years)
As well as the traditional camp activities, campers participate in group lessons, trail rides and learn about horsemanship as well as how to care for the ranch horses. Campers must be 10 years or older and have a 27-inch inseam.
---
Accessible Recreation:
Children with disabilities are welcomed at Camp Claireville. If your child needs an accommodation to participate, please plan ahead by visiting Accessible Recreation.
To ensure the supports are in place, please contact us at 416-394-8546 or clairevillecamps@toronto.ca for an integration application package.
Sessions, Transportation & Information for Parents
Camp begins at the bus pick up location, between 8 a.m. – 8:45 a.m., and ends with the bus drop off, between 4 – 4:45 p.m. (Extended hours are available at the Etobicoke Civic Centre starting at 8 a.m. and runs from the end of the camp day until 5:30 p.m.).
We offer bus transportation at no additional costs, but seats are limited. This service is provided by a professional school bus company.*
Campers must register for BOTH a program barcode and one bus stop barcode (this will be the same location for pick up and drop off).
An optional overnight is offered during the second week of each session for all campers except Challenge Plus campers (Campers who wish to participate must register by calling the registration line, online or by calling 416-394-8546).
Recreational swimming will take place every Tuesday and Thursday at a local Parks and Recreation indoor pool. Campers over the age of 7 may take a deep end test if they wish to do so. Some campers, due to age, size or ability, may be asked to wear a PFD.
Claireville Camp operates rain or shine. In the case of severe weather (i.e. thunderstorms) all campers are moved to an indoor location at Pine Point Arena.
* For concerns with first-time bus travellers, please inform the office in advance. Parents/Guardians are responsible for the supervision of campers at bus stops, before pickup and after drop-off times. Prior to the start of each session, staff will call to confirm bus stop times. Parents/Guardians are responsible for signing their child on and off the bus every day.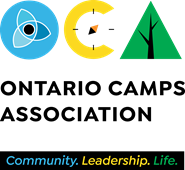 Camp Claireville is a City of Toronto facility, and is also a member of, and has been accredited by, the Ontario Camps Association (OCA).