Humriva ECO Camp
This OCA-accredited day camp located along the Humber River (Lambton Valley) provides a unique outdoor camp experience in a natural setting within the city. Camp sessions include nature and environmental studies, crafts, hiking/orienteering, cook-outs, archery, nature-related out trip and swimming.
Campers are bussed from Humbercrest Public School.
For more information, visit How to Register for Recreation Programs.
Program Information
Out-Trips and Special Guests
Each session, campers will experience an eco-related off-site excursion and special guest which relates to the camp session theme.
Swimming
Recreational swimming takes place every Tuesday and Thursday at a local City outdoor pool. Campers over the age of 7 may take a deep end test if they wish to do so. Some campers, due to age, size or ability, may be asked to wear a PFD.
Accessible Recreation
Children with disabilities are welcomed at Humriva. If your child needs an accommodation to participate, please plan ahead by visiting Accessible Recreation.
Hours, Extended Hours, Buses and Rainy Days
Hours and Extended Hours
Camp operates daily from 8:50 a.m. (bus pick up) to 4 p.m. (bus drop off). Camp Leaders and campers will be bussed to and from the campsite together.
If your camper is registered for extended hours, they can be dropped off as early as 8 a.m. and picked up as late as 5:30 p.m. each day.
**Extended hours for this camp is provided at Humbercrest Public School.
Camp Bussing
Since the campsite is located along the Humber River which is not accessible by car, all campers must be bussed to camp from Humbercrest Public School.
Camp leaders accompany all campers on the bus and ensure each camper is signed in / signed out daily.
Campers must be at the bus stop 10 min prior to the start of camp. If you are late, it is the responsibility of the parent/guardian to walk their child to the campsite. The bus will not wait for late arrivals.
Rainy Days
Humriva Eco Day Camp operates rain or shine. In the event of a thunderstorm or rainy day, campers will be bussed to an indoor location at Humbercrest Public School.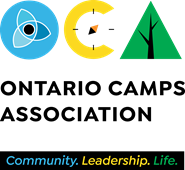 Humriva Eco Camp is a City of Toronto facility, and is also a member of, and has been accredited by, the Ontario Camps Association (OCA).