Temporary Signs
Some temporary signs require permits. Temporary signs are signs that are not permanently attached or fixed to a structure or surface.
The Signs Bylaw regulates the size and location of all temporary signs on private and public property.
| Signs that require a permit | Signs that do not require a permit |
| --- | --- |
| | |
| | |
| | open house directional signs |
| | community and/or charitable organizations |
| | religious organizations, schools |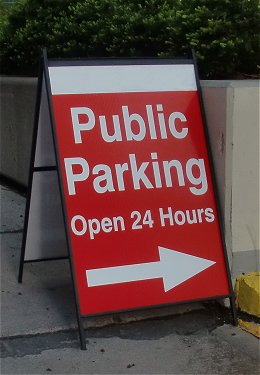 A-frame signs are rigid, free-standing movable signs (not fastened to the ground or a structure) and include information on one or both sides.
Wherever you place your sign, there must be 2.14 m of unobstructed sidewalk between your store front and the road.
If your store frontage is 6.1 metres or less, one A-frame sign is allowed.
If the store frontage is more than 6.1 metres, two A-frame signs are allowed.
Requirements:
No larger than 0.6 m wide x 1 m high x 0.75 m long
Only permitted on public property if not able to be located on private property
Located against the front wall
First part advertising only
One per business location
Sign can only be out during business hours
No illumination, sound, motion etc.
Area around sign must be kept free of litter, debris and weeds
A-frame sign permits are not available and not allowed to be placed in the following locations:
Bloor St. W. between Avenue Rd. and Yonge St.
Bloor St. E. between Yonge St. and Sherbourne St.
Yonge St. south of Davenport Rd.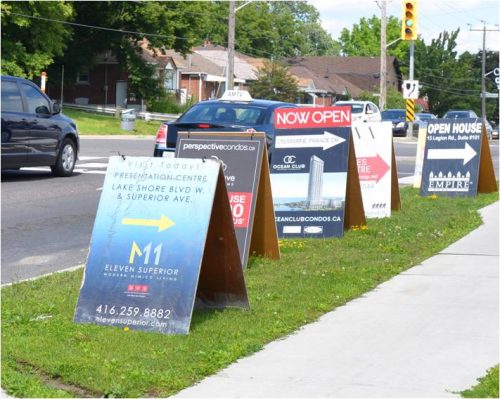 New development signs are used to promote new building developments, such as condominiums, townhouses or other new homes. Many of these signs are a-frame signs; self-supporting structures, shaped like an "A".
Requirements:
One application is required per development
Maximum 10 signs per development
Maximum five signs within 10 metre span
Maximum two groups per intersection
100 metre separation between groups
Development must be approved (rezoning)
Not permitted where there is on-street parking
Cannot be higher than 1.2 m
Signs may be moved as long as the City is notified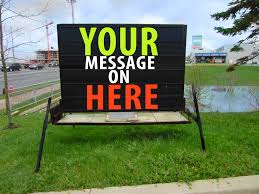 Mobile signs are used for advertising various events, activities and promotions.  They are easily moved, with changeable letters.
You can obtain an mobile sign permit for your business if your store frontage is more than 20 feet wide.
Requirements:
Thirty day maximum per permit
Maximum of three permits per year
Minimum of 30 days between permits
Private property only
First party advertising only, in front of unit
Two sign faces maximum, five square metres each
Black and white lettering only
Cannot be within 23 metres of another mobile sign
No larger than 2.5 m high x 3.05 m wide
Area around sign must be kept free of litter, debris and weeds
Applicants may apply in three ways:
A completed application form, and application materials may be submitted via email to mlsroadallowance@toronto.ca.  An invoice will be sent to you via email, which you may pay online.
By mailing the completed application form to the Licensing & Permit Issuing Office – Road Allowance Unit 850 Coxwell Ave, 3rd floor Toronto, ON  M4C 5B1
In person at the Licence and Permit Issuing Office at East York Civic Centre, 850 Coxwell Ave, 3rd floor.
When applying online or by mail, you will be required to provide photo ID and proof of insurance when picking up your permit.
A-frame signs: $105.54
New development signs:  $222.18
Mobile signs:  $138.87
The permit must be prominently displayed on the sign.
A-frame signs
A-frame sign renewal fee $83.31.
Your permit will expire annually on the anniversary of the date that the licence was first issued.
A renewal notice, identifying any documents required to renew the permit, will be mailed to the address on file.
Payments received after the permit expiry date are subject to late fees in addition to the annual permit fee.
If you fail to renew your permit within 90 days of the specified renewal date, your permit will be cancelled and you will have to reapply.
New development signs
One time fee for each permit per sign. Renewal is not required.
Mobile signs
There is no renewal fee. You must reapply for another 30-day permit. You may only have three, 30-day permits within one calendar year.