Home Health Care Waste
Ask the 
Waste Wizard
to find out where and how to properly dispose of an item.
Home health care waste does not belong in the Blue Bin recycling program.This includes needles, sharps, dialysis waste, catheters and colostomy bags.
Some items are considered hazardous waste because they are dangerous or toxic, other items can go in the Garbage Bin. All items should be disposed of with caution.
The City provides free collection of dialysis waste. To be eligible for this exemption, an application form must be filled out and certified by your Physician, Nurse or Home Dialysis Associate. To request an application form, please contact 311.
Before you throw out home health care waste, check the proper disposal options.
Household Hazardous Waste
These items are hazardous waste: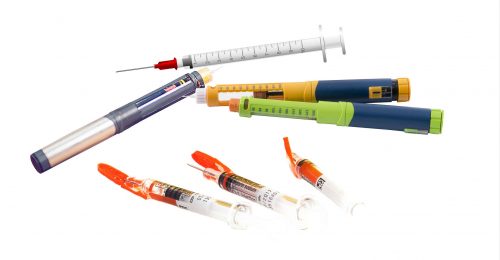 Syringes
Needles
Lancets
Injectors
Pre-filled pens
Proper Disposal
Put these items in a sealed container labeled "needles" and take them to one of these locations:
For all household hazardous waste between 10 to 50 litres/kilograms, residents can also request a free Toxic Taxi pick-up through 311. Apartment and condo residents should check with their Superintendent and Property Manager.
Garbage
These items can go in your Garbage Bin:
Dialysis waste (e.g. filters, disposable towels & sheets)
IV bags & tubing, gastric & nasal tubes
Soiled dressing, sponges and gauze
Catheters & colostomy bags
Disposable pads, gowns, gloves, masks & aprons

Proper Disposal
Put items inside two plastic bags and either place them in your Garbage Bin or place them in a garbage bag with a City-issued Garbage Tag affixed around the knot.