Community Environment Days
Community Environment Day events have concluded for 2018. Next year's events will begin April 2019.
Do your part to create a cleaner, greener and more liveable Toronto.  Bring your unwanted household items to a Community Environment Day to:
Extend the life of a product by making it available for reuse
Ensure that items are properly disposed of or recycled
Reduce the amount of waste going to landfill
Ensure that hazardous waste materials are disposed of safely
Learn about current waste diversion
Pick up for free
Compost (limit of one cubic metre per household)
Products available

Kitchen Container ($5 each)
Drop off for recycling or proper disposal
Donate items to local schools for reuse
Yarn, knitting needles, sewing notions, buttons and keys
Children's books, musical instruments
CD's, CD cases, 35 mm cameras
Costume jewellery including broken, old watches
Arts and crafts supplies: pencils, crayons, markers
Corks, cork boards, clipboards
Dress up clothing: costumes, prom dresses, uniforms
Donate items for reuse
Please keep these separate from other items.
Sporting goods (e.g., skates, hockey equipment, bikes, rackets, etc.)
Books (excluding school/university curriculum books)
Eyeglasses, walking aids, hearing aids, etc.
Small household items (e.g., dishes, ornaments, kitchen utensils, artistic drawings, games, etc.)
Textiles in good condition (e.g. clothing, linens, etc.)
Non-perishable foods will be donated to a food bank
Note: You can recycle plastic shopping bag, foam polystyrene, empty paint and aerosol cans in your blue recycling bin.
Please do not bring construction waste, air conditioners, garbage, wood, cassette and videotapes, commercial/ industrial hazardous waste and scrap metal.
Community Environment Day events have concluded for 2018. Next year's events will begin April 2019.
Resident are invited to pick up free compost at all Community Environment Day events. The compost was created from the yard waste and organic materials collected at the curb, throughout the City of Toronto.
The majority of the finished compost comes from the yard waste program, while five to ten per cent may come from the Green Bin program. Various Ontario processors receive both of these materials and blend them with organic materials of different types and sources, producing optimum conditions for composting. Before leaving the facilities, the compost is tested to ensure quality and provincial requirements for safety.
The compost acts as an excellent soil amendment and is safe to use in gardens and on lawns; however, plants should not be placed in pure compost just as they should not be placed pure fertilizer. One part compost should be mixed with six parts soil.
Compost is the product of a controlled, safe and efficient process. The process uses naturally occurring micro-organisms to convert materials that were once considered waste, into an excellent source of plant nutrients for gardens and lawns. Compost also improves the structure and water holding properties of soil.
For more information, read the What Happens to Organics page.
Torontonians are more actively involved in dealing with current environmental challenges and are bringing more of their "stuff" to Community Environment Day events for re-using, recycling or safe disposal.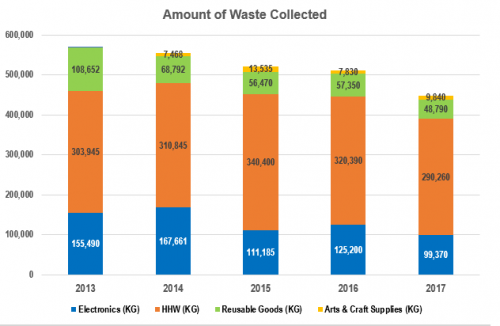 2013
155,490 kg of electronics
303,945 kg of HHW (household hazardous waste)
108,652 kg of non-Blue box material diverted
2014
167,661 kg of electronics
310,845 kg HHW (household hazardous waste)
68,792 kg of reusable household goods
7,468 kg of arts & crafts supplies
2015
111,185 kg of electronics
340,400 kg HHW (household hazardous waste)
56,470 kg of reusable household goods
13,535 kg of arts & crafts supplies
2016
125,200 kg of electronics
320,390 kg HHW (household hazardous waste)
57,350 kg of reusable household goods
7,830 kg of arts & crafts supplies
123 kg of food donated
2017
99,370 kg of electronics
290,260 kg HHW (household hazardous waste)
48,790 kg of reusable household goods
9,840 kg of arts & crafts supplies
105 kg of food donated

Non-Blue box materials include donations for reuse or recycling through community organizations and TDSB schools. Prior to 2009, the total non-Blue box amount listed here also included plastic shopping bags and polystyrene, which have since been included in the Blue Bin program.