What Goes in My Blue Bin?
Ask the 
Waste Wizard
to find out where and how to properly dispose of an item.
The Importance of Recycling Right
Bad things happen when non-recyclable material is placed in the Blue Bin. How Bad? Bad enough that it can damage equipment, cause workplace injuries at the recycling facility and ruin otherwise perfectly good recyclables. Contaminated recycling is currently costing the City millions annually and last year more than 52,000 tonnes of non-recyclable material was incorrectly put in the Blue Bin. That's a big problem you can help fix.
The City is inspecting Blue Bins and those that are found to have a significant amount of non-recyclable material are being tagged and not collected. Homeowners with tagged bins are being given a Recycling Guide and notice indicating why the bin was not collected and instructing them to remove the contamination before the next recycling collection day.
In the future, to help offset the costs associated with contaminated recycling, the City may require a cost recovery payment from those homeowners who set out contaminated recycling bins.
Single-Serve Coffee and Tea Pod Research
The City of Toronto recently commissioned research related to disposal of single-serve coffee and tea pods. The findings include feedback from Toronto residents about use, attitudes, and disposal behaviours.
Food and organic waste – Food scraps like apple cores, eggshells or expired leftovers belong in your Green Bin. When you mistakenly toss food scraps in your Blue Bin, food residue and particles get soaked up by paper and can ruin large batches of otherwise good recyclables.
Black plastics – Black plastics of any kind, such as take-out containers and black garbage bags aren't accepted in the City's recycling program. There are two main reasons for this:
there is no stable market for the volume of black plastics generated in Toronto
black plastics cannot be sorted mechanically at the recycling facility because the optical sorting technology cannot distinguish black plastic from the black conveyor belt.
Please dispose of all black plastics in the garbage.
Hot beverage cups – Most disposable hot beverage cups are made of paper, but are lined with plastic or wax, which makes them difficult to sort mechanically at the recycling facility. Conventional paper mills do not want coffee cups because of their low-quality paper and inner liner, which does not pulp easily and causes clogging in the pulping process. The dyes in the paper can also affect the quality of the end paper product and make it difficult for paper mills to turn cups into other paper-based products. As a result, the City has not been able to find a stable market (i.e. buyers) for coffee cups. Please place coffee cups in the garbage. Non-black plastic lids and paper sleeves should be removed and placed in the Blue Bin.
Containers with leftover food – Please empty and rinse food containers before tossing them in your Blue Bin. When you don't, the residue from items like jars and take-out containers get soaked up by paper and can ruin large batches of otherwise good recyclables. Put any food scraps in your Green Bin.
Clothing and textiles – Old clothes, shoes, blankets, and curtains don't belong in the Blue Bin. They can get caught in sorting machines, damage equipment and cause workplace injuries at the recycling facility. Instead, donate items that are in good condition to not-for-profit agencies or drop them off for reuse at Community Environment Days. If your items can't be donated, put them in the garbage.
VHS tapes, chains, hoses and electrical cords – These do not go in your Blue Bin. They can get tangled in sorting machines, damage equipment and cause workplace injuries at the recycling facility. Donate unwanted VHS tapes or see if your local electronics store's has a recycling program. Throw unwanted cords, hoses and cables in your garbage.
Rinse clean. Remove food, liquids, contents before recycling.
Put items in loose and not bagged.
Put shredded paper in a clear plastic bag.
Separate plastic bags/over-wrap from newspapers, flyers, magazines, water/soft drink cases. Recycle separately.
Not all items with a recycling symbol  are accepted in Toronto's Blue Bin recycling program.
If unsure about whether or not an item can be recycled, check Waste Wizard.
Glass
Bottles, jars (lids on)

Plastics
Tubs, lids
Clear food containers/clamshells
Disposable plates, cups, berry containers (black items are garbage)
Detergent, hand soap, shampoo bottles (lids, sprayers, pumps – on tight)
Beverage bottles (lids on)
Cat litter tubs with plastic handles
Plastic paint pails (empty; remove metal handles, handles are garbage)
Clear compact disk cases (empty; black cases are garbage)
Note: black plastic items cannot be recycled (put in garbage).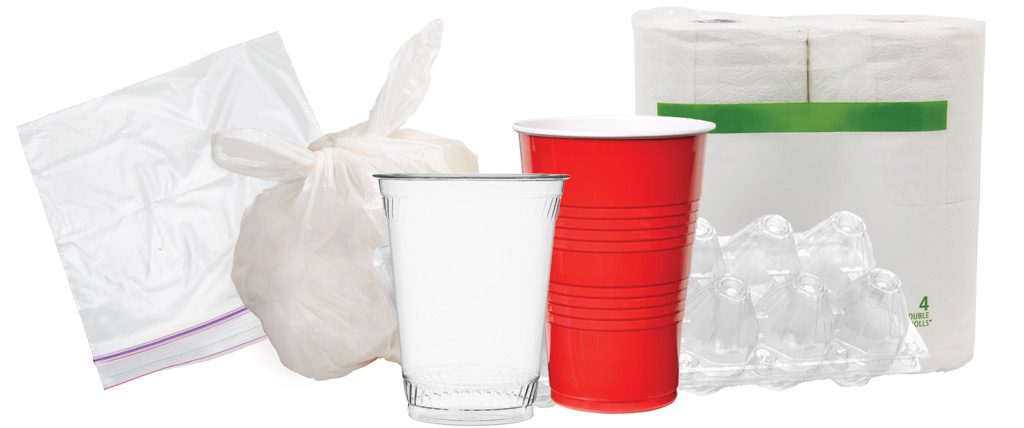 Soft, stretchy plastics
Outer Milk bags
Bread bags (non-foil)
Non-zipper Sandwich bags
Bulk food/produce bags
Frozen fruit/vegetable bags (no stand-up pouches)
Grocery/retail shopping bags
Dry cleaning bags
Newspaper/flyer, magazine bags (separate item from bag; recycle separately)
Garden soil/manure/compost/road salt bags
Diaper/feminine hygiene outer bags
Over-wrap from toilet paper, napkins, paper towels, water/soft drink cases
Note: remove product before recycling.
Metal
Aluminum/steel cans
(place lid in can and pinch closed)
Aluminum trays, burner liners, pie plates, roasting pans
Cookie tins
Aerosol cans (empty; lids on)
Paint cans (empty, remove lids and recycle separately)
Paper
Bags, advertising mail, fine paper,
envelopes (including window)
Newspapers, flyers, directories, magazines, catalogues (remove over-wrap, recycle separately)
Gift wrap, tissue paper, cards (no ribbons, bows, foil wrap)
Shredded paper
(put in clear plastic bag, tie closed)
Soft/hard cover books
Cardboard
Boxboard (e.g. cereal, tissue, detergent, shoe; remove liners, flatten, no freezer boxes)
Corrugated cardboard (clean, unwaxed, flattened; pizza boxes must be empty; remove over-wrap from water/soft drink cases, recycle separately)
Rolls (toilet, paper towel, wrapping paper)
Milk/juice cartons and boxes (straws are garbage)
Cans (e.g. chips, nuts, frozen juice –
place metal end in can and pinch closed; pull-off strips are garbage)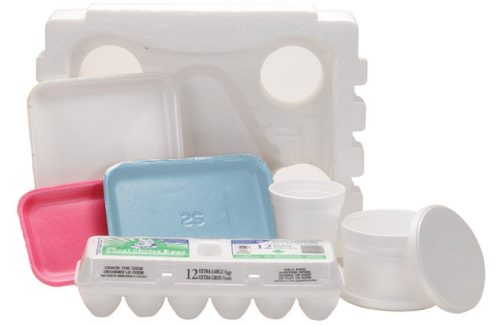 Foam polystyrene
Foam food and protective packaging
(e.g. drinking cups, egg cartons, meat trays, takeout food containers, electronic packaging).
Note: black foam items cannot be recycled (put in garbage).

Medical waste: Needles are hazardous waste and must not be put in garbage. Take to a Drop-off Depot. Plastic catheter/colostomy bags and tubes are garbage
Plastic: caulking tubes, motor oil jugs, paint cans, packing peanuts, binders, and black plastic takeout containers, toys, cassettes, CDs, DVDs, black garbage bags, black plant trays, flower pots (other colours accepted)
Plastic packaging: black coloured plastic, household cling wrap, biodegradable containers/film (e.g. compostable plastic bags), laminated plastic film (e.g. chip bags, stand-up resealable pouch bags), pre-packaged items (e.g. meat, cheese), bubble wrap, plastic squeeze tubes for home and personal products (hair, body etc.)
Glass: drinking glasses, dishes, cups, crystal, ceramics, window glass, light bulbs, mirrors, pottery, pots, pans
Metal: propane/helium cylinders and tanks, tools, scrap metal, coat hangers, pots, pans, small appliances, electronics, binders, auto parts
Textiles: clothes, shoes, carpets, curtains, bedding
Aluminum: foil food wrap, potato chip bags, metallic gift wrap and bows
Other paper products: waxed cardboard, waxed paper, ribbons. Soiled tissues and napkins go in the Green Bin.
Wood: crates for fruit. Renovation waste is garbage and must be taken to a Drop-off Depot.
Cables, cords, hoses ropes
Household Hazardous Waste: Proper disposal of items such as propane/helium tanks, batteries, compact fluorescent light bulbs, pesticides, oil, etc. means taking these items to a Drop-off Depot. These types of items must never be put in recycling or garbage. The Toxic Taxi provides free pick-up of 10 to 50 litres/kilograms of household hazardous waste from Toronto residents. Book an appointment online or by calling 311.
Note: Some of these items can be recycled at Drop-off Depots or Community Environment Days.