Proper Waste Set Out
If you live in a single-family home with daytime curbside collection, your waste is collected on a specific day of the week depending on where you live in the City.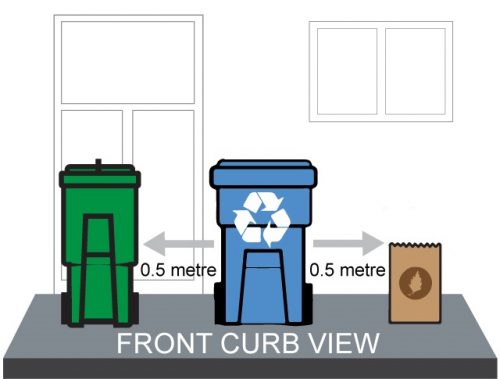 Set Out Instructions
Place bins/items at curbside before 7 a.m.
Ensure they are as close to the street as possible, clearly visible and accessible
Ensure 0.5 metres between bins
Never place items or bins behind or on snow banks
Ensure bin lids are properly closed to prevent litter from blowing
Leave space around all bins and items so the trucks' automated arms can grab and lift bins.
Green Bin Set Out Tips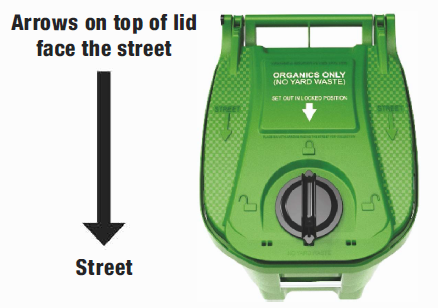 The way you set your Green Bin out for collection is very important:
Our collection operation can only work when the bin is properly set out.
With the dial/latch in the locked position, set the bin out for collection with the arrows on top facing the street
The bin must be set out squarely facing the street so that the truck's automated collection arms can grip the bin to lift, tilt and empty
Do not put yard waste in the Green Bin. Yard waste is collected and processed separately.
Wash bins regularly with dish soap and water
Leave space around all bins and items set out for collection so that the truck's automated arms can grab and lift bins: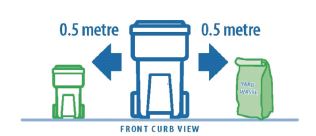 How to use the new latch:
Turn the dial either right or left to the unlock position to open the bin
If the dial that locks/unlocks the bin is stiff at first, it will loosen up with use
For quicker results, rotate the dial back and forth several times
Place the bin at curbside in the locked position
The gravity lock will automatically release when the bin is collected and tilted over the truck.
The new Green Bins have a gravity lock and have been designed to be:
animal resistant
easy to use
larger
suitable for automated collection
Blue Bin Set Out Tips
Leave space around all bins and items set out for collection so that the truck's automated arms can grab and lift bins: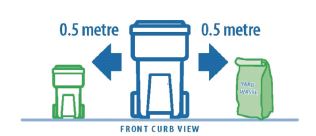 Put items in the bin loosely
If you have overflow recycling, put it in a clear bag and place it beside your bin
If you regularly have overflow recycling you need to upsize your bin by calling 311
Wash bins regularly with dish soap and water
Garbage Bin Set Out Tips
Leave space around all bins and items set out for collection so that the truck's automated arms can grab and lift bins: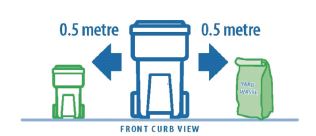 If you have garbage beyond what fits in your bin with the lid closed, it must be bagged, tagged and set out beside your Garbage Bin for collection.
Garbage Tags are available for purchase online and at Toronto Shoppers Drug Mart and Canadian Tire locations.
The City will pick up oversized items (appliances, furniture, carpets, etc.) on your garbage collection day for a fee.
Wash bins regularly with dish soap and water