Litter
Clean, public spaces, sidewalks and streets make Toronto beautiful. It's everyone's responsibility to make sure our city's public spaces stay that way. Please do your part. Make a commitment to not litter.
Cigarette Butts Are Litter Too
Cigarette butts are small, but they are litter. Cigarette butts make up a large part of Toronto's litter and can take up to 12 years to break down.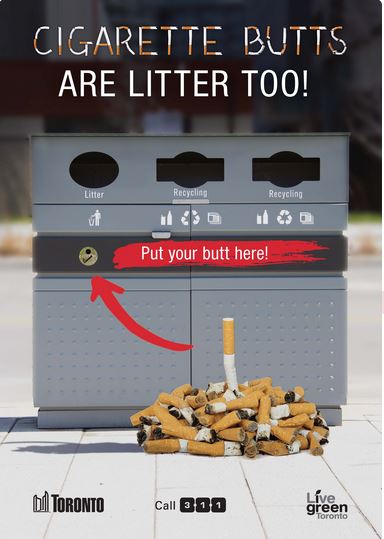 The Astral street litter/recycling bins have a special receptacle designated for cigarette butt disposal.
Smokers Alert
Warning from Toronto Fire Services: Never put cigarette butts in garden planters because this can quickly lead to fires.
Please use the cigarette butt receptacles located in each of the street litter/recycling bins. These bins have a place for everything, including your garbage and recyclable items.
Littering and Dumping of Refuse By-law
The City has a by-law regarding littering and dumping of refuse
Street & Park Bins
Silver or black litter/recycling bins, as well as the foot-pedal bins, are supplied by Astral Media Outdoor, as part of Toronto's co-ordinated street furniture program. The bins are designed to reduce litter and increase recycling in public areas.
2016 parks bin survey rank bins high.
People do see them, like them and use them.