Cycling Education
The City is running a
Bicycle Safety Campaign
that aims to help educate both drivers and cyclists on how to properly use bike boxes, shared lanes and how to make right turns across bike lanes.
Toronto has a cycling network comprising of a range of different infrastructure types. The infrastructure type varies by road classification and road width space. The City also maintains a network of multi-use trails.
The City's cycling network map is a useful tool to plan routes and learn about the existing cycling infrastructure.
Right Turns at Intersections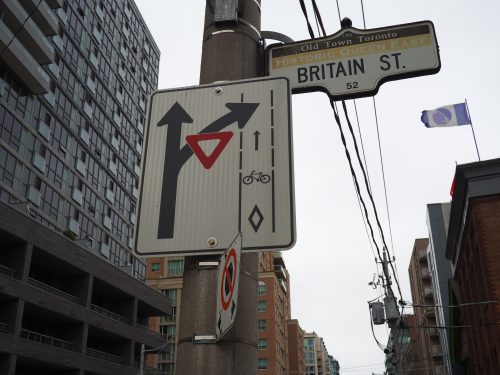 In cycle tracks where the line is solid extending to the intersection, cyclists have the right of way. Vehicles must not enter the bicycle lane until they can safely turn into the opposing lane yielding to cyclists and pedestrians.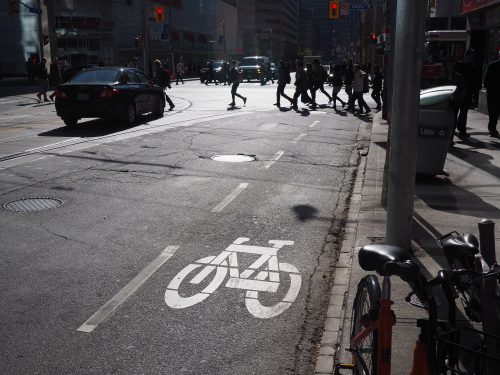 Bike lanes or cycle tracks that have a dashed line leading to the intersection allow drivers to fully enter the bike lane when it is safe and clear of cyclists. Cyclists must then pass the turning vehicle on the left or wait behind the vehicle until the lane is clear.
Bicycle Signal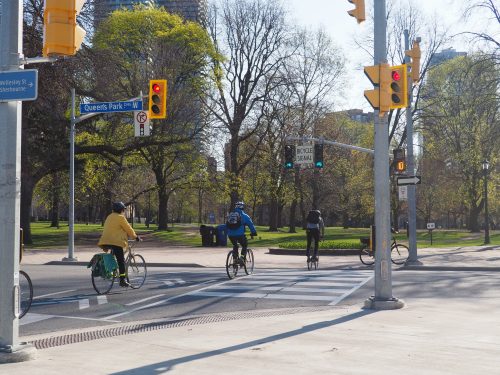 A bicycle signal directs cyclists when it is safe to pass through an intersection. These can be used for intersections on trails or contraflow lanes where vehicles cannot drive, the transition between road to trail, or if bicycles cross the lane in a different manner then motor vehicles.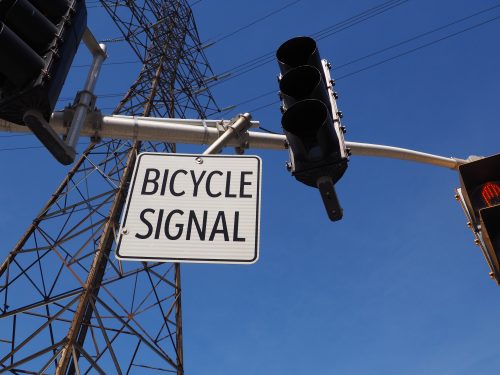 The bicycle signals are smaller then the usual yellow traffic signals and are black. They have a white sign attached notifying road users that is meant for cyclists.
Bicycles Excepted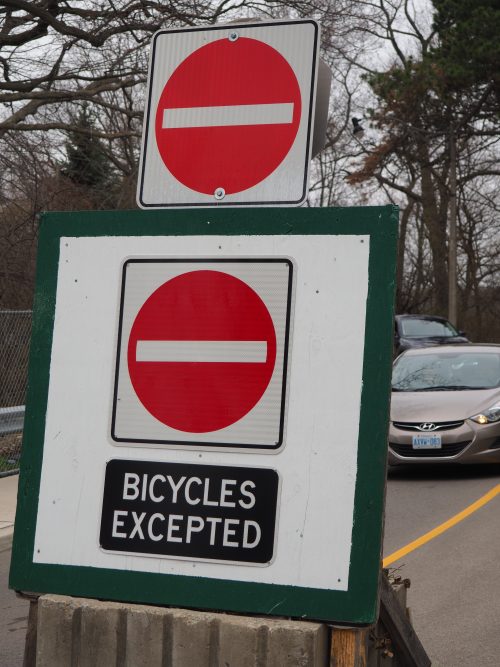 For a one-way street with a contraflow lane traveling in the opposite direction of motor traffic, the "bicycles excepted" sign is utilized. This identifies to motor vehicles that they cannot legally travel in the specified direction while allowing cyclists to use the designated contraflow facility.
Intersection Markings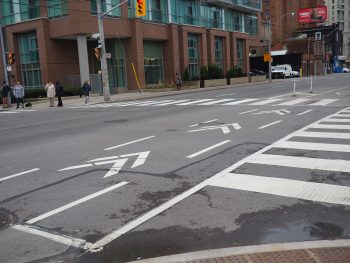 Chevron pavement markings indicate the route cyclists should take through the intersection. This increases drivers awareness of cyclists and makes cyclists travel more predictable at intersections.
Bike Box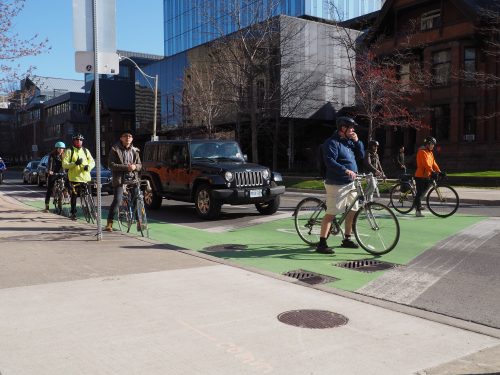 Bike boxes are used at intersections to designate a space for cyclists to wait in front of cars at the red light. Cyclists may then proceed first when the light turns green. At red lights, the drivers must stop at the stop line, behind the bike box. A bike box means right hand turns on red lights are not permitted.
As a cyclist, you should position yourself at the right, left, or center of the bike box, depending on the direction you want to travel.
Car Dooring
"Dooring" or a "door prize" commonly refers to someone who opens a parked motor vehicle door into the path of a cyclist or other traffic.
Higher set fine of $365 (includes victim fine surcharge and court fees) + three (3) demerit points; drivers who choose to contest the charge could be subject to a fine up to $1,000 + three demerit points, upon conviction.
To Avoid "Dooring" drivers and passengers should utilize what is called a dutch reach. This involves opening the door with the arm further from the door. This action gives the user a better view of the lane behind them. Cyclists should give 1 meter clearance from parked cars where feasible and be aware of the "dooring zone".
Cycle Tracks and TTC Stops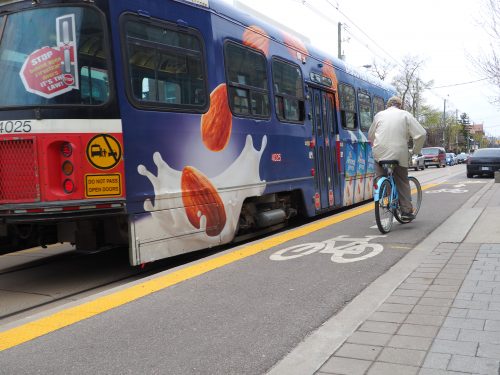 Where a person in charge of a bicycle on a cycle track approaches a Toronto Transit Commission bus which is stationary for the purpose of taking on or discharging passengers, the person on a bicycle shall not pass the bus or approach nearer than 2 meters measured back from the rear or front entrance or exit, as the case may be, of the Toronto Transit Commission bus on the side on which passengers are getting on or off until the passengers have crossed the cycle track.
Sidewalk Use - Young Cyclists
What to teach young cyclists about cycling on the sidewalk:
No person age 14 and older may ride a bicycle on a sidewalk
Always yield to pedestrians. Get off and walk your bike or put your foot down.
Ride slowly.
Always walk your bike through a crosswalk or crossover (Fines apply if not followed).
Use a bell or horn to let pedestrians know that you are there.
Make eye contact with drivers. Assume that drivers don't see you.
Look for cars in driveways, laneways and at intersections and be prepared to stop.
Expect pedestrians to exit from stores.
To teach skills and give riders confidence in riding on the road, the City offers CAN-BIKE cycling courses for children and adults.
Green Paint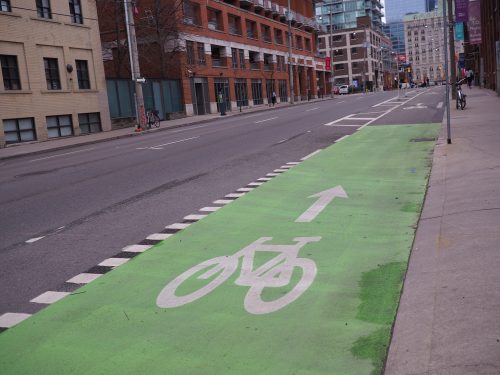 Green paint is used at intersections and driveways where vehicles interact with the cycling infrastructure. They serve to increase the visibility of the cycling infrastructure making drivers aware of cyclists.
Passing in the Bicycle Lane
When approaching a slower cyclists in a bike lane it is important to:
Use your bell to notify the cyclists of your presence
Shoulder check to ensure the route is clear on your left to make a pass
pass on the left leaving at least 1 meter clearance
If passing at a particular section is not safe (cycle track section is too narrow or busy live traffic lane) wait behind the cyclists until it is clear to overtake.