Progress Update
The North St. Lawrence Market Redevelopment project is taking place in three phases. The project is currently in Phase 3, construction of the new North Market Building.
On May 15, 2019, City Council approved the awarding of a contract for the construction of the new St. Lawrence Market North building at 92 Front St. to The Buttcon Limited/The Atlas Corporation Joint Venture. Construction of the new market began in July 2019. The building is expected to be completed and operational by spring 2022 subject to contractor progress.
What to expect
Construction will take place Monday to Friday, from 7:00 a.m. to 5 p.m. Please note that on occasion, contractors will be required to work past 5 p.m. as permitted by The Noise Bylaw (Chapter 591, City of Toronto Municipal Code). 
Excavators will be used throughout the excavation work including one with a hydraulic hammer to break up existing foundations.
Drill rigs will be used for both the drilling and pile installation.
Concrete trucks will be on site during construction along with a tower crane to provide handling access for materials and equipment.
There will be construction related noise and vibration while construction is taking place.  Vibration may be experienced at adjacent buildings and structures.
September 2019
Work completed over the summer months includes:
installation of sidewalk/tree protection
the removal of existing footings and sewers from previous buildings
the installation of perimeter shoring pads in preparation for shoring and excavation work
Installation of the north caisson wall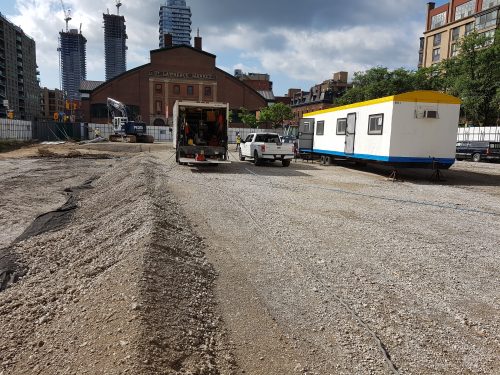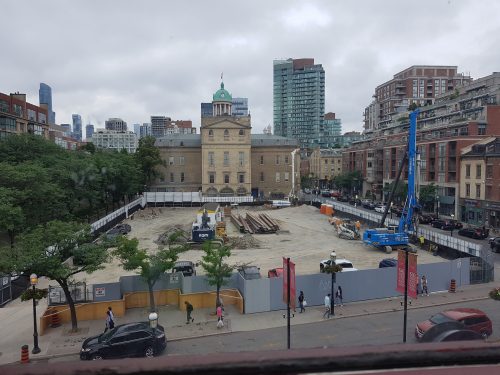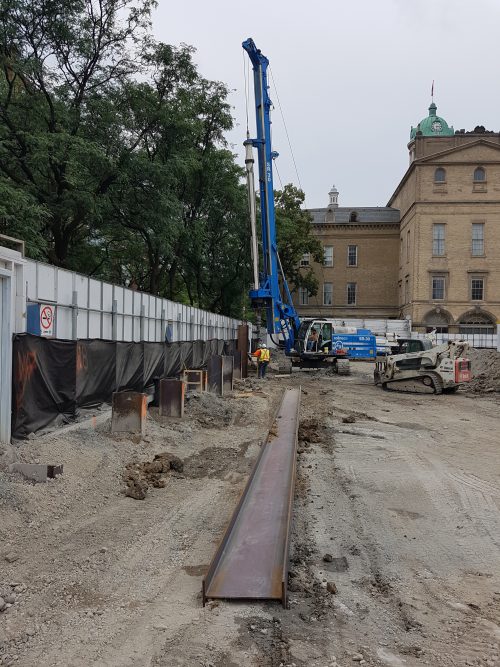 Next Steps
Ongoing excavation and shoring work over the fall and winter months includes:
drilling and pile installation along East, West and South property lines
sequential excavation, tie backs and lagging installation from grade through to base of Parking level 4
Following the completion of  shoring and site excavated work, construction will begin on the building foundations and parking garage, followed by the above ground structure.