Technical Specifications for Digital Images
Image Quality & Resolution
What is the quality or resolution of scanned photographs?
Digital image files measure approximately 6000 pixels along the longest length of the image and can be printed up to 20 in. in length without loss of image quality.

What is the resolution of scanned maps and plans?
As the original size of these documents is much larger than photographs, these files are approximately 8 in. x 10 in. at 1000 DPI. Maps and plans can be printed 30 in. long or larger.
What file format is the digital image saved as?
Digital images are saved as TIFF files and provided on CD, DVD, USB or FTP.
Print Size & Quality
What type of prints do I get?
The Archives provides inkjet prints on Epson matte paper. The prints are rated to last up to 80 years under normal framing conditions. The entire image (as seen online) is printed. We do not offer special crop requests.
How large can I print a scanned photograph file?
You can create a print from these files as large as 16 in. x 20 in. Creating a print larger than suggested may result in loss of image quality.
What is the largest size print the Archives sells?
The largest print the Archives sells is 16 in. x 20 in. See our list of fees for more information of size availability.
Does the print come matted and framed?
No, the Archives does not mat and frame images.
Should I buy a frame first and then order a print?
It is best to order the print first, and then buy the frame. Image proportions vary as they were created using various cameras.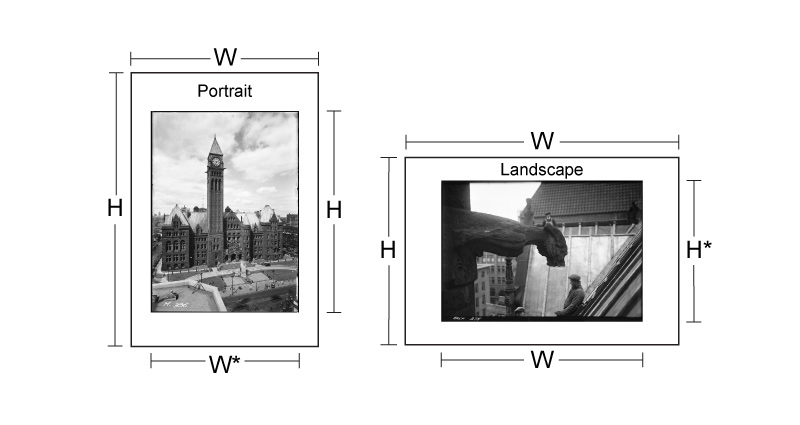 | Orientation | Image Size Width (W) x Height (H) | Paper Size Width (W) x Height (H) |
| --- | --- | --- |
| Portrait | 8"* x 10" | 8.5" x 11" |
| Landscape | 10" x 8"* | 11" x 8.5" |
| Portrait | 11"* x 14" | 13" x 19" |
| Landscape | 14" x 11"* | 19 x 13" |
| Portrait | 16"* x 20" | 17" x 22" |
| Landscape | 20" x 16"* | 22" x 17" |
*Image width (portrait) or height (landscape) will vary and may be larger or smaller depending on the proportion of the original image.
Orders
Can I cancel an order?
You can cancel an order prior to payment being received. After payment has been received you have up to one business day to cancel an order.
Can rush orders be cancelled?
Rush orders cannot be cancelled after payment has been received.
How long do rush orders take?
Rush orders are usually processed within two to five business days upon receipt of payment and depending on the availability of the digital file. However, for large orders or those that may require special handling, please consult our staff about turnaround times.
What if I only need a low resolution file?
Low resolution files approximately 11 in. x 14 in. at 72 DPI (1000 pixels in length) can be copied from our database free of charge. We only ask that you follow the Archives' Terms and Conditions of Use.
Other
Can I get a larger scan of an image?
No, we do not provide custom scans.
I have an old photograph, can I get a scan of it?
No, the Archives will not scan documents that are not part of the Archives' collection.